Devils Nose Train ride Ecuador Andes tours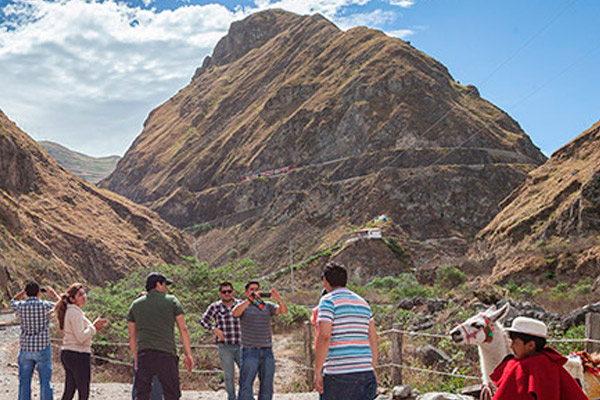 Ecuador train ride, travel on train through the devils nose in the Andes mountain range of Ecuador and enjoy the Avenue of the volcanoes.
History of the Ecuadorian Train
The project of an Ecuadorian railway was begun by President Gabriel García Moreno in 1861, being Milagro the first city to access to this system. It was under the mandate of President Eloy Alfaro when he expanded the railways to the Andes. El Niño damaged the majority of railways in 1997 and remained inactive.
The government of Rafael Correa declared the train as an 'Ecuadorian heritage' and works to restore the railways were started in 2008.
Nariz del Diablo Train Ride
This train ride is the most famous in Ecuador. It is a journey between Riobamba and Alausi and is the most sought after tourist attraction in the country. Known as the "most difficult railway in the world" due to the problems in constructing the railway line through the rough terrain of the Andes, the construction ran into a problem when it hit the vertical rock known as the "Nariz del Diablo". The train ride offers spectacular views of the Ecuadorian landscape. On clear days you will be lucky to see Chimborazo volcano. The tourists can enjoy the majestic and unique in the world engineering work of the zigzag railroad.
Inca ruins
After the train ride a visit to the ruins of Ingapirca will be made. These ruins are the most important architectural legacy of the Incas in Ecuador. The ruins are believed to be both a religious and administrative center, as well as a fortress.
The vast archeological complex includes a roofless fortification, courtyards, terraces, temples, houses and a ´castle' possibly the Temple of the Sun. A museum is now open at the site, with both archeological and ethnographic displays. There are also exhibitions of ceramics and jewelry.
After the tour of Ingapirca we will then head to the historical city of Cuenca.