Often cited as one of the most beautiful cities in all of South America, Cuzco is a must for anyone visiting Peru. High in the Andes mountains at a dizzying 11,200ft (3,400m) above sea level, the city is sure to take your breath away – one way or another. Once the sacred capital of the Inca Empire, the past is very much alive here, with remnants of its Inca and Colonial heritage all around. Here's our quick Cuzco travel guide to making the most of your time in the city.
Cuzco travel guide: how to get there
As a major hub for the Andes, Cuzco is well connected to the rest of the country. There are daily direct flights to Lima on several airlines including LATAM, Star Peru and Avianca. There are also direct flights to other parts of the country like Puerto Maldonado (the gateway to the Amazon) and Juliaca (for Lake Titicaca), making it easy to visit Cuzco as part of a multi-destination trip to Peru.
Most people visit Cuzco on their way to Machu Picchu and the Sacred Valley, with a direct train line connecting them. There are also trains and buses that connect the city with Lake Titicaca, Arequipa and other destinations.
Cuzco travel guide: what to do and see 
Cuzco is a collision of the past with contemporary Andean life and it's great to experience both. There are several important archaeological sites in and around the city. One of the most impressive is Sacsayhuaman, an Inca citadel on the outskirts of Cuzco – well worth a visit. And right in the city center is the Coricancha – one of the most important Inca temples. To learn more about nearby Machu Picchu, visit the Museum of Machu Picchu, home to the largest collection of artefacts from the archaeological site, which were returned to Peru from Yale University in 1992.
For a taste of the city's colonial heritage, visit the impressive Cuzco Cathedral just off the Plaza de Armas (the main square), which boasts beautiful period architecture and an impressive collection of colonial-era artwork.
Cuzco is also a great showcase of modern Andean life. Head to the San Pedro Central Market to see the wonderful array of produce on sale, from all over the Andes. Look out for potatoes in every colour and shape imaginable, mounds of colorful quinoa, alpaca and cuy (guinea pig) meat at the butchers, and the most beautiful, intricately made textiles. It's a great place to stock up on souvenirs and gifts. Andean women proudly don their finest traditional outfits, and you'll hear Quechua being spoken in between the Spanish.
Cuzco travel guide: where to stay
With a highly developed tourism sector, and many visitors passing through on the way to or from Machu Picchu, there are many hotels to choose from, to suit all budgets. For accommodation with the wow-factor, there are several luxury hotels in old monasteries and other historic buildings offering a unique and breath-taking experience with a true sense of place. There are also quaint boutique hotels and budget-friendly guest houses full of character scattered around the city. It's best to choose somewhere within walking distance of the Plaza de Armas (the main square), ensuring that all the sites and attractions are within reach, and Latin Trails can recommend the best Cuzco hotels.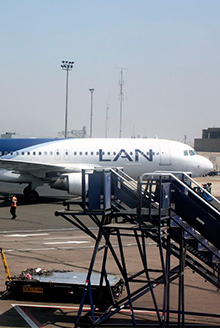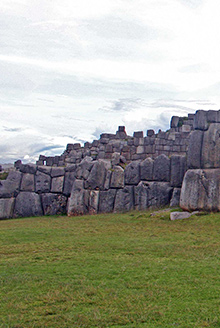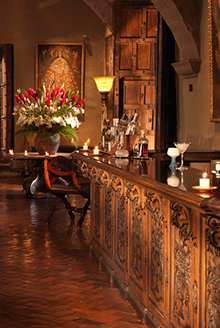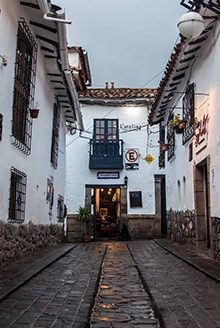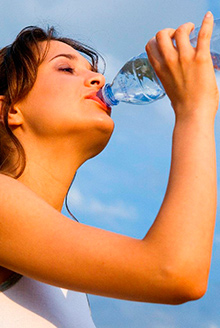 Cuzco travel guide: how to move around the city 
The city centre is small and compact, so it's easy to discover Cuzco on foot. There are many Cuzco walking-tours available, taking in the sites and helping you to get your bearings. Just take it slowly if you're acclimatising to the altitude. Some neighborhoods like San Blas, the bohemian arts district filled with cafes and boutiques, require a bit of an uphill climb. You might want to walk down the hills, but take a taxi up! Taxis are plentiful and easy to hail in the street or ask your hotel reception to arrange for you.
Cuzco travel guide: coping with the altitude 
The best advice is to take it easy – walk slowly, don't plan too much for the first few days, and drink lots of water. Most people just experience a few mild symptoms like light-headedness or headaches, which quickly pass. Eat light meals and try to avoid alcohol and caffeine. The local remedy of coca tea or chewing coca leaves helps, or you could ask your doctor to prescribe medication to help prepare you for the altitude. Many hotels have oxygen pumped into the rooms, or available in tanks at reception – so ask if you're struggling.
Cuzco travel guide: what to eat
As a central hub for the Andes, there's an array of incredible produce from the surrounding regions, influencing the flavours and dishes in the city. If you feel like trying something exotic, go for an alpaca steak or roasted cuy (guinea pig) – both very traditional dishes. Many restaurants also serve excellent fresh trout from nearby Lake Titicaca. Latin Trails can recommend the top Cuzco restaurants, whether you're looking for a special experience at a fine-dining establishment, or a quick and reasonable bite at an authentic local haunt.
Cuzco travel guide: staying safe 
In general, Cuzco is a very safe city, welcoming visitors that are so essential to the city's economy. It's safe to walk around the city, even at night, but you're advised to stick to busy well-lit streets – avoid dark, empty parts of the city, especially if you're on your own. Like anywhere in the world, be cautious with your bag, camera and valuables, and be aware of pick-pockets in crowded places like the market, and main square.
Ready to book your trip to Cuzco?
If our Cuzco travel guide has inspired you, and you'd like to visit the beautiful Andean city, let Latin Trails be your guide. Our travel team can help plan your trip, booking the best accommodation, tours with expert local guides and taking care of all the arrangements. Contact us today.
Check out this Free Guide about the Birdwatching in Galapagos