Discover San Cristobal, one of the joys of Galapagos Islands
Also known as Chatham, San Cristobal Island is one of the joys of the Ecuadorian Archipelago. It is one of the five inhabited islands of the archipelago, with approximately 5,600 people, ranking second in human population after Santa Cruz. This island has an area of 558 km2 and its highest point rises to 730 meters above sea level. It hosts frigate birds, sea lions, Galapagos turtles, red and blue-footed boobies, marine iguanas, dolphins and seagulls. Discover San Cristobal in Galapagos Islands!
What to see & do in San Cristobal Island?
Near to the main city, Puerto Baquerizo Moreno, there are marvelous places to visit like Cerro Tijeretas, a beautiful trail with spectacular views, where visitors can see a colony of nesting frigates and a statue of Charles Darwin. This statue marks the original site where the scientist first landed at the Galapagos Islands during the second voyage of HMS Beagle on 16 September 1835.
Galapaguera
is another interesting highlight, also known as Jacinto Gordillo Breeding Center, where visitors can see giant tortoises in captivity, and also swim around sea lions, blue-footed boobies and other exotic species.
The Lobería is another great spot in San Cristobal island, a white sand beach perfect for surfers and snorkelers, that dues its name to the great number of sea lions that lie in the sand and rocks of the beach.
Cerro Brujo
is a beautiful beach of white coral beach where you can swim and watch birds and sea lions, plus you can practice snorkel. This is the first coast where Charles Darwin walked in 1835.
In the upper part of the island, there is San Cristobal Biological Station, dedicated to the Conservancy of the island, operated by the Jatun Sacha Foundation.
Cerro Colorado
is a Tortoises Protection and Growing Center is another great place to visit on the island. This center is focused on improving the status of the population of the island tortoises. It includes a large corral, a Visitors Center, a breeding center and an interpretative trail.
Punta Pitt
This beautiful place will amaze you. Is wonderful to see such a paradisiac and natural point, not so far from the town by ship, but also, not very explored neither damage by people.
Check out the daily tour you can take from San Cristobal>> here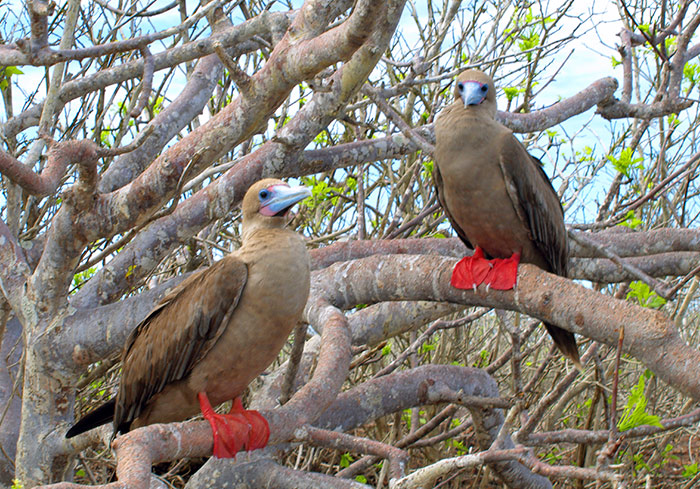 Itineraries by cruise
If you want to see San Cristobal Island on board of our exclusive yachts, these are our itineraries that include a visit to this marvelous island. On board of the Galapagos Seaman Journey:
Itinerary A includes a visit to Cerro Colorado
Itinerary B includes a visit to Isla Lobos, a very little island close to San Cristobal
The boutique yacht Galapagos Seaman Journey has also some itineraries that include visits to San Cristobal.