Ecuadorian essence of luxury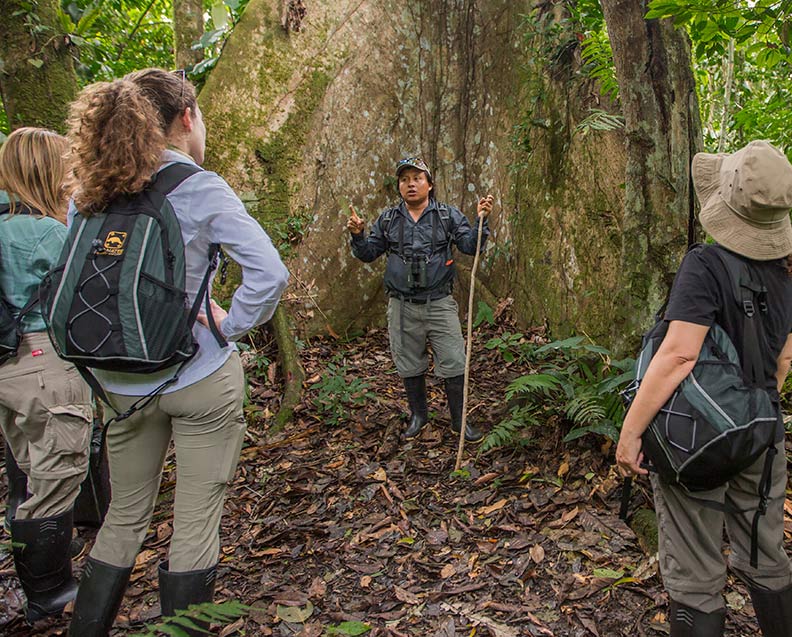 Day 1: Arrival to Quito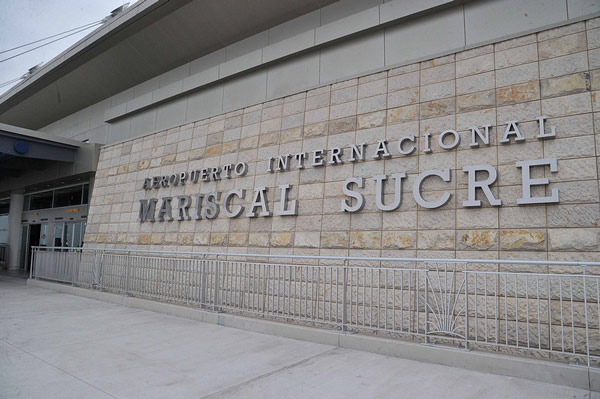 Upon arrival at Quito airport, you will be met by your guide, he will transfer to your hotel.
Situated in a circle of Andean peaks, Quito is the world's second highest capital, with arguably one of the finest settings in the world. Originally settled by the Quitu tribe in the first millennium, Quito was an important part of the Inca Empire, before being destroyed and re-founded by Spanish conquistador Sebastián de Benalcázar in 1534. The colonial center – declared a World Heritage Site by UNESCO in 1978 – is one of the largest and best preserved in Latin America. It is home to excellent museums, churches and art galleries.
Accommodation: Wyndham Hotel or similar.
Meals: -/-/-
Day 2: Flight to Galapagos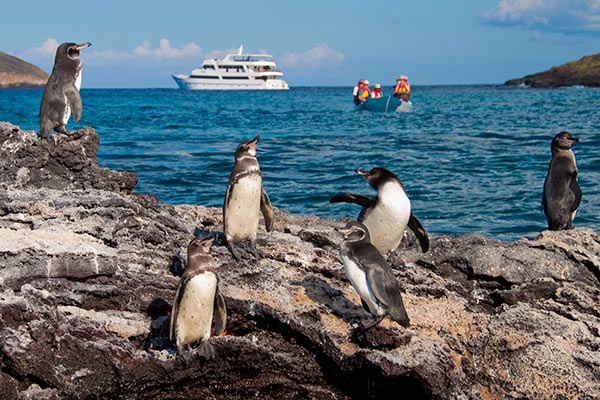 Early in the morning your guide will transfer you to Quito airport on time to catch the Galapagos flight. Before taking the flight you must pay 20 USD at the Galapagos Government Council counter that is the value for the migration control card. Afterwards you will be able to take a flight from Quito to Guayaquil, and then, to Galapagos.
Once in Baltra passengers must go through an inspection point at the airport to make sure that no foreign plants or animals are introduced to the archipelago. Also, this inspection point is where passengers have to pay for the entrance to the Galapagos National Park under the following parameters: Adult passengers $100, Children under 12 years old $50.
PM: Dragon hill, Santa Cruz Island: The visitor site at Dragon Hill has been open for visits on 1993. This site is located in northwestern Santa Cruz Island and consists of a trail that lead to a hyper-saline lagoon behind the beach, frequented by flamingos, pintail ducks and other species of birds. This site has been re populated with land iguanas from Seymour, Isabela and Santa Cruz islands. There is a short walk to the Hill, which offers a beautiful view of the bay. -/L/D
Overnight: Sea Star Journey – Galapagos Cruise
Meals: B/-/D
Day 3: Sea Star Journey Galapagos Cruise
AM: Black Turtle Cove:
This little cove is located at the northern side of Santa Cruz Island, this is a red mangrove lagoon very calm and quiet which made an ideal place as nursery for many sharks and rays. Its crystal waters permit to observe large groups of white-tip reef, black tipped reef and hammer heads sharks, schools of golden rays and spotted eagle rays. There are no landing sites so the visit is done by panga or kayak. Sea turtles are frequently seen and sometimes they are seen mating in the mangrove-lined waters. Pelicans and Herons are also seen in this area.
PM: Chinese hat:
This is a small islet (1 sq km) located just off the southeastern tip of Santiago Island. It is a recent volcanic cone, shaped like a Chinese hat when seen from north side. On the west it can be seen lava formations, formed under the sea and raised upward, this is why coral heads are found on the lava. This is an excellent visit for interpretation of geological features such as lava tubes and lava flows. The landscape is covered by sea lions colonies, marine iguanas and Galapagos penguins.
B/L/D
Overnight: Sea Star Journey Galapagos Cruise
Day 4: Sea Star Journey - Galapagos Cruise
AM: Darwin Bay, Genovesa Island
This bay has origin when the crater of this island collapsed below sea level. The wet landing is on a beautiful white coral sandy beach. This is a favorite island for birdwatchers: red footed-booby, masked boobies, wandering tattlers, lava gulls, whimbrels Yellow-crowned, black-crowned and lava herons, with and yellow warblers can be seen in the area. Continuing on the trail, visitors climb gradually to the edge of the cliff seeing Red-Foots nesting in the Mangrove trees below. Bird watching includes sightings of Sharp-Beaked Finches, Large Cactus and Ground Finches, Galapagos Doves and Swallow-Tailed Gulls. Reaching the end, the trail at the cliff's edge offers an incredible view of the island and the many birds living there.
PM: El Barranco, Genovesa Island
El Barranco is located in the southern part of Darwin Bay and it is also known as Prince Philip's Steps, passengers will climb to a plateau that is part of the stretch of land that surrounds Darwin Bay on its eastern side. There is a big population of Masked boobies
and Red-Footed boobies in the tree; Storm petrels and Short-eared Owls have found in Genovesa lava flows the ideal place for nesting.
B/L/D
Day 5: Sea Star Journey - Galapagos Cruise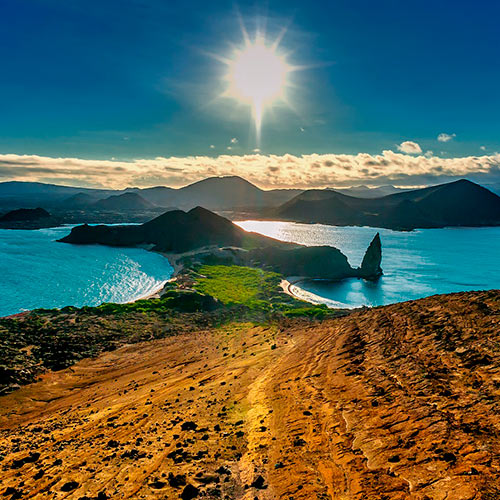 AM: Bartolome Island
Bartolomé Island is situated across Sullivan Bay. It has an altitude of 114 meters, from where we can observe one of the most beautiful sceneries of the Galapagos Islands such as: Volcanic cones, lunar-like craters, lava fields, and the famous Toba formed pinnacle eroded by the sea. There is very little vegetation on this island.
It has two breathtaking beaches where marine turtles exist and at the base of the pinnacle, as well as a very small colony of Galapagos penguins.
PM: The Sullivan Bay, Santiago Island
Santiago, also called James, or San Salvador Island, is located in the west central part of the Galapagos archipelago. It is the fourth largest island in the archipelago (following Isabela, Fernandina and Santa Cruz). Along with some of the large western volcanoes of Isabela and Fernandina, Santiago is also volcanically active, with many young flows and cones to be seen, particularly along the south, west, and east coasts. These may even be seen from the summit of Darwin Volcano and from space. A number of historic eruptions have been reported over the last 2 centuries. Santiago actually consists of two coalesced volcanoes: a typical shield volcano on the northwest end and a low, linear fissure volcano on the southeast end.
B/L/D
Day 6: Sea Star Journey Galapagos Cruise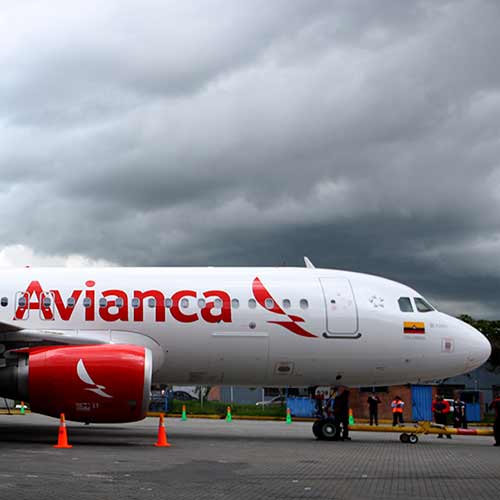 AM: Highlands, Santa Cruz Island
The trail to the highlands leaves from Bellavista and passes through the agricultural zone, near the National Park boundary, the Miconia Zone, and then goes to the Fern and Sedge zone. With clear weather (unpredictable) this area affords beautiful scenes of rolling hills and extinct volcanic cones covered with grass and lush greenery all year round. Then transfer back to Baltra for embarkation on flight back home. After arrival at Quito airport, your guide will meet you and transfer to your hotel.
Accommodation: Swissotel Hotel or similar. B/-/-
Day 7: Colonial Old Town + Equator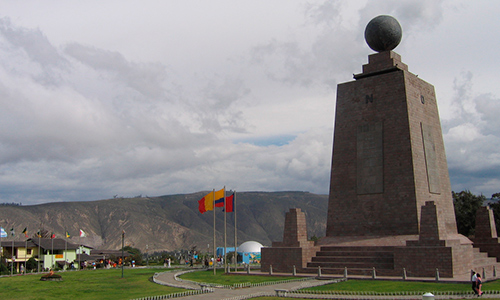 Explore the bustling streets and squares of the largest historical centre in the Americas, visiting some its most important churches such as the impressive Cathedral, majestic Compañía and iconic San Francisco, guardians of a stunning multi-ethnic artistic and cultural heritage. We begin the tour the quirky Guapulo quarter; take in the Congress building, before heading to the Old Town. We finish the day at the "Panecillo" hillside with its breathtaking views of the old and modern city surrounded by the rolling Andes Mountains.
As an addition to the Quito Colonial City Tour, we travel to "Equatorial line" complex. Its monument is located at the latitude 0º 0´0″ and provides once-in-a-lifetime opportunity to straddle both hemispheres, or hop between the two in the blink of an eye. The monument forms the focal point of a park and leisure area with gift shops and restaurants. The site occupies an important place in the solar-based Andean cosmo vision, since ancient Andean people were aware of its significance many thousands of years ago. The Ethnographic Museum at the complex provides a fine overview of Ecuador's varied cultures and geography. Accommodation: Swissotel or similar
B/-/-
Day 8: Otavalo Market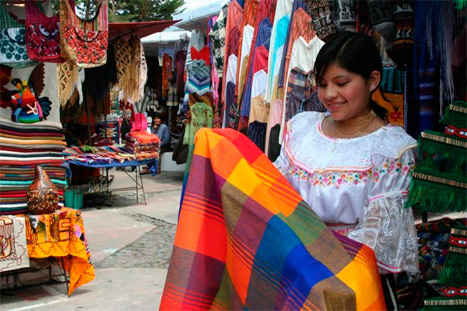 This morning you will leave Quito with your tour guide, heading to Otavalo, the town famous for its artisans market. On route on the Panamerican Highway we will stop at Calderon, a town where the masapan figures are made, continuing through Guayllabamba town where you can try its typical fruit: chirimoya. We will also stop on the highway to admire the beautiful landscape and snow-capped mountains in the area. We continue on, making a short stop at San Pablo Lake before arriving in Otavalo.
Here we will visit the textile market located at the "Plaza of Ponchos"; this is one of the most famous markets in South America. You will find all kinds of handcrafts including tapestries made on the Spanish weaving loom as well as the indigenous backstrap loom. After which you will enjoy some free time for bargaining and buying with the friendly Otavaleños.
After a full day spent in Otavalo we will return to Quito late afternoon/ early evening and you will be taken to your hotel. Accommodation: Swissotel Quito or similar
B/-/
Day 9: Anakonda Amazon Cruise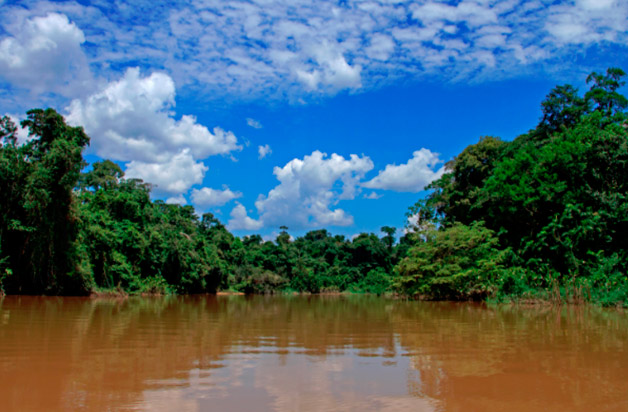 Departure from Quito. A short 30-minute flight takes us to the frontier town of Coca (Francisco de Orellana) – and transfer to the dock, where we will embark on a motorized canoe and navigate down river about 1 hour, to board the M/V ANAKONDA AMAZON CRUISE. Throughout the journey we have a chance to admire the rainforest landscape and banks of the great Napo River.
Immediately after boarding the M/V Anakonda, we continue navigating downstream. Passengers will have their first opportunities to enjoy the exciting features of our cruise ship: the spacious social areas, comfortable suites, and an observation deck that offers spectacular views. An evening walk is organized after sunset; it gives us the opportunity to discover the forest's nocturnal activity and listen to the incessant sounds of nature.
Day 10: Anakonda Amazon Cruise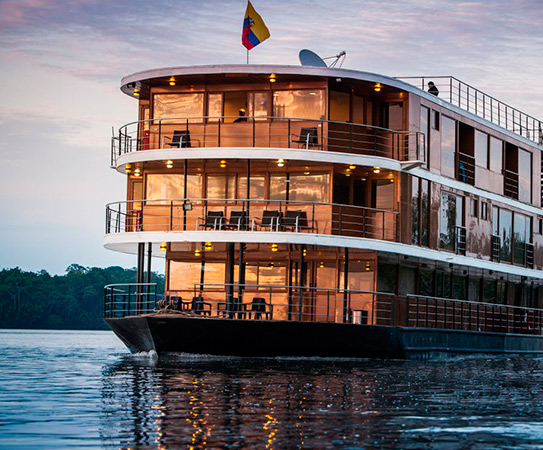 We will continue our navigation downstream to the Pañayacu River delta; take a canoe trip up the river to experience the sights of this fascinating reserve. We will seek out Pink River Dolphins, Common Squirrel Monkeys and much more. Pañacocha (Piranha Lake, in Quechua) is an ecosystem flooded by white waters. The rivers and lakes here are the perfect habitat for the infamous Piranha, as well as the Water Monkey Fish (Arawana) and White Caiman. After a refreshing swim (for the courageous!), we will enjoy a delicious Amazon-style BBQ meal and refreshing beverages at a nearby camping site.
In the afternoon, we will head out on exploration trails, and return onboard for dinner.
Day 11: Anakonda Amazon Cruise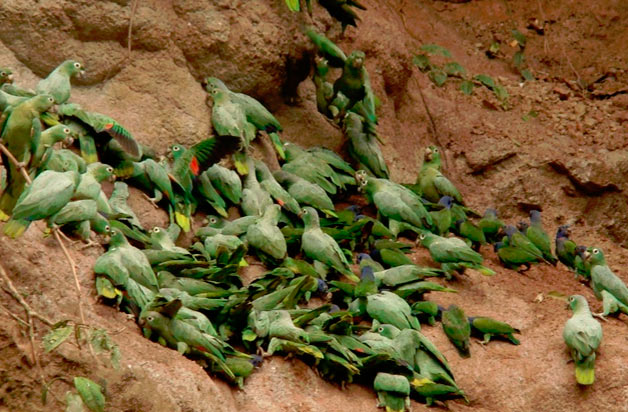 Breakfast on board. We set out to visit one of the most amazing spectacles this side of western Amazonia known as parrot licks, these unique pools of mud become rich in minerals and attract hundreds of parrots, parakeets and amazons every day. If weather permits, we will have a chance to marvel at this astonishing natural phenomenon.
Later we will visit the Sani Warmi Kichwa Interpretation Center, where a group of Kichwa women will speak of their customs, cuisine and everyday life. They have created the center in order to showcase their culture, and it is a unique opportunity to learn about Amazonian lifestyles along the Napo River. You will also have the opportunity to buy crafts, local products and souvenirs.
After lunch, we will make a stop at the Yakukawsay Kichwa Interpretation Centre, and end with an interesting evening walk through the forest (depending on accessibility, river water levels and weather conditions).
Day 12: Anakonda Amazon Cruise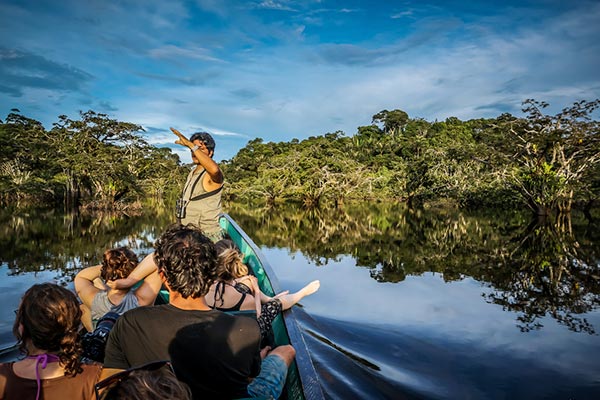 In the morning, disembark the M/V Anakonda and transfer by motorized canoe to Coca (1-hour ride); flight to Quito.
NOTE: The detailed itinerary above is a standard model of our operation. We intend to offer everything as planned, but it is important to note depending on technical or operational difficulties beyond our control, the M/V Anakonda Amazon Cruise reserves the right to modify the itinerary without notice.
After arrival at Quito airport, your guide will meet you and transfer to your hotel.
Accommodation: Wyndham Hotel or similar
B/-/-
Day 13: Tansfer out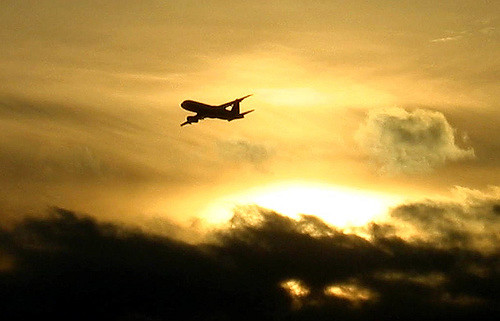 Unfortunately is time to go home.
The tour guide will take you to the airport.
Meals: B
Privates transfers and transportation
Meals detailed in the itinerary
Galapagos Cruise
Amazon Cruise
English Speaker Guide
Additional meals and drinks (soft & alcoholics)
International flights and airport taxes
Tips and personal expenses
Travel and medical insurance
Ticket to/from Galapagos
Contact a Galapagos & Ecuador Specialist