Santa Fe Island, also known as Barrington, is one of the marvelous islands of Galapagos. Geologically it is one of the oldest, since experts have found there volcanic rocks of about four million years. Unlike other islands in the Galapagos Archipelago, Santa Fe is not volcanically active. One of the main attractions of this island is the flora, specially giant cacti that live there, and also the exotic fauna and the beautiful landscapes. Discover more about Santa Fe Island!
What to see & do in Santa Fe Island
Located in the southeastern part of the Galapagos, between Santa Cruz Island and San Cristobal, Barrington Island was formed from an uplift instead than a volcanic origin, this is why it is mostly flat. Nevertheless, there are some spots that deserve a stop.
Barrington Bay is a marvelous place to visit if you go to Santa Fe, a relaxing beach with beautiful and clear water.It is specially attractive for those who like snorkeling. The coast is plenty of colonies of sea lions, and it is also possible to see rays, corals, giant tortoises, Galapagos gulls and petrels.
Santa Fe volcano is probably the oldest volcano of the Archipelago, a very interesting place to visit for those who are interested in Geology. Along the trail many salt bushes can be seen as well as giant Pickly pear cactus: gigantism is a characteristic of these islands. There are also land iguanas and lava lizards.
Itineraries
If you want to see this amazing Island on board of our exclusive yachts, these are our itineraries that include a visit to this marvelous island.
Itinerary A of Galapagos includes a visit to Santa Fe Island.
Itinerary A of the boutique yacht Galapagos Seaman Journey has a visit to Santa Fe on day 3.
Itinerary D and F of Galapagos Seaman Journey include a visit to Santa Fe at the afternoon of day 10.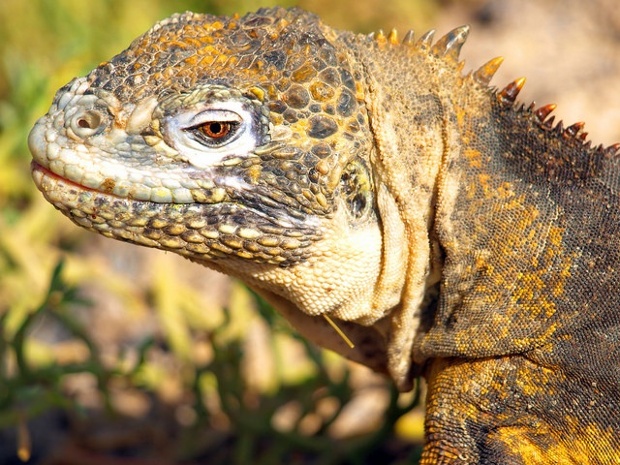 Conservation Challenges
There was an expedition in Santa Fe Island for restoring giant tortoises in this island. The group is composed by rangers of the Galapagos National Park, Galapagos Conservancy scientists, and several volunteers. Annual releases of juvenile tortoises have been done for five years, and the plan is to continue until 2022.