Among the different islands of Galapagos, we can find Española Island, with a high incidence of endemism, due to its isolation. It is also very interesting as one of the oldest geologically speaking, as it is estimated to be about four million years old. Come and discover the jewel of Galapagos!
When you travel to Española Island, you will meet the waved albatrosses, the marine lizards and the funny blue-footed boobies that live there, surrounded by many other unique species and marvelous landscapes.
What to see & do in Española Island?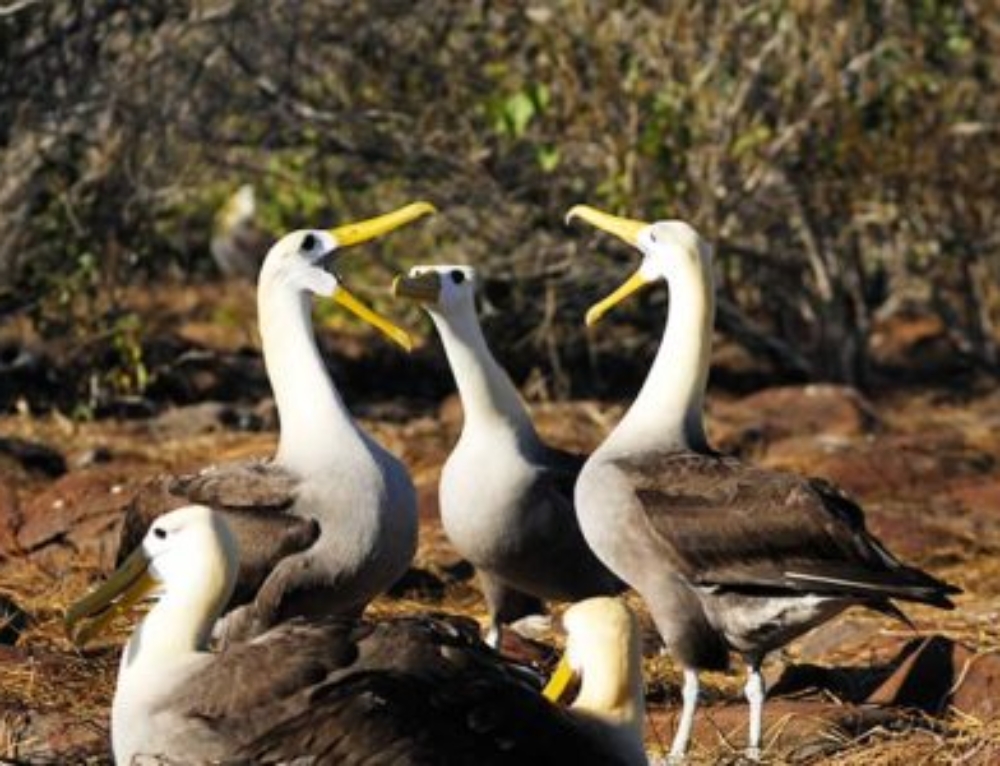 Gardner Bay is a marvelous beach, that was chosen in 2013 by the CNN as one of the 25 best beaches in the world for its incredible flora and fauna. It is perfect for swimming and snorkeling around extraordinary wildlife, and also for kayaking. You can also observe the sea lions while you relax and sunbathe.
Punta Suarez is rocky land that birdwatchers love especially, as it has one of the most impressive and varied colonies of sea birds in the Galapagos Islands. The spot offers beautiful views for every visitor, especially photography lovers, with high cliffs and the company of blue-footed boobies, swallow-tailed gulls, albatrosses, Red-billed Tropicbirds, and Nazca boobies.
Española has a unique variety of marine iguanas, that are larger and turn red/green during the mating season. Visitors have also the chance to see the Española mockingbird, which is also unique and different from the rest.
CONSERVATION CHALLENGES
There are some species especially threatened on the island, like the giant tortoise. Today there are more than 2,000 tortoises on the island, but in the 1960s of the past century, there were only 14 individuals. It was rescued from the brink of the extinction and is now one of the most known conservation success stories.
With a population of 25,000 to 30,000, waved albatrosses are also endangered. Nearly the entire world population of the adult birds can be found on Española Island, where visitors can see them between April and December. In the last past years, environmental awareness has been growing, and there are measures to protect them and the rest of endangered species.
ITINERARIES
If you want to see Española Island on board of the Galapagos Seaman Journey, itinerary A includes a parade on this island. On day two, we go to Gardner Bay in the morning, and we visit Suarez Point in the afternoon.
Also, in Galapagos Seaman Journey stops on Española Island. If you take the itinerary B of this charming yacht, you will visit this island on day 3, and if you book the itinerary C1, you will have the day 6th for visiting Gardner Bay and Suarez Point.