The virginal nature of Galapagos Islands in the Pacific, seduces from a few centuries ago, because before that, they even didn't exist. The lack of human contact for many thousands of years makes this destination a paradise of unique species. In particular, there are many extraordinary birds to discover in this Archipelago.
The Galapagos Islands are home to some of the most endangered birds in the world, on their bird species have a unique behavior, because they are extremely docile and tolerant of human presence. Galapagos animals are very friendly (they don't run with the presence of humans) and they are also very different from other species found in other parts of the world.
These wonderful features are unique for bird lovers, and for this reason, many birdwatchers of other countries travel to Galapagos Islands to know their extraordinary birds. The Enchanted Islands are also a paradise for photography lovers for the same reasons. See the beautiful pictures that you can take if you come!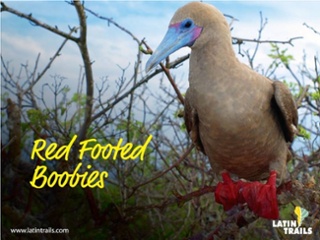 The birds in Galapagos
A total of 140 species of birds have been recorded in Galapagos: 58 resident, 76 migratory, and 6 introduced. About 50% of the resident birds are endemic to the Islands. Galapagos birds can be classified into three main categories: seabirds, coastal birds and land birds.
Among seabirds, visitors can find in Galapagos Blue Footed Boobies, Red Footed Boobies, masked or Nazca Boobies, Swallow Tailed Gulls, Southern Black Backed Gulls, Magnificent Frigatebirds, Galapagos Penguins, Brown Pelicans, Band Rumped Storm Petrels, Flightless Cormorants, Waved Albatrosses, Galapagos Shearwater, Lava Gulls and Brown Noddies.
The second group of birds in Galapagos are the coastal birds, those that can be found in the shores of the different islands. The main Coastal Birds are Flamingos, Oystercatcher Crackers, Lava Herons, etc. They are easy to be watched, if you go to the beaches of the islands or if you go on board of a yacht.
Among land birds, the third category, we can find in Galapagos fascinating species of birds, such as Darwin Finches, Galapagos Pigeons, Galapagos swallows, etc. These species can be found if you hike in the islands, and there are many different sub-types. The most interesting of them are the Galapagos finches, unique among other finches in the world, which inspired the scientist Darwin.