Chinese fishing boats search for squid in Galapagos Islands
The Galapagos Islands were the key to Charles Darwin's theory of evolution.
These islands are located hundreds of miles away from the Pacific mainland and are listed as a World Heritage Site.
However, this is not true if you're a Chinese fisherman. A fleet of 300 Chinese ships has set sail halfway around the world to capture the Humboldt squid in the Pacific Ocean's depths.
According to the New Zealand Herald the Associated Press and Univision, accompanied the Ocean Warrior fishing vessel on an 18-day expedition to observe the Chinese distant water fishing fleet at sea off South America.
The newspaper claims that decades of overfishing have led to China's fishing fleet being at sea. This feat was possible thanks to billions of dollars in state subsidies. The newspaper stated that Beijing has declared it has zero tolerance for illegal fish fishing, and pointed to recent actions like a temporary moratorium high-seas Squid fishing as proof of its environmental stewardship. For decades, those who are now critical of China, including the US, have raided the oceans. However, the Chinese fleet is huge and it recently arrived in the Americas. This has sparked fears that the Chinese fleet could run out of marine resources.
As part of negotiations on a new High Seas Treaty (which could increase international cooperation on the lawless waters that make up nearly half of the planet's surface, activists are seeking to restrict fishing.
There were 30 vessels. According to the publication, Associated Press (AP), observed that 24 of these vessels had a history involving labour abuse allegations, past convictions for illegal fishery or signs of violating maritime laws. These issues collectively highlighted how the open ocean around Americas, where the US is long in control and China is jockeying to influence — had become an attraction for the seafood industry's worst offenders.
It stated that 16 ships sailed without their mandatory safety transponders on, broadcast multiple electronic IDs, or transmitted information that did not match their listed names or locations. These discrepancies are often associated to illegal fishing. However, journalists and investigators found no evidence that they were involved in any illicit activity.
"Beijing exports its overfishing problem into South America," said Captain Peter Hammarstedt of Sea Shepherd, an ocean conservation group based in the Netherlands. He reportedly spoke on behalf of nine vessels including the Ocean Warrior. "China is the main culprit for plundering sharks and tuna in Asia."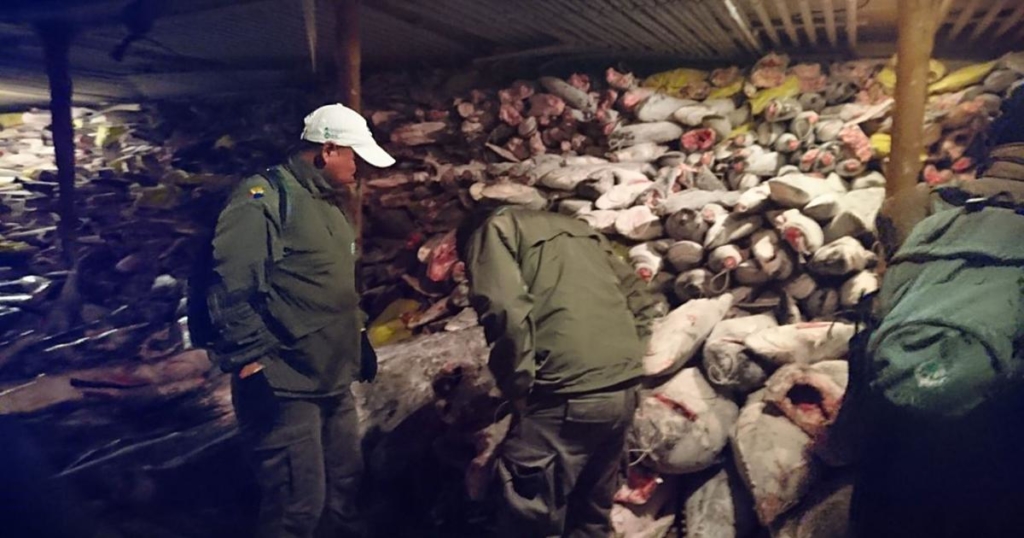 According to all accounts, Humboldt squid is the most abundant marine species. It is named after the nutrient rich current off the southwest coast South America. Scientists believe that their numbers are increasing as the oceans heat up and their natural predators, sharks and tuna, are extinct.
Biologists claim they have never been threatened by the industrial Chinese fishing boom off South America.
Hammarstedt said, "It's really like the Wild West." "Nobody is responsible to enforce out there."
For many Chinese ships, the voyage to warm equatorial waters close to the Galapagos began months before. On the other side of South America, hundreds of foreign-flagged Jiggers collect untold numbers of short fin squid every Austral summer between November and March.