Carolina's Galapagos Science Center (GSC), recently opened its doors to a small number of students and researchers returning to its state-of the-art facility on San Cristobal in Galapagos. Greg Lewbart was the first to arrive. He is an adjunct professor at UNC Gillings School of Global Public Health and a professor of aqua animal medicine at North Carolina State University.
Since its inception, almost 10 years ago, Lewbart has been conducting research at the Galapagos Science Center. He has also made 21 trips to Galapagos throughout the years. Many of these trips were made as part of an international research team that established baseline health parameters for wild species within the archipelago. Lewbart couldn't travel to Galapagos in September 2020 due to the pandemic. Instead, he advised from afar that the GSC had partnered with the Galapagos National Park to conduct health assessment of 30 juvenile giant tortoises so they could make their way to the wild as part the GNP's breeding and repatriation efforts to protect this species.
June 2021 was a different story. After almost two years of being absent, Lewbart returned to the GSC to vaccinate the majority of the Galapagos people.
"Returning home to San Cristobal, the GSC, was an amazing experience. It was like returning home after a long time. It was easy to get back on track in 2019 thanks to the support of my colleagues and friends at the GSC as well as the archipelago. Before we set out to collect data and explore a variety research sites, there were many virtual hugs and warm reconnections.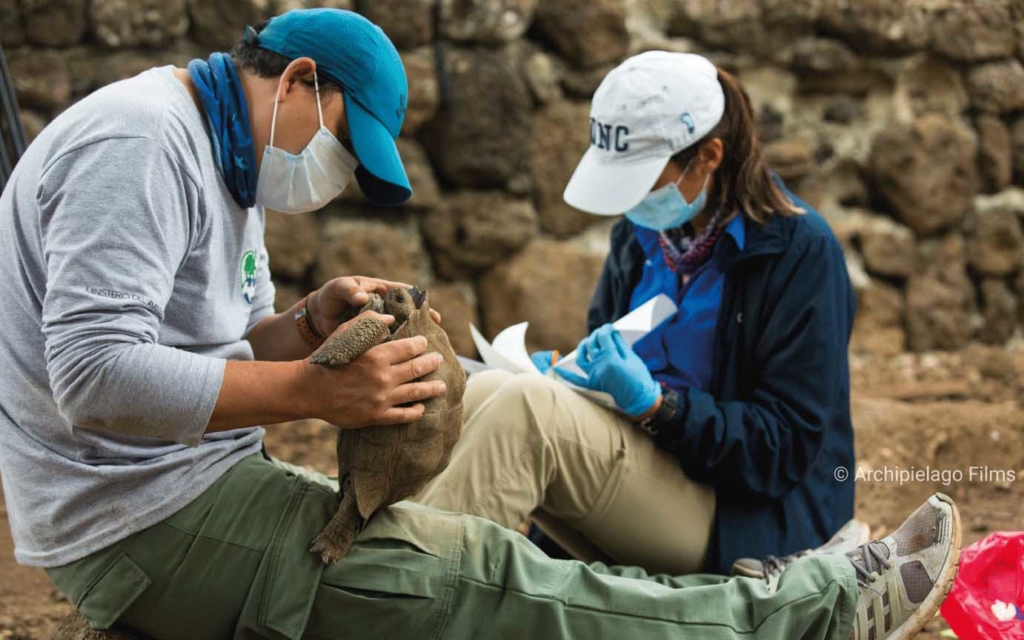 Lewbart, along with a small group, managed to complete health assessments and evaluate 18 San Cristobal tortoises aged six years old. All were deemed healthy and will be released into the wild by the GNP in the next three weeks. This was only the beginning. Lewbart's team conducted valuable research during their brief visit to the Galapagos Sea Lion, Green Sea Turtles, and Espanola Nazca Booby – each with different research goals.
Lewbart has witnessed Galapagos sea-lions in need and sometimes needing blood to heal from injuries. Lewbart was interested in exploring whether Galapagos sealions could be willing to accept blood from the same donor as humans. Lewbart, a GSC and GNP team spent two days at Playa Man and Play de los Marinos to catch sea lions. They also took small amounts of blood from more than 20 sea lions. The GSC Microbiology Lab conducted 50 cross matches. This is the first time that anyone has ever done cross-matching with this particular species. Lewbart was happy to report that there were no severe reactions or clotting. This means that there are many resources available to help protect the Galapagos sealion.
Lewbart's research team then conducted valuable research to determine if microplastics could be found in the feces and intestines of the green sea turtle. This would help highlight the types and densities of microplastics present in the Galapagos waters. Two locations were chosen to collect fifty green sea turtles, one off Galapagos and one off mainland Ecuador. This will allow for a comparison that will help us better understand the extent of microplastics found in the surrounding waters.
Lewbart made the last days of the trip to Espanola to conduct health assessments as well as measure the impact of tourists on the Espanola Nazca boby. The sampling of 108 animals was possible despite the difficult conditions, including high winds, heat, and dust, and the requirement to collect blood samples within five minutes to get accurate results. Two samples were taken from different locations, one near tourists and one in a remote area. This was done to assess the stress levels of this species and understand how tourism might be impacting their health.
Lewbart's recent trip to the GSC, and the larger Galapagos Islands brought with it so much hope and optimism. We are still adapting to the new normal after the pandemic, so it is refreshing that researchers from the GSC have been invited to continue their vital work to conserve these iconic animals and their environment for the future.