Immerse yourself in comfort in one of the last places on earth that is totally wild and pristine by taking a pilgrimage far off the beaten path.
Today's story:
"Swimming among sharks"
Finally my dream came true!!! Swimming with sharks!….. What an excitement…. While having my nutritious breakfast at the Galapagos Seaman Journey I was thinking "Wow, am I really going to swim with sharks?" I actually couldn't believe it. Nevertheless the day started perfectly with lots of sun and great outdoor temperature. As we were approaching the "Leon dormido" – which literally means "Sleepy lion", I thought "beautiful…how peaceful". And in fact it seemed so tranquil looking at it from our cruise at a 500m distance. Everyone was thrilled.
After a 20 Minutes ride from San Cristobal Island, our guide gave us last instructions. It got kind of windy and also the sun did not look as friendly as when we left shore. "Ready to swim with the sharks?" the guide shouted while putting on his fin flippers. "Meeee" I shouted rising my hand…but the excitement suddenly changed into a timid "Me…ahhh hmmm" clearing my throat. The guide once again asked "What's up people? Didn't you want to go swimming with the sharks?" Suddenly everyone was very busy playing with their cameras or just pretending to be sick. So the guide said "Let's go" and pointed his finger towards me and my 12 years old son.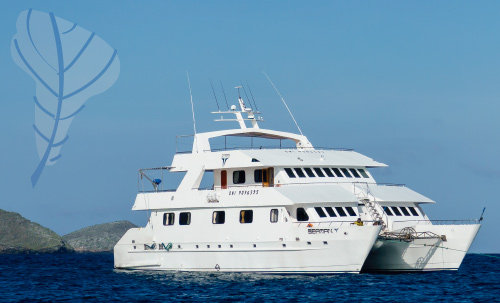 Being a little bit worried about my decision, I eventually jumped into the water. Snorkeling? Warm water? Wrong!!! The water was cold and so deep that I couldn't see the ground. "Ohh my good" I said to myself. "What did I do?" And I did not see the guide. "Where is the guideeeee ? Helloooooooo. … " Of course screaming under water…was kind of impossible. I looked up and the only thing I could see was pitch black water and two huge raising walls. "Am I going to swim through this canal on my own?" I said to myself. "No way!!!"
My son waving at me…"Come on dad…let's go !" Then suddenly a hand grabbed me on my shoulders. I got so scared that I practically was ready to swallow the whole ocean. Did I lose my mind ? "The guide!!!" huuuuuu I was safe…we were safe ! Wow I have never felt that safe in my entire life. Then I looked up again towards our cruise ship. Was I the only one who wanted to experience this beautiful adventure? Of course not ….suddenly more people were jumping into the water. Great! Even the older lady from Utah! So slowly but surely everyone was approaching us in order to start our adventure journey together. Looking like a little duckling family, everyone was following our guide. "So where are the sharks?" … I thought.
Suddenly my guide started pointing with his hand trying to tell us "Look…over there…." Still a bit worried about where I was, I did not understand his intention until he grabbed my head making me look straight forward. I couldn't believe my eyes. Not very close, but close enough to feel "funny", I saw a bunch of sharks swimming from the right to the left. !!! We got closer and closer. "Are we going to touch them?" I thought, but then after one minute they suddenly disappeared. The guide again gave me a pat on my back indicating me to look back. So I did.
What I saw was astonishing. The very same sharks but this time swimming from the left to the right. Was I afraid? Actually no!!! I felt safe. I started sensing that the sharks let us pass through their territory. I felt respected. I felt thrilled. I felt awesomeeee and so the entire group.
Then we approached the end of the canal of the "Leon dormido" and I could see the sun again. And there was our beloved cruise ship… what a relief. We got back on board and the captain asked me "How was it? Did you see the sharks?" Being mentally still with the sharks and this fantastic natural spectacular I just nodded and sat down to get rid of my fin flippers. I still sensed them. What scenery. What a respect!!! You always read or listen about being part of nature, but really sharing with wild sharks has made me think and left me with an even greater respect of "mother nature" and their beautiful habitants.
In conclusion:
A stay on board of our first class cruise Galapagos Seaman Journey and living real underwater experiences such as "swimming among sharks" make this an unforgettable event in your lifetime at any age.
Highly recommended!!!
Written by
Patrick Ziliax