Highlights of Ecuador Tour
7 days – 6 nights
Ecuador is a very popular tourist attraction due to its biodiversity of culture, flora and fauna in such small territory. The cultural value is quite rich and traditions are kept through the indigenous population while other traditions have emerged due to miscegenation. On this tour of Mainland Ecuador (Andes to Coast), you will get to know those traditions because you will visit the main cities and attractions in a very lively and interactive manner. Tours in major Cities such as Quito, Cuenca and Guayaquil are complemented by visits to the most relevant Indigenous Towns during the ride through the region.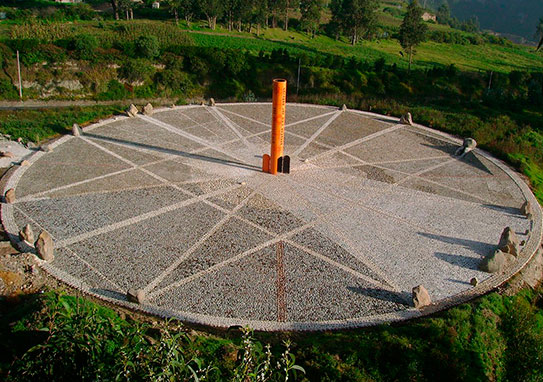 Day 1: Quito / Otavalo / Sinamune Concert / Quitsato (Solar Watch)
In the morning, we visit the SINAMUNE Foundation. This includes a small interactive concert for 30-45 minutes, which features a wonderful and colorful special needs kids' orchestra; they beautify perform local and international music. At the end of the concert, you get a brief tour of the foundation, learn about their social work and you can support the Foundation by getting manually crafted souvenirs made with love by the children.
We will head towards Otavalo, a World-famous location especially for its Indigenous Market. You will be able to find many handcrafts made by the Indigenous Community. You will have some free time to enjoy the colorful folklore of the indigenous market at "Plaza de Ponchos", where you can bargain with the locals for special souvenirs.
Afterwards, we will head to the beautiful Lago San Pablo to enjoy a scrumptious Lunch plus a brief tour and history of this awe-inspiring Ancient Lake. Before heading back to Quito, we will stop at "        Quitsato", an interesting site in the City; While here, you will be able to stand in both hemispheres at the same time! A great site to take pictures with a solar clock. "Latitude 0" activities here are definitely worth this visit plus some open-air exhibits and folkloric presentations. Arrive to your hotel.
Accommodation  First: Patio Andaluz or Similar
Acomodación Superior Tourist:  Masaya Hostel or Similar
B/BL/L

Day 2: Quito – Quilotoa
After breakfast, we will head from Quito to the breathtaking Quilotoa Volcanic Lake (3900 m.a.s.l.) along the Amazing "Avenue of Volcanoes" and enjoy going through small colorful Indigenous Towns. The majority of the population in this zone are Indigenous, which means that several ancient customs are still observed nowadays; for example, Zumbahua is a Town that maintains these traditions on a daily-basis. One of those traditions was painting and in Tigua we will enter to one of those workshop to see all those paints.
Quilotoa is a collapsed volcano that has been inactive for thousands of years. A 9km cauldron that was formed in its crater due to the collapse of the volcano. According to studies, the lava managed to reach the Pacific Ocean and the cauldron is now home to a picturesque Lake that turns greenish-blue when sunlight hits the surface for a gorgeous view.
We will hike along the trail along the rim of the Lake, an easy hike that is rarely crowded and you are going to love the view of the Quilotoa Lake from this point! After enjoying lunch, we will visit Insilivi town to enjoy some local activities and the warmth of the locals. Dinner and overnight will be on a cozy traditional Hostel.
Accommodation First: Shalala
Accommodation Superior Tourist:  Shalala
B/L/D

Day 3: Quilotoa – Riobamba
After Breakfast, we will continue going through the Avenue of Volcanos; we'll enjoy gorgeous landscapes that are quite common in this region until we reach the jewel of the Region, the Chimborazo Volcano (6228 m.a.s.l.) and National Park. Enjoy a packed Box-Lunch at the closest point to the Sun with the company of Highlands Llamas. Then you will visit a local Indigenous Community to learn about their rich culture and savor typical Andean dishes.
After visiting the community, we continue to the City of Riobamba, known also as "The Sultan of the Andes"; we will have a panoramic city tour of the City before arriving to our Hotel for a well-deserved rest.
Accommodation First: Andaluza or Similar
Accommodation Superior Tourist:  Hotel Santa Isabela or Similar
B/BL/-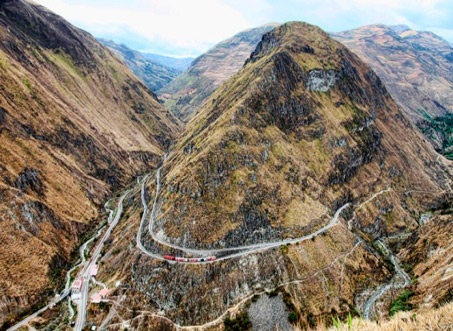 Day 4: Alausi /Devil Nose Train / Ingapirca /Cuenca (Tuesday to Sunday)
Early in the morning, we will be driven from Riobamba to the Town of Alausi with some quick stops at "Balbanera" Church, the very first Catholic Church built in Ecuador; also, we will stop at overlook point at the majestic Colta Lagoon.  Arrive to Alausi where we will have the opportunity to board the Famous Andean Train commonly known as "Devil's Nose" Train Ride. The journey is really exciting and exhilarating; in some parts, you can almost feel that the train will falls down! Arrive to Sibambe Station to enjoy a colorful Folkloric presentation and stroll around the Valley. Hop on the Train to ride up back to Alausi.
Our Transportation will take us to the Southern Andes but first, stop at the amazing Inca Ruins of Ingapirca where first, we will enjoy a packed Box-Lunch.  We will enjoy the beauty of this Inca-Cañari Ancient Fortress, one of the most important and largest Inca Ruins in all of Ecuador, mainly for its historical value and structural beauty. Ingapirca is located at 3100 meters above sea level. After our visit, we continue to the beautiful Colonial City of Cuenca and straight to the Hotel. Overnight.
Accommodation First: Hotel Victoria or Similar
Accommodation Superior Tourist:  Los Balcones or Similar
B/BL/-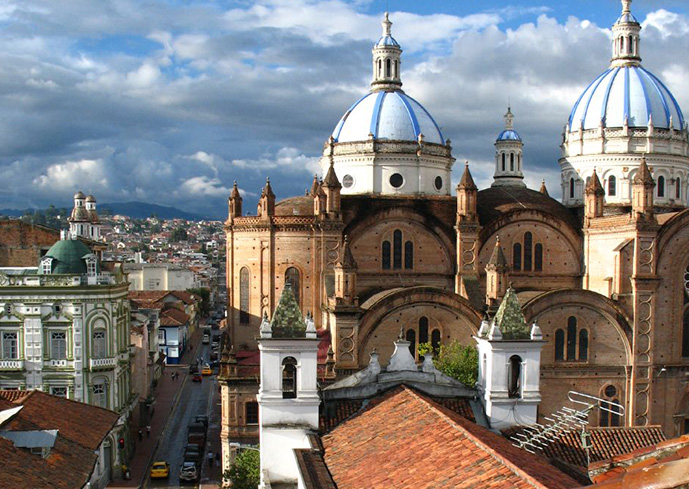 Day 5: Cuenca
Cuenca is the third largest City in Ecuador. In 1999, UNESCO declared Cuenca as World Heritage. For many people, this is the prettiest City in the Country and they would not be wrong in such a statement. The infrastructure and cultural value are valid reasons to make Cuenca a must-visit on any tour at any time.
After being marveled with the Cuenca city-tour, we will enjoy the best local typical dishes at "Dos Sucres" Restaurant (or similar). We will then visit several handcraft workshops, including a popular "Paja Toquilla" hats (the World Famous Panama Hats) workshop. In addition, visit the "Encalada" workshop where you see the process of making beautiful black ceramic vases. Return to our hotel. Overnight.
Accommodation First: Hotel Victoria or Similar
Accommodation Superior Tourist:  Los Balcones or Similar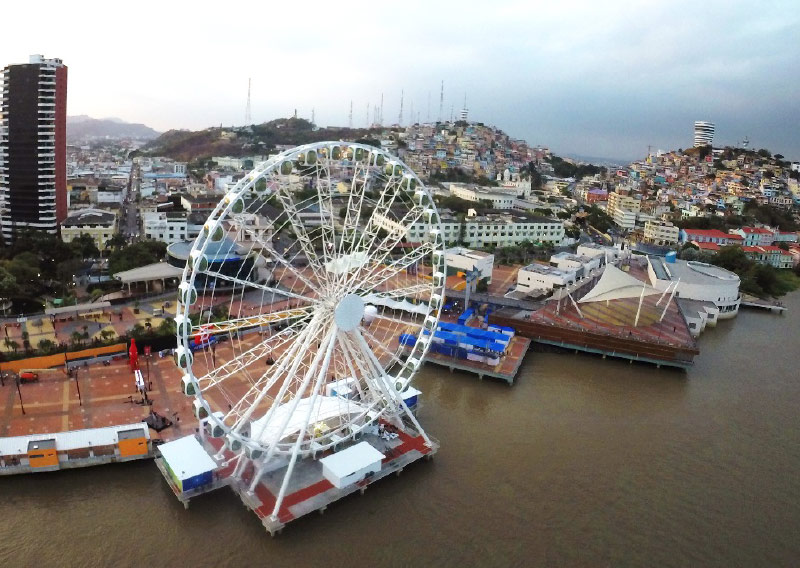 Day 6: Cuenca – Cajas National Park – Guayaquil City Tour
After Breakfast, we will continue our journey from the Andes to the Ecuadorian coast with stop at the breathtaking Cajas National Park, a natural and protected Reserve surrounded by pristine lagoons and gorgeous landscapes. We can take a small hike to enjoy the Reserve's unique flora and fauna; visit "Toreadora" Lagoon, the largest one in the Reserve; enjoy a Box-lunch at a charming natural location within the Reserve.
On our way to Guayaquil, we will note the sudden change of vegetation at the Coast and enjoy the sightseeing of many Banana Plantations and Coastal vegetation. Arrive to Ecuador's largest City-Port, Guayaquil; short stop to drop off our luggage and take a short tour to the Modern part of the City to enjoy some panoramic views and look at the most representative buildings in the area; a short stop at the famous "Parque de las Iguanas" (Iguana's Park) to view this magnificent specie bonding with the locals.
Visit the famous "Malecon 2000", a magnificent Rivershore by the Guayas River from where we can take pictures of the Rotonda Monument and the charming and color-filled "Las Peñas" Neighborhood. Return to our Hotel for packing and overnight.
Accommodation First: Unipark or Similar
Accommodation Superior Tourist:  Palace or Similar
B/BL/-
Day 7: Guayaquil, Transfer Out or Tour Extension to Galapagos
After Breakfast, Our Ecuador adventure ends with the possibility to take a wonderful Galapagos Cruise extension to the Enchanted Galapagos paradise or enjoying an Island Hopping on Galapagos also you can take your flight back Home.
B-
Included
Privates transfers and transportation
Meals detailed in the itinerary
Not Included
International flights and airport taxes
Additional meals and drinks (soft & alcoholics)
Tips and
personal expenses
Travel and
medical insurance
Contact a Galapagos & Ecuador Specialist