Ecuador's Andes has some of the most spectacular food, culture and nature in the country. But have you ever wondered what are the best places to visit in the Andes of Ecuador outside of Quito?
One of the places to visit in the Andes of Ecuador should be Riobamba, the capital of Chimborazo province.
The places you can't miss in the Ecuadorian Andes
Riobamba 
Located about 3.5 hours south of Quito the first thing you'll notice about Riobamba is it's incredible backdrop. The city is surrounded by three of the country's most important volcanoes – Chimborazo, Tungurahua and El Altar.
Indigenous Kichwa in the region say that the male volcanoes – Chimborazo and Cotopaxi – erupt in competition over lovely lady Tungurahua.
In Riobamba you can eat some of the country's best prepared hornando, a full roasted pig served with another Andean staple, corn hominy.
The city is known for its abundance of open air markets where you can find all sorts of fresh vegetables and fruits. If you visit between November and February be sure pick up a bag of native capuli – a grape-size fruit with big flavor grown in the countryside surrounding the city.
Riobamba is also a great base for visiting Taita Chimborazo, or Father Chimborazo – Ecuador's highest mountain and inactive volcano. Latin Trails is happy to arrange a tour to the Chimborazo base camp where you can admire the mountain views and enjoy a hot chocolate at the camp's small restaurant.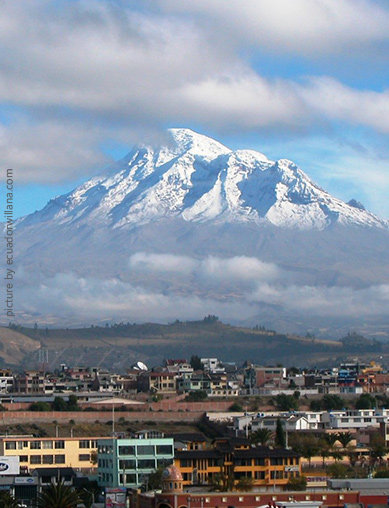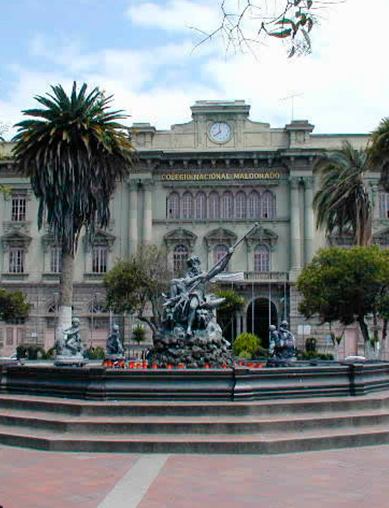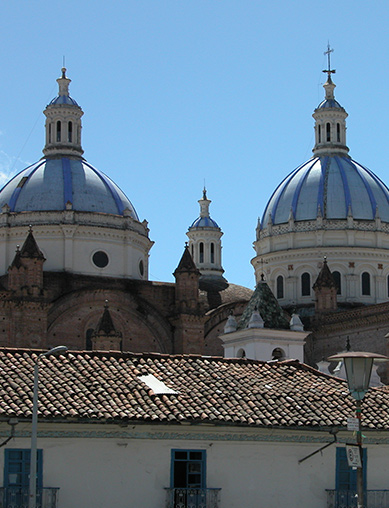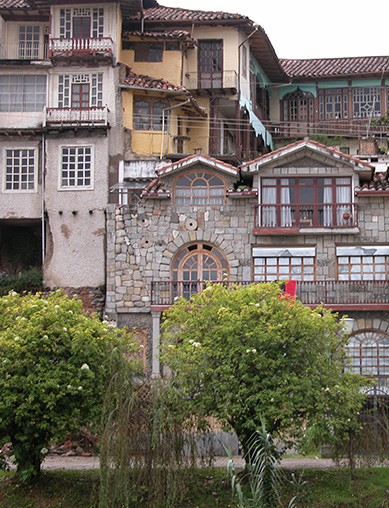 Your next place to visit in Ecuador's Andes should definitely be Cuenca, located less than an hour flight from Quito.
Cuenca
Known as the city of four rivers, Cuenca's old city is a UNESCO World Heritage Site laced with colonial style buildings and French Beaux Arts architecture. Walk along the Tomebamba River to the well preserved archaeological site of Pumapungo. The sites expansive remains give evidence to the temporary coexistence of Inca and Canari societies in the region.
Cross the Tomebamba River and head over to San Roque neighborhood, known for its avenue of Andean savory treats – humitas. Humitas are fresh ground cornmeal steamed in a corn husk. Or you can try the cheese filled yuca or wheat patties cooked over a ceramic griddle. San Roque neighborhood is also known for producing intricate metal artwork since the turn of the 20th century.
From Cuenca you can easily visit Cajas National Park – an expansive, high altitude park filled with forests, mountains and dark water lagoons.
The next place you should visit in the Andes of Ecuador is Vilcabamba.
Vilcabamba
This small town just south of Loja, famed for its high number of centenarians. Vilcabamba is a gateway to Ecuador's Podocarpus National Park. The park preserves a vast variety of endemic flora, including 19 orchid species.
In Vilcabamba you can stroll around the main park and then enjoy lunch at one of the variety of small cafes that line the park. You can also sip a cup of coffee brewed from the beans produced in the region.
If you really want to relax, it's time to trave to Vicabamba. We can recommend you the best place during your stay. There are excellent hostels that offer you spectacular views of the Valley of Longevity, as Vilcabamba is known. Also, you can try, some of the best spa treatments of all the Andes region of Ecuador.
Don't forget to check out our cruises in Galapagos, Sea Star Journey, and the catamaran Seaman Journey. Or maybe, if you prefer you can take a tour in Galapagos based on hotels.