Renewable energy from organic waste & oil accidents in the Galapagos Islands
A recyclable system has been developed for over four years in order to preserve the Galapagos Island's resources. This system consists in the detailed separation between recyclable, organic, and non-recyclable products. The organic products are used as fertilizers for the orchards where organic fruit and vegetables are planted. Nonetheless the few orchards located in the main islands don't offer a high demand for fertilizers derived from organic products. Despite the effort done regarding this system, many problems arise in the non-recyclable products category.
Zero fossil fuels in Galapagos
In the year 2007 the Ecuadorian government in the Galapagos Islands launched the campaign named "zero fossil fuels in Galapagos" aiming to replace fossil energy as a renewable energy approach. As part of this attempt to eradicate the presence of fossil fuels in the archipelago, a parallel study was conducted by the WWF (World Wild Fund for Nature) , which is an international non- governmental organization that focuses on work and activities regarding the restoration, conservation and research of the environment around the world. The WWF is one of the most prominent self-made authorities in issues regarding the eco-systems.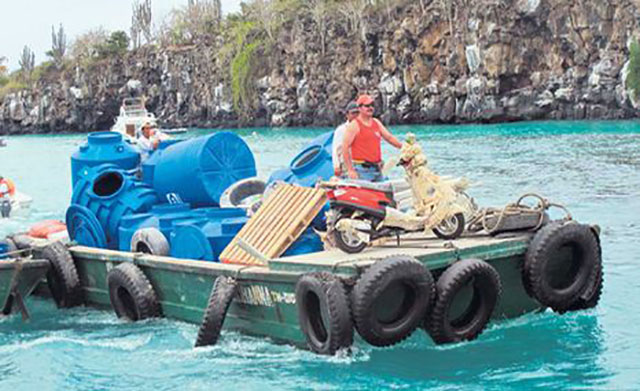 Among the most important outcomes of the research study conducted in Galapagos about organic fossils, about 10% of the Electricity organic fossils can provide supply in Santa Cruz Island. That´s the case of used vegetable oils as an energy source in the transport industry, and the use of bio-gas for the heating of water in livestock farms. This clearly suggests that the Galapagos Islands can easily be sustained through renewable resources that do not harm the environment nor residents. Therefore implementing windmills was a desired plan to be put into action, however many groups of environmentalists and residents didn't agree with this project, claiming that the natural environment and surrounding would be destroyed. Some people even said that the life time of operation of the windmills will be for 10 years, and certainly that is not long enough time to take advantage of alternative energy sources. Others consider solar panels as a better alternative. Despite all the proposals, there are many conflicts in order to reach an agreement although the advantages weight more than the drawbacks.
Ecuador has approached to improve energy supplies in the Galapagos Islands. The positive outcome would depend on the efforts and international help regarding cutting-edge technology in the implementation of clean energy.