Genovesa Island covers approximately 14 km2 at an elevation of 64m (40ft).
This horseshoe-shaped island is surrounded by cliffs by a volcanic caldera. It's wall has fallen, creating the great Darwin Bay.
The Arcturus Lagoon, located in the middle of the lake, is filled with salt water. The sediments in its center are less than 6000 years old.
Genovesa has not been subject to any historical eruptions. However, the volcano's flanks are home to lava flows that are quite young. This island is located in northeastern portion of the archipelago. It is not included on many cruises due to the distance required (it takes at most 8 hours each way).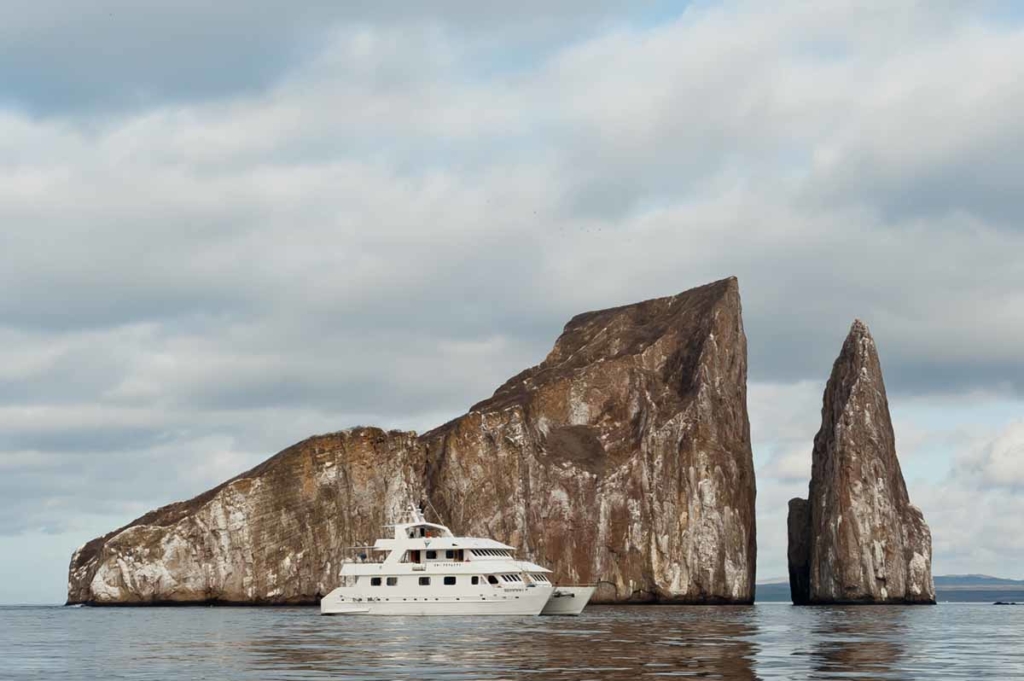 These are some places to visit:
Darwin Bay:
This white sandy beach is located near the caldera of an inactive volcano, which was submerged thousands years ago. Red-footed boobies, seagulls and frigate birds fly around this idyllic beach. They stop to rest on the rock walls. Near the island, you'll find sharks, sea lions, and rays.
El Barranco or Prince Phillips Steps:
Fragile stairs extend for about 25 meters. You will reach a view overlooking Darwin Bay. Its name is in honor of Prince Philip, a British monarch who visited Genovesa Island back in 1964. You will see many species of endemic birds as well as amazing views from the island during the hike.
The Seaman Journey Cruise
Galapagos Seaman Journey is a first class catamaran that began sailing the Galapagos Islands in January 2008. It is a Boutique Yacht offering superior comfort, size, style, and stability. The Galapagos Seaman Journey makes it possible to enjoy several cruise itineraries in the Galapagos with different routes that include amazing land tours on most of the Galapagos Islands. During these Galapagos cruises, guests encounter many endemic species like Galapagos Giant Tortoises, Penguins, Land and Marine Iguana´s, Frigate Birds, Blue Footed Boobies, and much more!
Each guest can enjoy the well-furnished facilities offering comfort and privacy. Galapagos Seaman Journey has a maximum capacity of 16 passengers allowing privacy and camaraderie at the same time. We have several resting areas for those who are looking for a quiet place to relax during their Galapagos trip with family and friends in the lazy mid-afternoon sun, or likewise after a busy day of swimming, snorkeling, kayaking, or walking on one of the Galapagos Islands.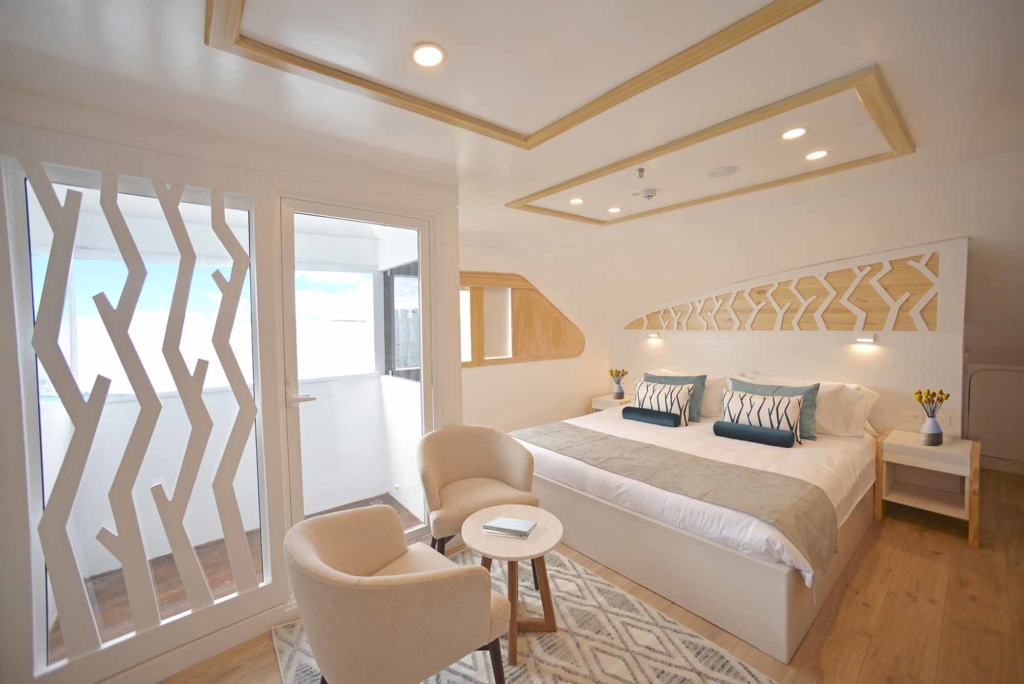 To check out the gorgeous ocean views with fellow shipmates, guests can spend some time on the liveaboard's spacious sundecks. Whether they feel like getting a little sun on their vacation or want the best place to enjoy the gorgeous sunsets over the enchanted Islands, our sundecks are the best place to be.
For the adults who might want to relax and kick back, we offer a great bar and lounge area where they are served by our bartender who will be happy to attend to all their needs and desires whilst you wind down.