For millions of years, hammerhead baby sharks have grown up in a nursery protected by lush mangroves and reefs on the Ecuadorian islands of Galápagos, safe from human threat. But until November, biologists hadn't have discovered their hiding place, in what could be one of the last secrets revealed in this archipelago located 1,000 km west of the continent.
"It was by chance that we found this natural nursery for hammerhead sharks (Sphyrna lewini), a highly threatened species. It is a unique area, of great interest for conservation", explains the biologist Eduardo Espinoza, who is responsible for the monitoring of Marine Ecosystems of the Galápagos National Park.
Still impressed by their discovery, Espinoza and his team return by boat to the place, located northwest of the island of Santa Cruz (one of the main islands), in a new expedition to collect data and place acoustic marks on the small sharks for their subsequent tracking.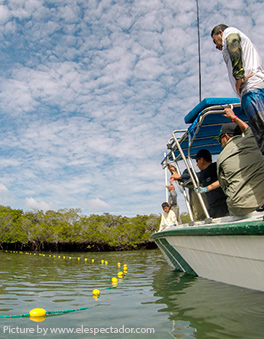 After plowing through turquoise waters crossed by sea turtles and skirting white sand beaches with black sun-tanned iguanas and overhung by huge pelicans, the small boat enters a winding canal between mangroves that flows into a natural bedrock and little deep.
Perfectly visible, dozens of small sharks with silvery complexion and crushed snout -with one eye at each end- glide meekly among other fish in search of crustaceans, the food of their early years.
"The females come to give birth and leave. The offspring have food availability here and are protected, because the reefs prevent large predators from entering, "explains Espinoza before launching an extensive network.
After one or two years, when they have grown and need more food, they swim into open waters, and sometimes they migrate thousands of kilometers, already turned into bulky masses of up to three and a half meters that can get to live 50 years.
Shark nursery in Galápagos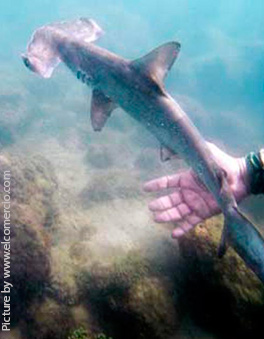 The Galapagos Park has been monitoring breeding sites for years and has been "tagging" hundreds of sharks, a sacred species in this marine reserve of 138,000 km2 – the second largest in the world – declared a Natural World Heritage Site.
But the finding of these small hammerheads is particularly sensitive, because due to overfishing and illegal capture the species is in danger of extinction, barely two levels away of being considered extinct, according to the International Union for Conservation of Nature (IUCN).
Something that makes the operation of marking even more delicate. "Shark, there, to the right!" shouts one of the team members. At that moment, everything becomes frantic.
The captain brings the boat closer to the mesh. One of the assistants grabs the shark, of half a meter, and places it on a table so that Espinoza and the rest of the team can measure it, weigh it, determine the sex and implant the chip on the back that will serve to know their habits and their migration route.