Ecuador is nominated in 16 categories in the World Travel Awards 2017. Last September, the country won 14 prizes in the South America awards, but today we are nominated for the World Prizes. We would love to have your vote again! In Ecuador, we all have joined efforts to encourage people to vote for the 16 categories the country is nominated in. The deadline is October 30th; so, let's vote!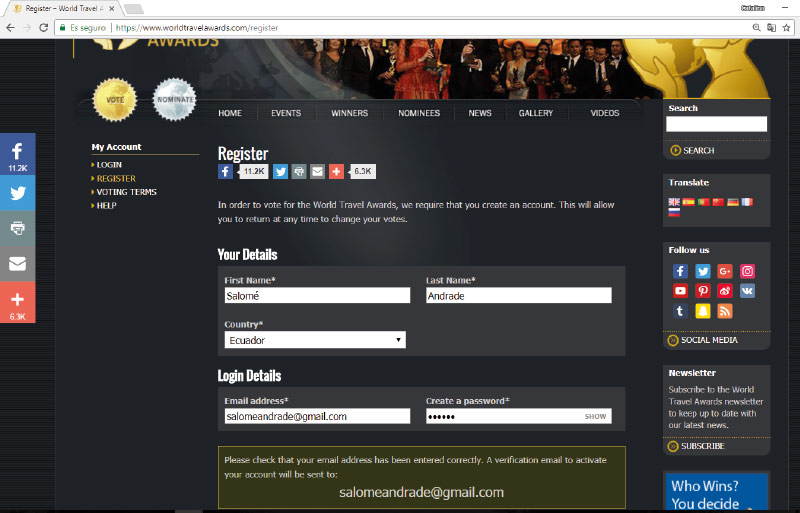 Input your information:  Name, last name, email, and create password. Finally click on "Register"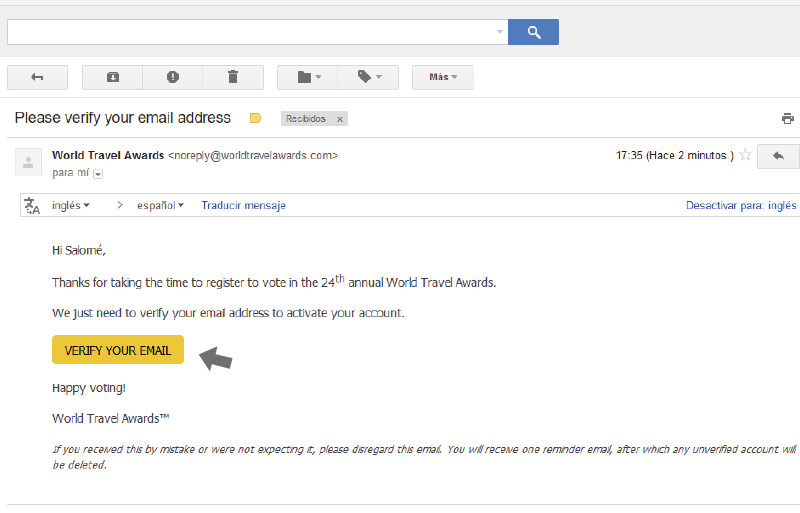 Check out the email you register with, and click on "Verify your email"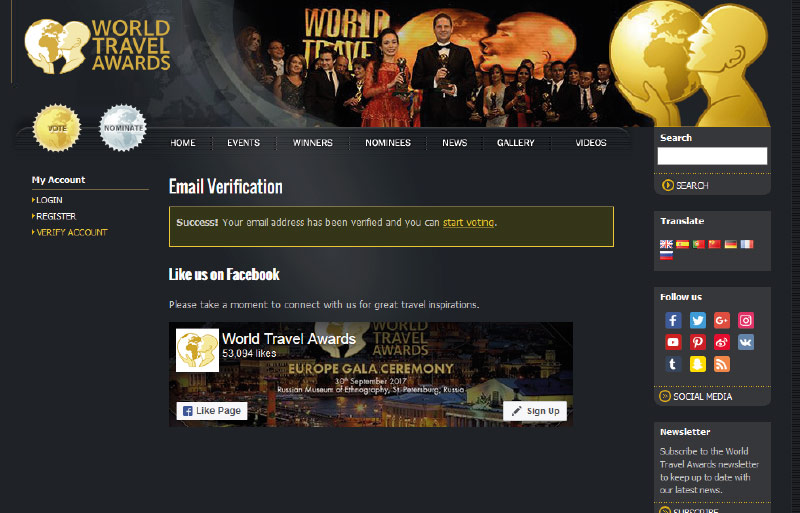 Once you are back in the World Travel Awards web page, click on "Start Voting"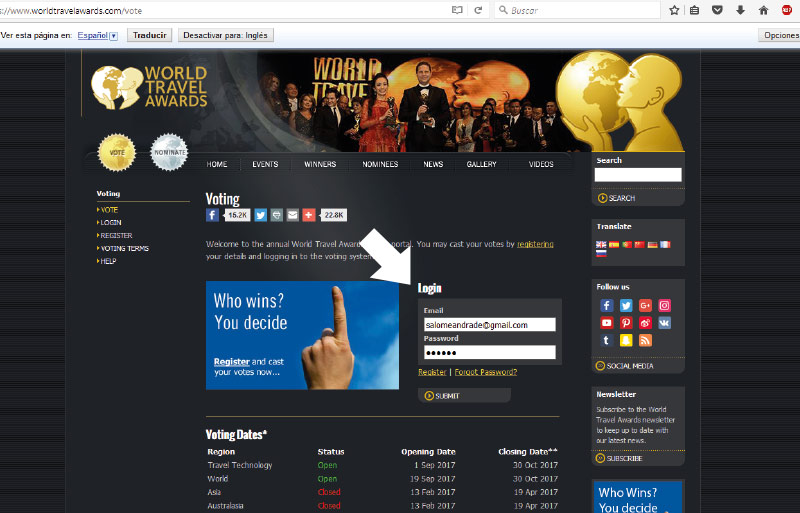 Fill out the form with your emai, and the created password, then "Submit"
A new page opens, there, click on "World"
Finally, you are on the vote page! There are 195 categories, so you have to choose one by one each category we are nominated in. Once you choose a category, the nominees will be displayed in the top of the page. If you follow the order we are proposing bellow, you can use that category number to reach each nomination. That order will change every time you vote for one category.
Let's vote!
Vote for: Galapagos Sea Star Journey
Categorie:
World's Leading Boutique Cruise



Vote for: Quito
Categorie:
World´s Leading City Destination



Vote for: Tren Crucero
Categorie:
World´s Leading Luxury Train



Vote for: Hotel Plaza Grande
Categorie:
World´s Leading Boutique Hotel



Vote for: Finch Bay Lodge
Categorie:
World´s Leading Green Hotel



Vote for: Cuenca
Categorie:
World´s Leading City Break Destination



Vote for: Galapagos Islands
Categorie:
World´s Leading Beach Destination



Vote for: Mashpi o Kapawi Lodge
Categorie:
World´s Leading Eco-Lodge



Vota por: Swissotel Quito
Categorie:
World´s Leading Conference Hotel


Vote for: Ecuador
Categorie:
World´s Leading Green Destination



Vote for: Ecuador Ministry of Tourism
Categorie:
World´s Leading Tourist Board



Vote for: Hotel del Parque
Categorie:
World´s Leading New Hotel



Vote for: Guayaquil
Categorie:
World´s Leading Business Travel Destination



Vote for: Quito
Categorie:
World´s Leading Meeting & Conference Destination



Vote for: Ecuador
Categorie:
World´s Leading Adventure Tourism Destination



Vota por: Mariscal Sucre Airport – Quito
Categorie:
World´s Leading Airport