Amazon and Galapagos by cruise ship
In Galapagos, the animals have a close contact with the visitors; they won't attack as they have enough food to eat. You can swim close to sharks, or see sea lions crossing the street. The best way to explore the islands is by cruise ship, we offer you our best alternatives Sea Star Journey and Seaman Catamaran. You can choose the itinerary you prefer depending on the day you will arrive. After Galapagos, you will enjoy a cruise on board of one amazon riverboat. You will discover the jungle deeply, and then, enjoy of your comfortable cabin.
Day 1: Arrival to Quito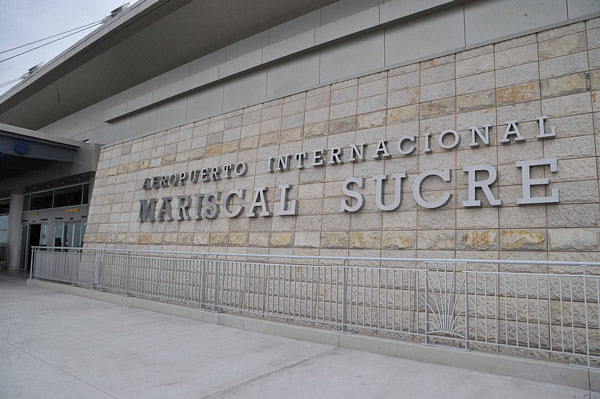 Upon arrival at Quito airport, you will meet your guide, he will transfer you to your hotel. Situated in a circle of Andean peaks, Quito is the world's second highest capital, with arguably one of the finest settings in the world.  Originally settled by the Quitu tribe in the first millennium, Quito was an important part of the Inca Empire, before being destroyed and re-founded by Spanish conquistador Sebastián de Benalcázar in 1534.
The colonial center – declared a World Heritage Site by UNESCO in 1978 – is the largest and best preserved in Latin America. It is home to excellent museums, churches and art galleries.
Overnight: Quito
Meals: -/-/-
Day 2: Flight to Galapagos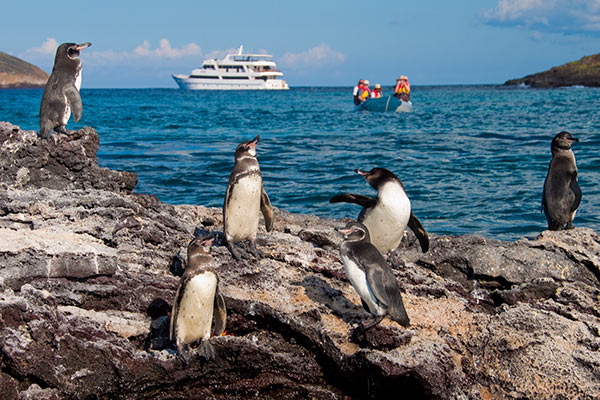 After breakfast, our guide will meet you at your hotel lobby, and will transfer you to Quito International airport; afterward you will be able to take a flight that takes 2 1/2 hours from Quito to and 1 1/2 hours from Guayaquil.
Once in Baltra the passengers must go through an inspection point from the airport to make sure that no foreign plants or animals are introduced into the Galapagos Archipelago. In addition, this inspection point is where passengers have to pay for the entrance to the Galapagos National Park under the following parameters:
After all the airport procedure, our guide will pick you up and transfer you to the bus that will take the tourists to the ferries, and cross the Itabaca Channel. The itinerary will depend on the cruise you chose and the day you arrive, however, for this itinerary we took a Seaman Catamaran example itinerary.
Overnight: Galapagos Cruise
Meals: B/-/D
Day 3: Galapagos Cruise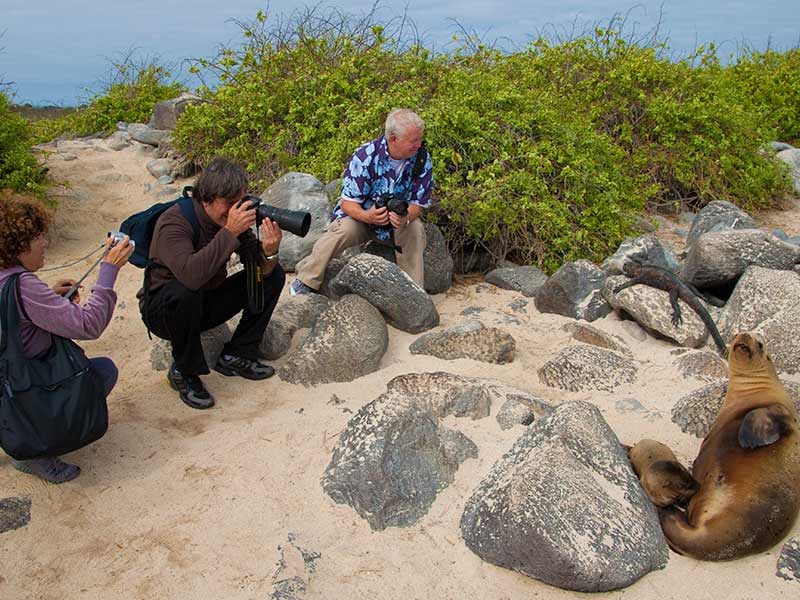 AM: Mangle Point
Off the eastern coast of Fernandina is Mangle Point a superior snorkeling site and a beautiful location for riding in a panga or zodiac through a grove of mangrove trees. A hike of about 1/2 miles is possible. Whether you hike, snorkel, or stay in your panga for a ride through the red mangrove trees, this second site of Fernandina Island is equally memorable. While you are on your ride, you are likely to see sea lions, tortoises, pelicans, rays and birds too numerous to name them all.
PM: Punta Moreno
Punta Moreno is located on the north coast of Isabela Island between the volcano Sierra Negra and Cerro Azul volcano. The trail runs along a lava flow Pahohoe (solidified lava in the form of corrugated or an accordion) into a complex of coastal lagoons, its main attraction are several species of birds which can be found around this lakes and mangroves.
Overnight: Galapagos Cruise
Meals: B/L/D
Day 4: Galapagos Cruise
AM: Urbina Bay
Urbina Bay is located at the base of Alcedo Volcano on the west coast, between Tagus Cove and Elizabeth Bay. This area experienced a major uplift in 1954, causing the land to rise over 16 feet. The coast expanded half a mile out, leaving marine life stranded on the new shore. This area is also a great place for snorkeling. Urbina Bay is a path that starts at the beach where a landing is made wet, the course is approximately 3200m, and substrates through the sand, pumice, lava, coral and vegetation in a coastal area suffered an uprising and the listener can appreciate iguana burrows. It is an idea al place to see red and blue lobster.
In Bahia Urbina, you can see a lot of Darwin's finches. Its main attraction is the land iguanas, larger than in places like South Plaza Island, Galapagos tortoises also in the wild, sometimes even out of season, they are on the bottom of the islands.
Also in this area stands a large amount of vegetation, chamomile, and Rosewood, but among all these plants stand out the beautiful flowers of cotton Darwin, endemic to the Galapagos Islands.
PM: Tagus Cove
Tagus Cove is located west of Darwin Volcano on Isabela Island. This was a favorite spot for pirates and whalers, a tradition is still observed that has continued since that time: the inscription of the names of boats. At the start of the walk, going up and passing the staircase, is a small cave where you will find inscriptions dating to the 1800s.
Its name originated from a British warship that went through the islands in 1814 looking for Galapagos Tortoise for food. Due to explosive eruptions must have occurred at the site, the substrate has a large amount of volcanic rocks of different sizes, among the most common are little balls of nearly spherical shape known as the "lapilli" or petrified rain.
Overnight: Galapagos Cruise
Meals:  B/L/D
Day 5: Galapagos Cruise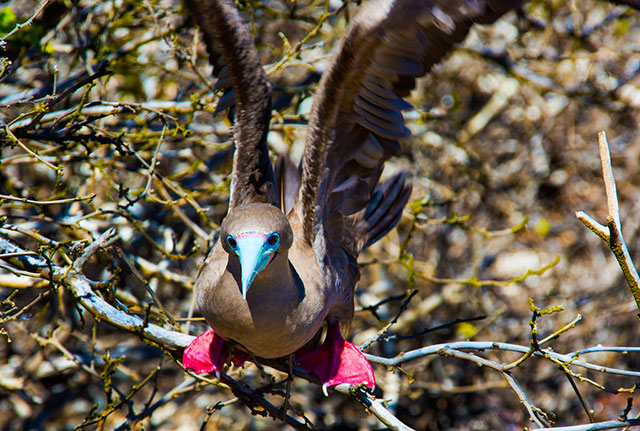 AM: Espinoza Point
Espinoza Point is a place famous for its large colonies of marine iguanas and as the habitat of unique species like the flightless cormorant, Galapagos penguin, Galapagos hawk, and Galapagos snake.
PM: Punta Vicente Roca
One of the most impressive and spectacular places of the enchanted Galapagos Islands; with high cliffs and tuffstone, ash and lava formations give this area a majestic touch. Located in the north-western coast of the island; comprises two distinct inlets. This large bay has a spectacular marine life.
Here, you can see seahorses, sea turtles and the strange yet fascinating Mola-mola or sunfish. This bay is a great place to practice Panga Ride and Snorkeling.
We also found: Penguins, Blue-footed boobies, Terns, Boobies, Sea lions. Also, you can snorkel and observe sea turtles, stingrays and puffer fishes.
Overnight: Galapagos Cruise
Meals: B/L/D
Day 6: Galapagos Cruise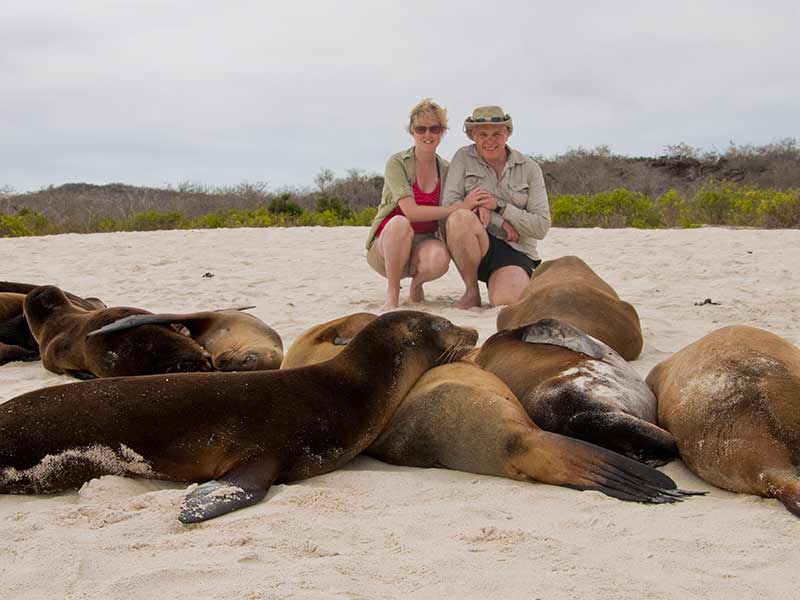 AM: Playa Espumilla / Bucanero
Espumilla beach is located in northern coast of Santiago Island in James Bay. During the last presence, the El Niño phenomenon, one of the two lagoons in this site, underwent a process of sedimentation, thus causing the disappearance of a representative colony of flamingos.  The main attractions are the palosanto forest and the marvelous. The beach is an important site for nesting marine turtles.
PM: Puerto Egas, Santiago Island
Its black beach is located at the west side of the island and is the main attraction of the island. Their volcanic tuff deposits have favored the formation of this special black sand beach.
This site is called Puerto Egas, because there was an attempt of Hector Egas,   to start the exploitation of salt, which failed because the price of salt in the continent was very cheap, and did not justify its exploitation in Galapagos. The project was abandoned and they left their infrastructure.
Overnight: Galapagos Cruise
Meals: B/L/D
Day 7: Galapagos Cruise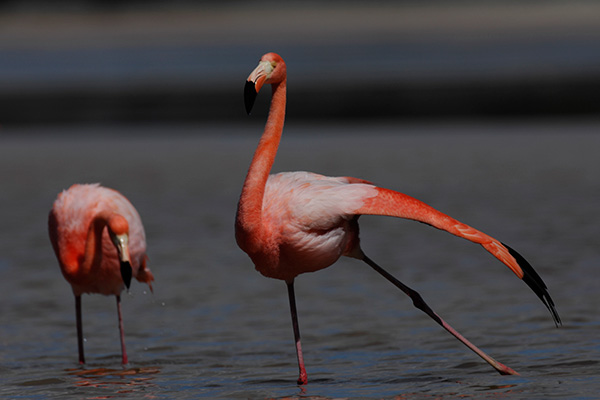 AM: Rabida
Rábida Island is unique because of its red sand and rocks.   The volcanic material on this island is very porous and external factors as rain, salt water, and sea breeze have acted as an oxidizing agent.
A short walk along a trail lead you to a coastal lagoon behind the beach which permits you to observe the land birds such as finches, doves, yellow warblers, and mocking birds. At the lagoon t, ere is a colony of flamingos.
PM: Chinese hat
This is a small islet (1 sq km) located just off the southeastern tip of Santiago Island. It is a recent volcanic cone, shaped like a Chinese hat when seen from north side. On the west you can see lava formations, formed under the sea and raised upward, this is why coral heads are found on the lava. This is an excellent visit for interpretation of geological features such as lava tubes and lava flows. The landscape is covered by sea lions colonies, marine iguanas, and Galapagos penguins.
Overnight: Galapagos Cruise
Meals: B/L/D
Day 8: Galapagos Cruise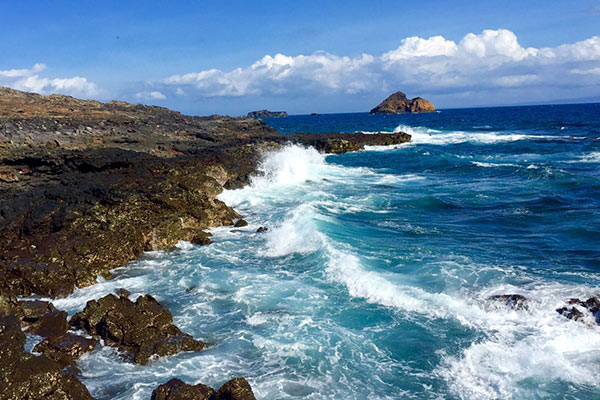 AM: Sullivan Bay
Santiago, also called James, or San Salvador Island, is located in the west central part of the Galapagos archipelago. It is the fourth largest island in the archipelago (following Isabela, Fernandina and Santa Cruz). Along with some of the large western volcanoes of Isabela and Fernandina, Santiago is also volcanically active, with many young flows and cones to be seen,  particularly  along  the  south,  west,  and  east  coasts. These may even be seen from the summit of Darwin Volcano and from space. A number of historic eruptions have been reported over the last 2 centuries. Santiago actually consists of two coalesced volcanoes: a typical shield volcano on the northwest end and a low, linear fissure volcano on the southeast end.
PM: Bartolome
Bartolome Island is situated across Sullivan Bay. It has an altitude of 114 meters , from where we can observe one of the most beautiful sceneries of the Galapagos Islands such as: Volcanic cones, lunar – like craters, lava fields, and the famous Toba formed pinnacle eroded by the sea. There is very little vegetation on this island. It has two breathtaking beaches where marine turtles exist and at the base of the pinnacle, as well as a very small colony of Galapagos penguins.
Meals: B/L/D
Day 9: Trasnfer to the airport
These two small beaches are found to the West of Turtle Cove.  Their sand is made of decomposed coral, which makes it white and soft, making it a favorite nesting site for sea turtles.  Behind one of the beaches there is a small brackish water lagoon, where occasionally is possible to observe flamingos and other coastal birds, such as black-necked stilts and whimbrels.  The other beach is longer, but it has two old barges that were abandoned during the Second World War, when the USA used Baltra Island as a strategically point to protect the Panama Channel.
After the morning excursion you will be taken to the airport for your flight to the mainland.  Upon arrival at Quito airport, you will be met by your guide, he will transfer to your hotel
Overnight: Quito
Meals: B/-/-
Day 10: Otavalo Indian Market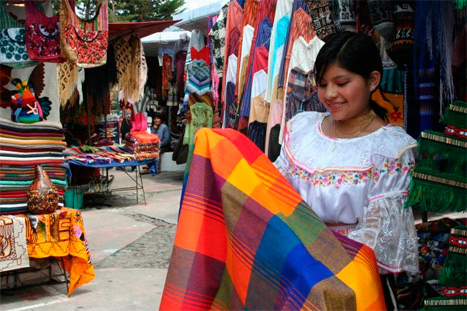 This morning you will leave Quito with your tour guide, heading to Otavalo, the town famous for its artisans market.  On route on the Panamerican Highway we will stop at Calderon, a town where the masapan figures are made, continuing through Guayllabamba town where you can try its typical fruit:  chirimoya.  We will also stop on the highway to admire the beautiful landscape and snow-       capped mountains in the area.
We continue on, making a short stop at San Pablo Lake before arriving in Otavalo.  Here we will visit the textile market located at the "Plaza of Ponchos"; this is one of the most famous markets in South America. You will find all kinds of handcrafts including tapestries made on the Spanish weaving loom as well as the indigenous backstrap loom.  After which you will enjoy some free time for bargaining and buying with the friendly Otavaleños.
After a full day spent in Otavalo we will return to Quito late afternoon/ early evening and you will be taken to your hotel.
Overnight: Quito
Meals: B/-/-
Day 11: Day 11: Quito city tour and Equator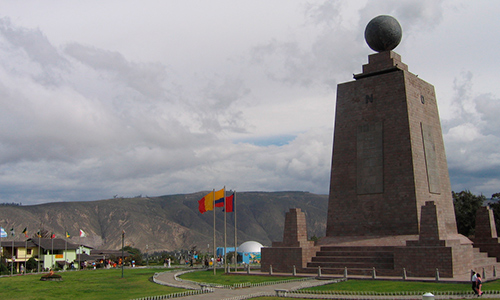 Explore the bustling streets and squares of the largest historical centre in the Americas, visiting some of its most important churches such as the impressive Cathedral and the majestic Compañía. We begin the tour in the quirky Guapulo; take in the Congress building, before heading to the downtown. We finish the day at the "Panecillo" hillside with its breathtaking views of the old and modern city surrounded by the rolling Andes Mountains. As an addition to the Quito Colonial City Tour, we travel to "Equatorial line" complex. Its monument is located at the latitude 0º 0´0″ and provides once-in-a-lifetime opportunity to straddle both hemispheres, or hop between the two in the blink of an eye. The site occupies an important place in the solar-based Andean cosmo vision, since ancient Andean people were aware of its significance many thousands of years ago. The Ethnographic Museum at the complex provides a fine overview of Ecuador's varied cultures and geography.
Overnight: Quito
Meals: B/-/-
Day 12: Amazon Riverboat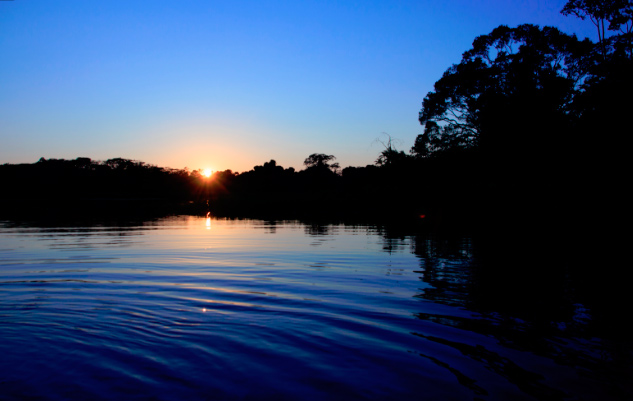 Departure from Quito.  A short 30-minute flight takes us to the frontier town of Coca (Francisco de Orellana) – and transfer to the dock, where we will embark on a motorized canoe and navigate down river about 1 ½ hour, to board the M/V MANATEE AMAZON CRUISE. Throughout the journey, we have a chance to admire the rainforest landscape and banks of the great Napo River
Immediately after boarding the M/V Manatee, we continue navigating downstream. Passengers will have their first opportunities to enjoy the exciting features of our cruise ship: the spacious social areas, comfortable suites, and an observation deck that offers spectacular views. An evening walk is organized after sunset; it gives us the opportunity to discover the forest's nocturnal activity and listen to the incessant sounds of nature.
Overnight: Amazon Riverboat
Meals: B/-/D
Day 13: Amazon Riverboat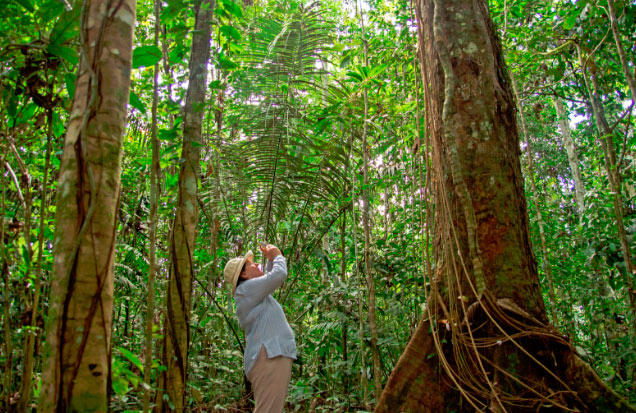 After a delicious breakfast, we disembark on land for our first daylight close-and-personal tropical rainforest experience, where we will learn about the relationship between plants and animals while closely watching out for samples of Amazonia's fascinating biodiversity at every turn.
After lunch, the M/V Manatee navigates to one of pristine and little explored sections of Ecuadorian Amazonia, home to the legendary pink river dolphin, black caiman and anaconda. We may also find river turtles and various species of monkeys, as well as the primitive Hoatzin, a one-of-a-kind bird locally known as "the Stinky Turkey". The only way to actually visit this flooded ecosystem is by canoe, a ride that will reveal the beauty of a lush jungle world.
For our more adventurous passengers, please inquire about our glamping program.
Overnight: Amazon Riverboat
Meals: B/L/D
Day 14: Amazon Riverboat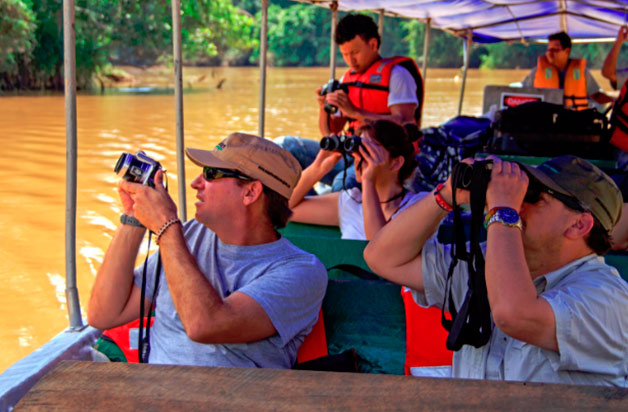 Breakfast on board the Manatee, afterwards, we visit a school located by the banks of the Napo River, where we will have the opportunity to interact with children of the area and learn about life in a remote jungle community in Ecuador.
We return on board the M/V Manatee for lunch and a moment to relax while we navigate upstream.  We will offer a lecture and documentary screening, and if time permits, learn about (and make) typical handicrafts of the area. In the afternoon, we explore one of the largest river islands of the Napo River.
Overnight: Amazon Riverboat
Meals: B/L/D
Day 15: Amazon Cruise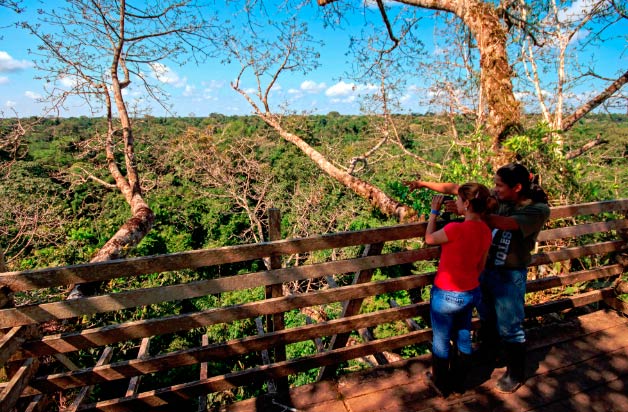 Breakfast on board. In the morning after breakfast, visit an observation tower 100-feet high, built against a giant kapok tree. From the top of the tower, we will be blessed with this unique perspective of the forest, looming over the treetops and the greatness of the Amazon Basin.
In the afternoon, we visit Limoncocha Biological Reserve, a fascinating protected area where more than 478 bird species and several monkey species have been recorded. This activity will extend into the evening, when we will have a chance to spot black caiman with the help of our flashlights. Return to the M/V Manatee for dinner.
Overnight: Amazon Riverboat
Meals: B/L/D
Day 16: Amazon Cruise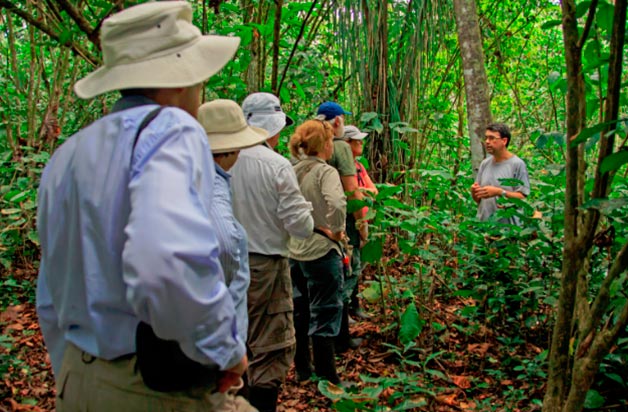 Today you have the option to kayak trough one of the Napo River's effluents that goes into the Yasuni National Park, the Indillama River. Great excursions for wildlife observation, kayaks are great silent vehicles to flow down river.
Alternatively, you can choose to go in a canoe ride in search of more wildlife through the Napo River. It's up to you!
Overnight: Amazon Riverboat
Meals: B/L/D
Day 17: Amazon Cruise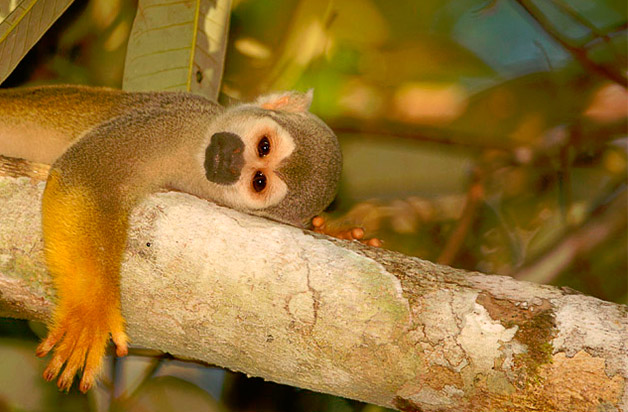 We will continue our navigation downstream to the Pañayacu River delta; take a canoe trip up the river to experience the sights of this fascinating reserve. We will seek out Pink River Dolphins, Common Squirrel Monkeys and much more. Pañacocha (Piranha Lake, in Quechua) is an ecosystem flooded by white waters. The rivers and lakes here are the perfect habitat for the infamous Piranha, as well as the Water Monkey Fish (Arawana) and White Caiman. After a refreshing swim (for the courageous!), we will enjoy a delicious Amazon-style BBQ meal and refreshing beverages at a nearby camping site. In the afternoon, we will head out on exploration trails, and return onboard for dinner.
Overnight: Amazon Riverboat
Meals: B/L/D
Day 18: Amazon Cruise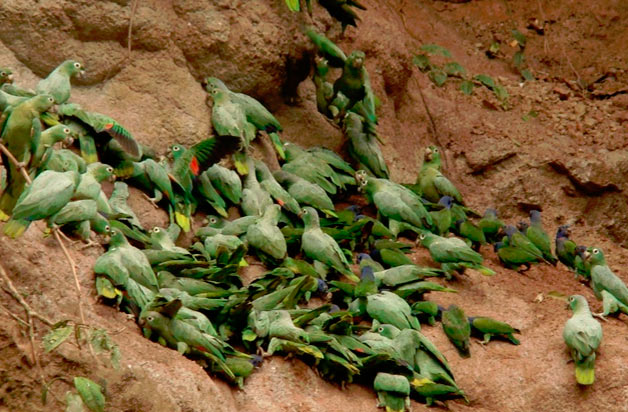 Breakfast on board. We set out to visit one of the most amazing spectacles this side of western Amazonia known as parrot licks, these unique pools of mud become rich in minerals and attract hundreds of parrots, parakeets and amazons every day. If weather permits, we will have a chance to marvel at this astonishing natural phenomenon.
Later we will visit the Sani Warmi Kichwa Interpretation Center, where a group of Kichwa women will speak of their customs, cuisine and everyday life. They have created the center in order to showcase their culture, and it is a unique opportunity to learn about Amazonian lifestyles along the Napo River. You will also have the opportunity to buy crafts, local products and souvenirs.
After lunch, we will make a stop at the Yakukawsay Kichwa Interpretation Centre, and end with an interesting evening walk through the forest (depending on accessibility, river water levels and weather conditions).
Overnight: Amazon Riverboat
Meals: B/L/D
Day 19: Flight to Quito
In the morning, disembark the M/V Manatee and transfer by motorized canoe to Coca (1 ½ hour ride); flight to Quito. At Quito's Airport somebody will be waiting for you to take you at your hotel.
Day 20: Transfer out
After your breakfast, the tour guide will take you to the airport.
Included
| | |
| --- | --- |
| 1 | Privates transfers and transportation |
| 2 | Meals  detailed in the itinerary |
| 3 | Galapagos cruise |
| 4 | Amazon riverboat cruise |
| 5 | English speaking guide |
Not Included
| | |
| --- | --- |
| 1 | International flights and airport taxes |
| 2 | Additional meals and drinks (soft & alcoholics) |
| 3 | Tips and personal expenses |
| 4 | Travel and medical insurance |