Sea Star Journey Cruise
Galapagos Sea Star Journey
Our Galapagos Cruises combine contemporary design, privacy, and comfort all within the marvelous setting of the Galapagos Islands. The Galapagos Sea Star Journey has a capacity of up to 16 passengers, featuring seven spacious Galapagos Suites of about 270 sq. feet each (approx. 25 m) and one Sea Star Suite of about 375 sq. feet (approx. 35 m) equipped with panoramic windows to enjoy the wonderful landscapes of the islands. These come with a private bathroom, hot/cold water, air conditioning (with independent controls), a minibar and TV. Suites come configured with two twin beds or one double bed, and connected suites are available for families.
Local and International dishes – specially designed by our chef – are served in the cozy atmosphere of our dining room. The Sea Star yacht offers a large solarium with shaded and uncovered areas, two Jacuzzis and comfortable sun loungers. Social areas include a bar, mini-library, and video library as well as a play zone for kids (during family departures). Snorkeling equipment and kayaks are available too without any extra charge.
Galapagos Sea Star Journey complies with local and international safety regulations, and we implement sustainable practices throughout our journey to protect the fragile environment of the Galapagos.
See you in Galapagos!
Main Deck
Upper Deck
Sun deck
Class: Boutique Yacht (Superior first class)
Capacity: 16 PassengersCabins: 8
Length overall: 42 mBeam: 9 m
Year of construction: 2011 in Guayaquil
Hull: Monohull of marine steel
Speed: 12 knots
Ship registry: Guayaquil – Ecuador
Deadweight: 450 tonsGross Tonnage: 480 tons
Operated by: Latin TrailsFuel Capacity: 6.000 gallons
Port Registry : GuayaquilMachinery (Engines): 2 Caterpillar 340 HP
Generators: Perkins 114 cabe
Watermaker: 2000 gallons per day, water storage capacity: 10000 gallons
Communication System : Satellite phone
Radar: 2 Zodiacs CARIBE C-16Radar: 1 Radar Furuno 38.4 Km, 1 Radar Furuno 57.6 Km
Life Rafts: 2 Zodiacs for 10 and 25 people
Radio: Several consoles HF-VHF-UHF, Nactex, Distrex and handheld units.
Navigation Equipment: 1 Satellite compass, 2 magnetic Compasses, Tracking equipment.
Security equipment: Smoke detectors, sprinklers throughout the vessel, automatic CO2 tank for kitchen and engine room
Gallery
Itineraries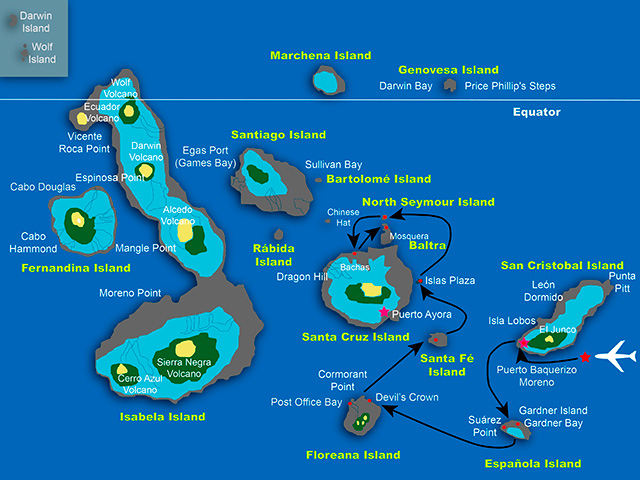 Itinerary A: 6d-5n Tuesday to Sunday
Sail along the Galapagos paradise on board our three-times World Travel Award Winner (2017-2018-2019) Luxury Yacht and enjoy the countless marvels of the Archipelago, especially when visiting the Southern Islands of Floreana and Española plus the most diverse visitor sites in the Central Islands. You will have the chance to visit incredible sites in 7 different islands in one wonderful 5-nights cruise!

Itinerary B: 5d-4n Sunday to Thursday
Discover the marvels of the Northern and Central Islands in just five days on board our luxury yacht. The unique beauty and diversity of El Barranco and Darwin Bay at Genovesa Island, the amazing landscapes and wildlife at Bartolome and incredible snorkeling opportunities to unveil the magic of the Marine Reserve.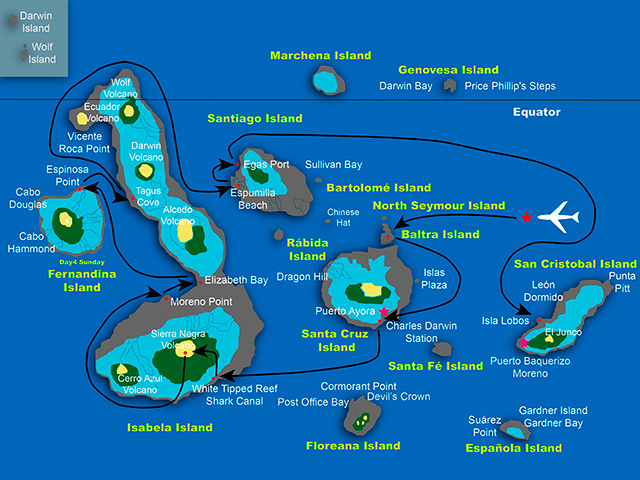 Itinerary C: 6d-5n Thursday to Tuesday
An adventurous circuit featuring the Western islands of the Archipelago where you can spot untamed endemic wildlife like Flightless Cormorant, Penguins, Marine Iguanas and incredible marine life when snorkeling around strategic sites of Isabela and Fernandina.

Itinerary A+B 10 days – 9 night Galapagos Cruise from Tuesday to Thursday
If you are looking for a more complete adventure in the Archipelago then you should definitely consider our 9-nights cruise for an amazing complete circuit from the Southern to the Northern Islands and the most interesting sites of the Central Galapagos enjoying fantastic visits to Española, Floreana, Genovesa, North Seymour and more. A total of 10 magnificent and live-filled islands to enjoy an unforgettable journey.

Itinerary B+C 10d-9n from Sunday to Tuesday
For travelers who wish to see a lot more besides the top sites of the western islands of Isabela and Fernandina, this is certainly the best option you can choose as you will have the unique opportunity to visit the marvelous Genovesa Island plus incredible hiking tours and snorkeling in the Marine Reserve around Bartolome, Santiago and Santa Cruz; this cruise has been carefully crafted so you can enjoy a fulfilling voyage.
Itinerary C+A: 11d-10n from Thursday to Sunday
From the West to the South, a breathtaking exploration circling the most wonderful and life-filled sites sailing from Isabela and Fernandina visiting incredible locations like Sierra Negra Volcano, Espinoza Point, Elizabeth Bay and more. Then sail down the southern archipelago to encounter fantastic wildlife and snorkeling at Gardner Bay, Suarez Point and Cormorant Point. This itinerary will not be complete with visits to must-see Santa Fe, Plaza and North Seymour Islands before returning back to Mainland after enjoying a fantastic trip.
Gross Rates
| RACK / GROSS RATE | 15D / 14N | 11D / 10N | 10D / 9N | 6D / 5N | 5D / 4N |
| --- | --- | --- | --- | --- | --- |
| Galápagos Suite (UPPER DECK) DBL – TWIN | 11.925 | 8.518 | 7.666 | 4.259 | 3.399 |
| Balcony Suite (MAIN DECK) DBL – TWIN | 12.597 | 8.998 | 8.098 | 4.459 | 3.599 |
| SEA STAR SUITE (UPPER DECK) MATRIMONIAL | 13.297 | 9.498 | 8.548 | 4.659 | 3.799 |
| Charter – Maximum 16 pax | 178.878 | 127.770 | 114.993 | 63.885 | 50.985 |
| RACK / GROSS RATE | 15D / 14N | 11D / 10N | 10D / 9N | 6D / 5N | 5D / 4N |
| --- | --- | --- | --- | --- | --- |
| Galápagos Suite (UPPER DECK) DBL – TWIN | 12.521 | 8.944 | 8.049 | 4.472 | 3.569 |
| Balcony Suite (MAIN DECK) DBL – TWIN | 13.227 | 9.448 | 8.503 | 4.682 | 3.779 |
| SEA STAR SUITE (UPPER DECK) MATRIMONIAL | 13.962 | 9.972 | 8.975 | 4.892 | 3.989 |
| Charter – Maximum 16 pax | 187.822 | 134.159 | 120.743 | 67.079 | 53.534 |