Hakuna Matata Wildlife Tour
The Hakuna Matata Wildlife Tour is a combination of comfort and nature. The first two nights you will spend in our homelike lodge not even 125 miles away from the capital of Ecuador. It is nestled in a lush surrounding including a tropical garden and a private protected forest and beach on the river. The third day you will discover the highest waterfall of Ecuador and sleep one night in a hotel before, on day four, you will go on a canoe tour through the jungle, paddling the whole time and camp the night in the middle of the rainforest.
After that, you will spend the next 3 nights in an Ecolodge located in the Cuyabeno Wildlife Reserve from where you can explore the flora and fauna of the reserve on a daily base, either by foot or in your canoe. You will see many plants and animals that you have never seen before and experience an intensive and unique trip to the jungle that will put pictures and memories into your suitcase back home.
After that, you will spend the next 3 nights in an Ecolodge located in the Cuyabeno Wildlife Reserve from where you can explore the flora and fauna of the reserve on a daily base, either by foot or in your canoe. You will see many plants and animals that you have never seen before and experience an intensive and unique trip to the jungle that will put pictures and memories into your suitcase back home.
DAY 1: ARRIVAL – JOURNEY TO THE AMAZON RAINFOREST – LEISURE OR OPTIONAL ACTIVITIES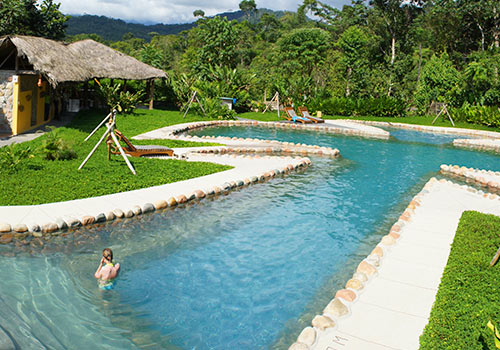 Within 3 hours from Quito, you will arrive in our exclusive Lodge. During your drive, you will notice  how the vegetation changes from the landscape of the Andes into the rainforest. After passing the gate to the Amazon  Rainforest you will be in a mountain jungle paradise – Hakuna Matata is your private hideaway in the tropical forest. During your trip, you came closer to sea level by about 7,200 feet and are located on about 2,000 feet now. There  are different options to reach our Lodge, you can take a public bus or order a private transfer. Choosing the last one you will have the option to stop at the hot springs of Papallacta to relax in these famous thermal waters (optional, entrance fee not included).
Skiping the rest in the hot waters and arrive early in our jungle paradise you can add a tour by foot or by a horse in the afternoon to your free day. The horseback riding you will choose one of the hotels owned horses and take a tour through the forest and rivers. If you rather take a walk you can explore the area on different hiking paths. Your guide will explain the flora and fauna and share ancestral information about plants that are used for medical reasons. However, you can also participate in our chocolate tour (all tours are optional, please let us know if you want to add this tour to your program when booking). spot!
Afternoon
If you arrive in the afternoon at the lodge or just want to spend the day without the program, enjoying our lodge, go right ahead – the adventure can start now! You can begin exploring our 300 acres private reserve where you will find a private white sand beach by the Inchillaqui River, a tropical garden, a protected forest which belongs to the Lodge and a palm-shaped pool which has a length of 88 feet and is 72 feet wide – only mosquitoes will be hard to In the evening you will enjoy a delicious 3 course gourmet meal in an exclusive atmosphere surrounded by the sounds of the jungle.
Meals: B/-/-
DAY 2: RAFTING TOUR THROUGH THE JUNGLE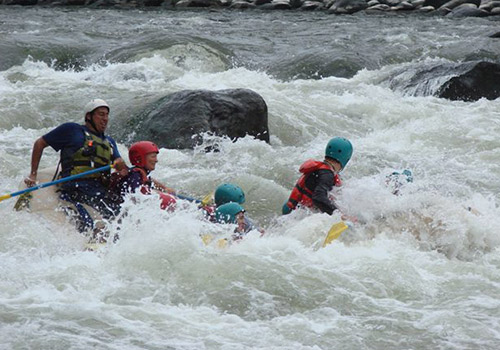 After taking pleasure in a rich and flavorful breakfast you will have the strength you need for this day full of adrenalin. You will enjoy wild water rafting on the Jatunyacu River. On this 15.5 miles route with a level of 3 / 3+ you, as a beginner or advanced rafter, will enjoy the ride.
Given that you will be introduced to paddling, behavior on board and safety instructions by a professional team, there is no previous knowledge needed. In the language of the Quichuas the name of the river means "big water" which indicates the waves and rapids that will bring us a jubilant day!
But don't worry, there will be time for recovery in the natural pools and throughout your journey, you can enjoy the landscape of the jungle – on clear days you might even see the mountainous landscape of the Andes.If you desire a little bit more tranquility it is possible to ride on the Anzu River which offers a level 2 / 3 of rafting – ideal for families with kids. On both tours, you will have a break to enjoy your lunch on the waterfront in form of a picnic. Afterward, you will hit the water again and drive to your ultimate destination Puerto Napo.After being back in the lodge you will enjoy a 3 course mean in a special atmosphere again.
Afterward, you will hit the water again and drive to your ultimate destination Puerto Napo.After being back in the lodge you will enjoy a 3 course mean in a special atmosphere again.
Meals: B/L/D
DAY 3: DRIVE TO LAGO AGRIO – SAN RAFAEL WATERFALL – LEISURE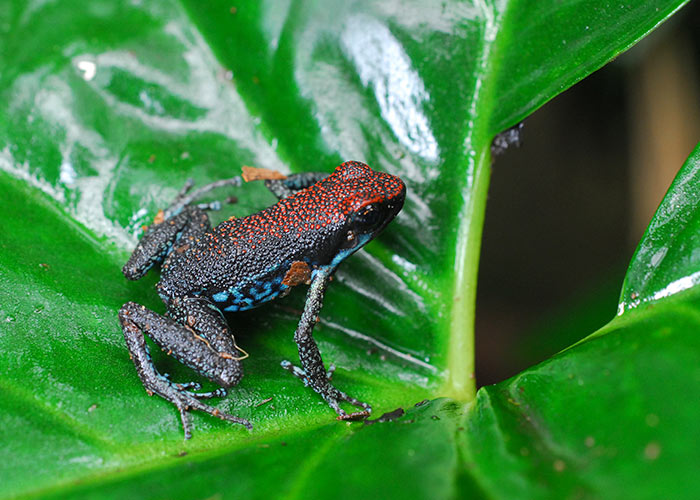 After strengthen  yourself with  a  balanced and  nutritionist breakfast again you have to say goodbye to our lodge to begin your trip far into the jungle. Picked up by a car you start heading to your ultimate stop, Lago Agrio, which is a 5-hour drive away. Lago Agrio is the capital of the county Sucumbios and the starting point of your excursion into the great Cuyabeno Wildlife Reserve.
Lago Agrio was founded by settlers from Loja, a city in the south of the country and therefore also has the unofficial name "Nueva Loja". On your way, you stop by at the highest waterfall in Ecuador, the "Cascada de San Rafael". After a short hike about half an hour long, you reach the impressive cascade and see the spindrift splash in all direction.
The Quijos River falls down about 500 feet from a cliff. Surrounded by these impressive, periwinkle landscape you can sit down and enjoy your lunchbox while having an amazing view on this kettle like rock formation where the water falls into.With these images in your mind, you will keep on going until you arrive at your hotel in Lago Agrio. After checking in the evening is yours.
You are free to choose one of the little restaurants and try a regional specialty, like mayo which is steamed rice and fish wrapped in Vijay leaves, a salad of palm hearts or a meal made out of yuka or the green plantain. Afterward, you have enough time left to prepare yourself for the next days of your travel – not only the temperatures but the humidity will surely help you with that. The temperatures are between 73 and 95 degrees Fahrenheit like they have been in our Hakuna Matata Lodge, but the humidity level rose and is between 95-100%.
Meals: B/L/-
DAY 4: CUYABENO WILDLIFE RESERVE – STARTING THE CANOE TOUR – JUNGLE CAMPING – NIGHT WALK 

Today your canoe tour begins! Right after breakfast you will head out to the Cuyabeno Wildlife Reserve which is named after the river that crosses through the region. The reserve was founded in 1979  and  is  part  of  the  national  program  of  preservation  ofunique places in Ecuador. With its 630,000 acre it is only 10,000 acre smaller than Luxemburg or as big as the land area of Rhode Island. The reserve is framed by the Aguarico River and the San Miguel River.
To reach one of the most speciose areas in Ecuador you will have to take a two hour drive. Then you can discover the unique flora and fauna within the reserve which is inhabited by 5 different indigenous tribes.After arriving at the river you will switch to your Canadian canoe which you will move forward with the help of a single-bladed paddle and a partner. There will not only be one other person in the canoe with you, but also an extra person who helps you to navigate the boat.
During the next 3 hours you will soundlessly float on the river and see incredible landscapes of a primary forest and its inhabitants. A primary forest is a forest which has not be touched by mankind. Entirely free of the sound of a motor you even have the chance to see monkeys or toucans before you reach the tiger pass. In these you will either sleep alone or with your traveling partner.
Afterwards you will enjoy a hot and delicious dinner in the warm light of candles before you head into the jungle again to discover the nightlife of it – you will look for night active animals such as insects, spiders and frogs.
Meals: B/L/D
DAY 5: CANOEING ON THE CUYABENO RIVER – IGAPÓ FOREST IN THE "LAGUNA GRANDE"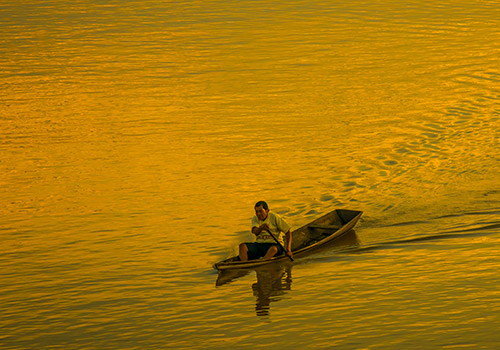 After a restoring night in the tent you will start your day right off with a strengthening breakfast just to get back into your canoe for 3 to 4 hours on the Cuyabeno River and paddle to the "Laguna Grande" (The Big Lake). This lagoon looks magical due to the trees that seem to appear out of the water.
Here you switch to a motor canoe to arrive faster at our Lodge, your home for the next days. Depending on the level of water, you will only see the treetops reaching out of the water. Also, you can see the whole tree starting with the trunk. The lodge is located in the heart of the wildlife reserve. It works environmentally sound – you recycle. The power is produced by solar cells. No water heating systems are used due to the high usage of energy – a simple but authentic jungle experience. After a delicious lunch you have some time to rest before you head to your next canoe tour. You will explore the flooded forest (Igapó) in the "Laguna Grande". Paddling in your canoe you will navigate through the narrow paths between the trees and see giant macrolobium trees.
These  plants  live  on  tree  to  receive  more sunlight and in the end the tree dies, because it doesn't receive enough sunlight anymore. But you will not only see impressive plants, but also monkeys, parrots and giant otters if you get lucky. After learning about flora and fauna you can relax and enjoy the sunset which is mirroring itself on the plain water surface. On your way back to the lodge you can start looking forward to the dinner which is waiting for you to then cuddle up in your comfortable bed, which is fully surrounded by a mosquito net.
Meals: B/L/D
DAY 6: JUNGLE HIKE – WILDLIFE OBSERVATION IN THE RAINFOREST – CAIMAN SEARCH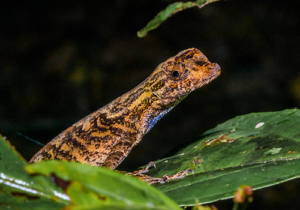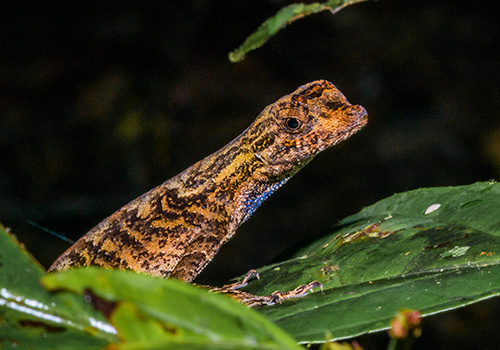 You will wake up restored and enjoy the breakfast to start your day right. Afterwards you will head in a sporty day with a 3 to 4 hour hike through the rainforest.
Your path will be framed by different unknown plants and thereby will be explained by your guide. As an example, you will see the giant of the jungle plants, the ceibo, and It's buttress roots. The walking palm, which is moving about 4 inches a year. The pambil palm the one from blow gun are made. Lianas of the ayahuasca family, bromeliads, heliconias or wild roses. In general, there are about 60 kinds of orchids and about 240 kinds of trees spread all over the park.
Today your lunch will not take part in the excursion, you will have your meal in the comforting site of the lodge to afterwards rest in a  hammock  and  relax  before  you  are  heading  out  into  the rainforest again. This time with the goal to see animals, especially birds. 560 different kinds of birds can be found in the wildlife reserve. With your Canadian canoe you will float on the river and discover the area to find different kind of species on land as well as in the air.Before it gets dark you will sit together and enjoy your dinner.
Afterwards you will go to look for caimans. In the light of your flashlights you will start searching for 3 different species of the caimans,  the genus caiman,  the black caiman and  the dwarf caiman.  Mostly  you  will  spot  the  yacare  caiman  and  the spectacled caiman which belong to the first species and can be up to 33 feet long. After this exciting excursion you will sneak into your bed and fall into a deep comforting sleep.
Meals: B/L/D
DAY 7: SIONA INDIGENOUS COMMUNITY – CANOE TRIP TO THE CUYABENO-LAGOON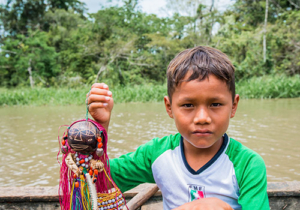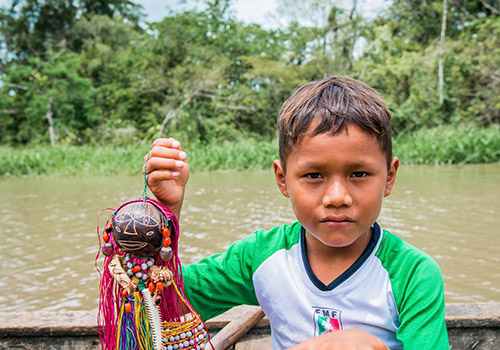 Today you will start your day in a familiar environment, just to continue the day surrounded by a new culture – you are visiting the community of the Siona-Secoya, known as Siona people. This tribe  is  only  found  in  the  Cuyabeno  Wildlife  Reserve  and preferably lives  on  densely wooded  rivers. You will  use your Canadian canoe again to drive 2.5 hours downstream on the river to then arrive at the community. At your arrival you will be greeted affectionately and jump into their lives right away.
With this mash of yuka and some other ingredients you will prepare dough and then make a pizza over the open fire. Right off the flame you can try your homemade pizza bread – enjoy! With a full belly you can go and visit the shaman if he isn't in a session during that time.
After this insight look to a foreign world, you will drive back to the lodge with a motor canoe. If we have more time you will drive to the "Laguna Grande" to watch out animals – especially anacondas. This is one of the biggest snakes in the world. It lives in moody areas, to be more specific, in Blackwater Rivers. These rivers rise from everglades and humous rainforest grounds. They get their typical brown  color from a high level of humic and other acids. The anaconda weaves itself under the water surface, just the head peaks out of the water – watch out for it!
This snake does not belong to the poisonous snakes; it is a constrictor snake that strangles its prey, like capybaras and caimans. Back in the lodge you will enjoy your last dinner in the stunning surrounding of the rainforest before you head to bed.
Meals: B/L/D
DAY 8: BIRDWATCHING – LAGO AGRIO – DEPARTURE 
Today you need to get up early – the birds are not waiting for you. With your canoe and paddling you are heading out to the big Cuyabeno river. Some of the over 500 different species of birds are living in the area – we recommend to bring a telescope or binoculars. The most spotted birds are the quetzal, the blue-and-yellow macaw, the harpy eagle and the common kingfisher. Back in the lodge you will have enough time
Back in the lodge you will have enough time  – and probably hunger as well – to take breakfast before you have to say good bye to the paradise rainforest. With a motorized canoe, you will head back to the entrance of the reserve. You can maybe spot some animals on your way. Afterward,  you get into the car that is driving you back to Lago Agrio. From there, you have the option to fly back to Quito within less than an hour. Also you can head to Baños with a private transport.
Meals: B/L/-
 THE PRICE INCLUDES
Accommodation as following:

2 nights in the Hakuna Matata Lodge in chosen room category (Cabañas, Lodge, Supreme)
1 night in a Hotel in Lago Agrio
4 nights in the Wildlife Reserve Cuyabeno: 1 night in a tent; 3 nights in a rustic lodge

Equipment (canoes, aluminum paddle, waterproof bags for the canoe trips, rain ponchos, tents, camping mat, thin sleeping bags made of fleece, cotton insights, hammocks, camping shower, first aid set, etc.)
Private transportation from Hakuna Matata Lodge to Lago Agrio; Transportation Lago Agrio to Cuyabeno and back to Lago Agrio
Local, Spanish speaking field guide during the canoe tour in Cuyabeno
Activities mentioned in the program
Entrance fees for activities mentioned in the itinerary
Meals, except dinner on day 3 in Lago Agrio. (It starts with dinner on the day of arrival until lunch on the day of departure)
Use of all lodge facilities in the Hakuna Matata Lodge, including swimming pool, beach area, hiking trails
Rubber boots up to size 12 (UK) / 14 (US – men) (*)
Taxes
(*) Please let us know your shoes size when booking!
RAFTING TOUR
Internationally certified rafting guide, bilingual (Spanish and English)
Quality equipment (paddles, helmets, life jackets, spray jackets)
Transportation between starting /end point of the rafting and the Lodge with a vehicle
Lunch (picnic), including water and soft drinks
SPOT Satellite Messenger for emergencies
Kayak for safety
First aid kit
THE PRICE DOES NOT INCLUDE
Transport from / to Quito (following prices are for one way tickets)
Private transportation with stopover – about 2 hours – in Papallacta
* 1-3 persons: 120 US$ per vehicle
* 4-6 persons: 150 US$ per vehicle
Private transportation without stopover
* 1-3 persons: 90 US$ per vehicle
* 4-6 persons: 120 US$ per vehicle
Public bus (approx. 6-8 US$ per person), additionally the costs for the cab drive from Archidona to the Lodge (approx. 5 US$ per cab)
Transportation from Lago Agrio to Quito / Baños (flight or bus ticket) – price on request!
Lunch on the day of arrival in the Lodge (approx. 15 US$ per person) and dinner on day 3 in Lago Agrio (about
10 US$ per person)
All activities which are not mentioned or are optional
Entrance fee hot spring of Papallacta (8 US$ per person)
Guided walk through the private Rainforest Reserve (20 US$ per group)
Horseback riding through the Jungle (27 US$ per person)
Chocolate Tour (20 US$ per group)
Siona community fee (6 US$)
Drinks and meals that are not mentioned
Personal spending and tip
Personal equipment (flash light, binoculars)
Deposit for a waterproof safety bag for your luggage (20 US$ per bag)
PACKING LIST
Passport and copies
Personal medications
Sunscreen
Sun hat
Sunglasses
Insect repellent
Camera equipment (including memory card, cables and batteries)
Binoculars for bird watching
Flashlight and change batteries
Dry Bag – waterproof bag – to keep the items inside dry and safe
Daypack
Water bottle
Short and long trousers (linen or cotton are preferable as jeans are hard to dry)
T-shirts and long sleeved shirts (protect from mosquitoes at dawn)
Warm sweater or jacket (can get chilly on night boat trips and when it rains)
Lightweight raincoat
Swimwear and towel
Soap and shampoo (biodegradable if possible)
Rubber boots (up to size 12 (UK) / 14 (US – men) are in the lodge available)
Fitting socks for rubber boots
Sturdy footgear
Sandals / flip-flops / crocs
VACCINATIONS
Tetanus
Hepatitis A
Yellow fever
Malaria prophylaxis (*)
(*) The risk of Malaria in this region is low; nevertheless there happened to be cases of Malaria (mainly vivax type malaria). There is no Chloroquine-Resistant Malaria.
Loose change (in small shops it's only possible to pay with up to 5 dollar bills)