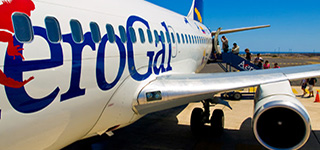 Sea Star journey "B+C" itinerary: Upon arrival at Baltra Airport, travelers pass through an airport inspection point to insure that no foreign plants or animals are introduced to the islands, as well as to pay the park entrance fee of $100 (unless it has been prepaid). A guide will meet you, help you collect your luggage, and escort you on a short bus ride to the harbor and then on board Galapagos Sea Star Journey.
PM: DRAGON HILL, SANTA CRUZ ISLAND
The Dragon Hill has been open for visits on 1993. This site is located in northwestern Santa Cruz Island and consists of a trail that lead to a hyper-saline lagoon behind the beach. In fact, this place frequented by flamingos, pintail ducks and other species of birds. This site has been re populated with land iguanas from Seymour, Isabela and Santa Cruz islands. There is a short walk to the Hill, which offers a beautiful view of the bay.