Use this Archidona travel guide to plan your trip to this legendary gateway to the Amazon rainforest. Archidona is just over three hours driving east from Quito, and the ride is stunning. Once referred to as the 'Cinnamon Route' by Spanish explorers on the hunt for the elusive spice that grows in this area of Ecuador's Amazon, you'll pass high altitude mountains and lagoons before heading into the low altitude lushness of Archidona. A visit to the baths at Papallacta along the way are well worth the diversion, but I digress.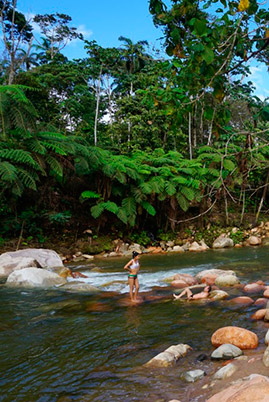 Once in Archidona you'll enjoy weather that averages 23°C throughout the year. But because this 500-year-old town is nestled in the midst of the Amazon, you'll feel warm during the day and may need a lightweight jacket or pants in the evening.
The areas surrounding Archidona offer some of the best adventure travel options in Ecuador. The river Misahualli, which traverses hundreds of kilometers through Ecuador's Andes and into the Amazon, passes through Archidona and its neighboring city, Tena. It's along this river that you can enjoy white water rafting up to class IV rapids, along with kayaking and tubing.
If running rapids isn't your thing, you can simply lounge with the locals along one of Archidona's beaches where the water is clear and calm enough for a swim.
An Archidona travel guide wouldn't be complete without mentioning the mystical Jumandy Caves, named after a Napo shaman who – locals say – spent five months meditating in this underground world. A guide can take you far into this subterranean landscape that extends some 10 km with impressive stalactites and a small stream accompanying you the entire way.
Once back under the sun, you can enjoy a small amusement park that features mineral pools filled by the stream of Jumandy cave.
Are you thinking about traveling to Galapagos & Ecuador
Let us know your budget, and we can build a tailor-made tour for you.
Archidona, a perfecte place to be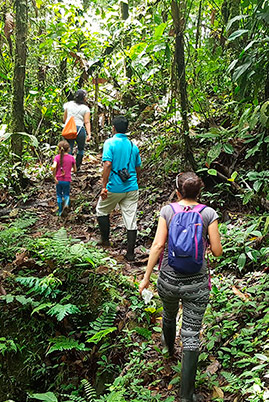 The Arca Animal Reserve is a no-brainer on your Archidona travel guide. This incredible park got off the ground in 2005 as a wild animal rescue shelter. It now houses some 250 animals, from the sacred jaguar to sloths, spider monkeys to toucans. Protect your wallet and valuables while visiting – the primates have been known to pickpocket (seriously, folks). Also a must see – the eight waterfalls of Yanayaku on the Inchillaqui River.
So, you've visited plenty of sites and now you're hungry. Next in this Archidona travel guide is what to eat when you're there. The first answer – maito. This is a traditional dish of Carachama river fish wrapped in a green leaf – bijao – and grilled. It's served with a bit of slaw and lots of boiled yuca, a delicious combination.
Before or after your meal, indulge in either live or grilled Chontacuro – beetle larva. They are a delicacy in the region and are known locally for curing a cough and chronic asthma.
Wash this all down with an afternoon cup of Guayusa tea. Related to the mate herb cultivated in Paraguay, Guayusa is a part of the holly tree family and is filled with caffeine and plenty of healthy antioxidants.
As your Archidona travel guide shows – there's plenty of adventure and relaxation in this mild tropical climate town. Our lodge Hakuna Matata is a few minutes from this cozy town and from Misahualli. Great weather (around 28C°), great fauna and wonderful flora (the Amazon Region has the richest ecosystems worldwide) and peace… The perfect place to enjoy with your family.
If you are looking for traveling to Ecuador, check out our special offers in our Galapagos Cruises
Check out this free guide about birdwatching in Galapagos