What are the differences between dry and wet landing on the Galapagos Islands?

One of the experiences one can enjoy in the Galapagos trips while being on one of the famous Galapagos cruises or speedboats, you will experience at some point a "dry and wet landing", this is due to the island's conditions.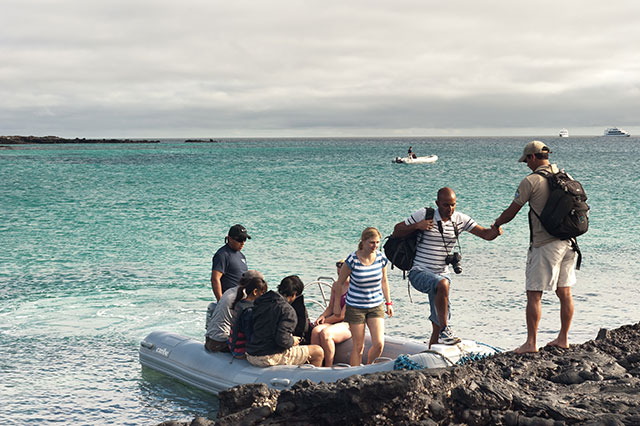 Galapagos islands dry landing
Therefore, and for the most part of the expeditions, the Galapagos' islands located within the borders of the National park are accessible through a small boat and with the supervision of a naturalist guide at all times.
In some islands, the boat can get close enough to the shore. However on other times, you could wet your feet in order to get close to the beach shores , in order for your experience to start.
The naturalist guide is going to inform you of the kind of landing you are about to experience prior starting the expedition. Every time that you hear the words "dry landing", then you will know for sure that you can use your socks and shoes without worry about getting them wet.
However, when you are about to face a wet landing, then you have to exchange your dry footwear for your waterproof sandals, crooks, or any other model which makes you feel comfortable in, and if you are adventurous enough you can even do it barefoot!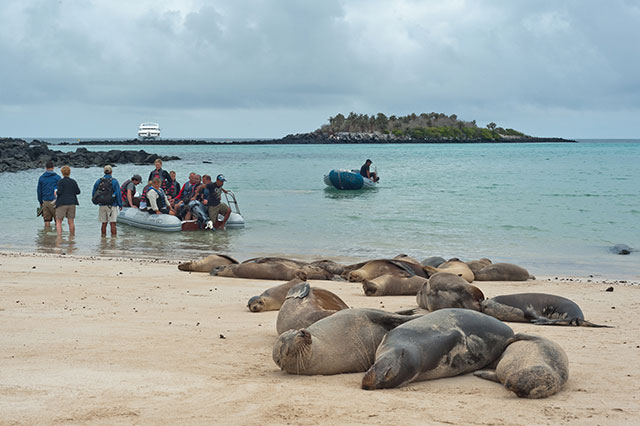 Galapagos islands wet landing
Every time you get a wet landing, bear in mind that the water will go below your knee , if you are an average size person. After all, it will depend on to the circumstances of the destination and its tide.
Meanwhile and right after the wet landing, you can exchange your waterproof sandals with the dry socks and shoes, or if you prefer keep going with the waterproof sandals, which in about 35 minutes would be dry.
Also, it is most likely that after walking around the island, your naturalist guide will allow take a break for you to relax and feel comfortable while enjoying the destination.