The experience of cruising in Galapagos Islands

Many travelers that come to Ecuador think about visiting Galapagos Islands, a paradise of biodiversity declared World Heritage. However, many of the visitors ask us the same question: "Should I take a cruise or do a land-based tour?" A cruise is a unique experience, an opportunity to soak up a place without losing the comfort and intimacy.
Discover the experience of cruising in Galapagos Islands!
In the case of Galapagos Islands, cruising guarantees the access to certain islands that would otherwise be inaccessible. Moreover, it allows you to see more islands at the same time. Another advantage is that the best guides in the region are those employed by live-aboard yachts. All of them are naturalist-certified by law.
Galapagos SeaStar Journey is a boutique and exclusive yacht for those travelers who come to the Islands for enjoying a complete experience of ecotourism, adventure, privacy, relax and comfort. As one of the passengers last year said: "The Sea Star and its crew were outstanding. We felt millionaires on the very comfortable yacht!"
Galapagos Sea Star Journey is an exclusive cruise with capacity for 16 passengers and a length of 42 meters. It has 8 large cabins with all the intimacy and comfort, as well as two jacuzzis and a big open space for relaxing and sunbathing. It is a perfect way to discover these marvelous islands and all their biodiversity.
A day in this boutique yacht is relaxing and fascinating at the same time. It is fascinating because travelers have the chance to see many unique species of the Enchanted Islands. At the same time, they can relax in the jacuzzis and sun loungers in some moments of the day, or taste the international cuisine that is served, around a very friendly staff, including an extraordinary chef and also a naturalist guide.
Mr. Mark D. who was on board of the cruise some months ago, said: "I was surprised that the food was so good. Every meal was fantastic". And as Mrs. Alison and Mr. Andrew B. said after their experience, "the cabin is very good & clean".
While large cruises are sometimes too noisy or even stressful, this boat allows greater privacy and tranquility. Tourists that look for an intimate cruise holiday experience, and the chance to have personalized attention, should choose this yacht.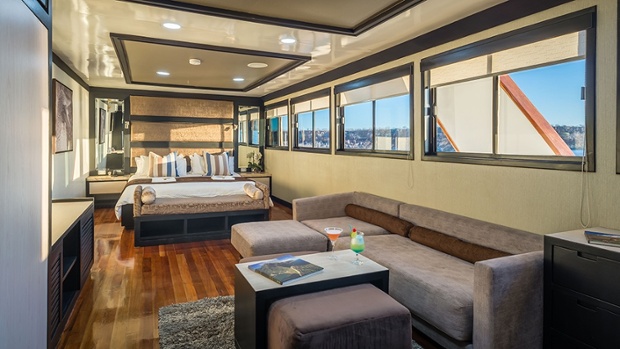 There are unique experiences that only happen in small yachts, where the interaction is intense between the passengers and the staff.
"Our naturalist guide was great, very knowledgeable and went the extra mile to make sure everyone saw animals we most wanted to. Including helping me to swim with the hammerhead sharks!" said Mrs. Nicky & Mr. Richard Shaw.
Travelers can see most of the Galapagos Islands, depending on the itinerary selected. The main visits include visits to Española Island, Floreana, Santa Cruz, Santiago, Isabela… They can discover the amazing fauna and flora, as well as snorkeling, sunbathing, hiking and taking photographs. It is a unique experience for the rest of their life!