The Inca Trail to Machu Picchu, an extraordinary tour to do once in a lifetime

In 1533, the Inca Empire fell into the hands of the Spanish conquerors, led by Francisco Pizarro. Since the new discovery of many Inca monuments in the twentieth century, the rests of this ancient civilization have attracted people from all over the world.
The most famous trekking route in America has 43 kilometers of forests, fog and flames. The Inca Trail runs from the ancient capital of Cuzco through the Sacred Valley of the Urubamba River. Millenary stone steps and majestic views can be observed during the route and in the end, an incomparable reward for all the effort: Machu Picchu.
The Incas were an extraordinary civilization, the largest pre-Columbian Empire in the Americas (1300-1500 AD). They developed their own education, their government, their laws and their art. Unfortunately, a very important part of their legacy has been lost, but the different monuments that still remain give us much information about them. The Inca culture is also alive thanks to the language 'quechua', spoken nowadays by ten millions of people.
In fact, Inca Trails are only a minimal and intraregional part of the gigantic network of Inca roads that this civilization created for controlling their Empire. All this network was called Tahuantinsuyo road network, in quechua Qhapaq Ñan. Like Romans, they also created their own road system. They built rope bridges, roads and rest houses. Unfortunately most of them have disappeared already, although in the Inca Trails visitors can see some of the remains.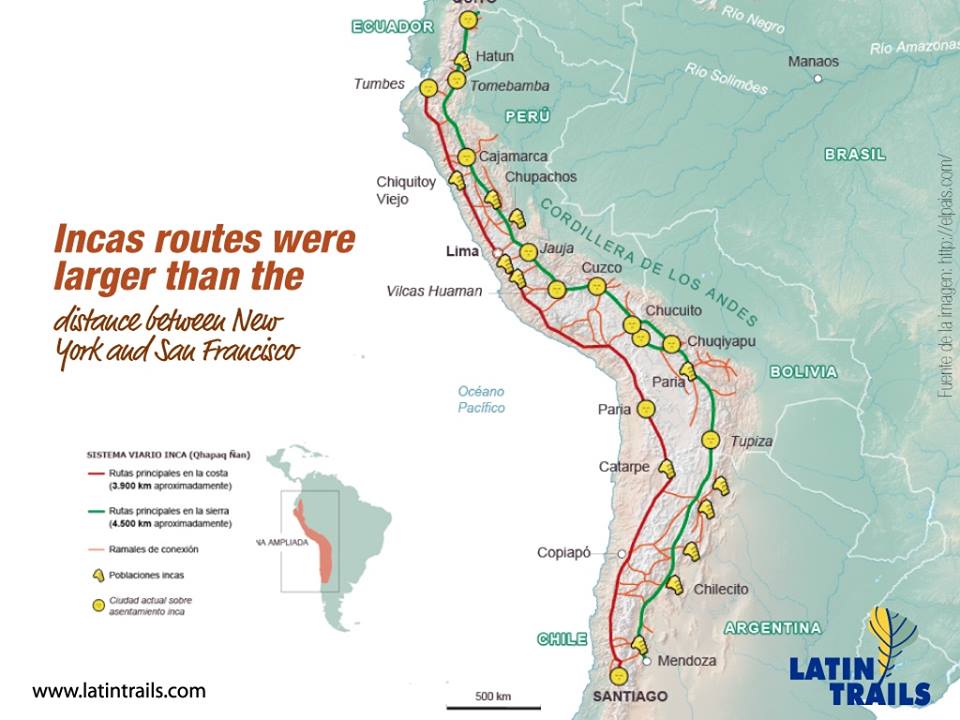 There are  camping zones  along the trails, and it is better to hire a porter to enjoy the experience. The weather is generally mild throughout the year, but there can be precipitations, specially from December to April. The best time to go trekking is during the dry season, between April and October. June is the coldest month of the year and August offers temperate and stable weather conditions for visitors.
The route crosses 15 of the 100 existing ecosystems in South America, 4 of which are in danger: the Peruvian yungas, the dry forest of the Marañón, the Chilean bush and the humid winter forest. This route also passes through one of the last habitats of some endangered animals: the spectacled bear, the condor of the Andes and the vicuna. There is also the Andes, with a huge reservoir of water for those who live in the valleys and on the coast.
The Peruvian government has strictly limited the number of people allowed on the Inca Trail, in order to preserve the flora and fauna of the surroundings. It is recommended to make travel reservations several months in advance.
COME AND EXPERIENCE AN INCREDIBLE TREK THROUGH THE INCA TRAILS!