The top 4 sea creatures at the Galapagos Island

This is the third article from a series regarding creatures found in the Galapagos Islands and their primary ecosystems. So far we have talked about land creatures, birds, and now we are going to write about sea creatures. Although Galapagos can share its natural wonders and amazing ecosystems from different perspectives and according to its season, certainly the Sea World that belong to its national park has a lot to offer to any kind of tourist willing to witness their majestic richness under the water, and along its shores.
Although there are too many sea creatures that we can include in this ranking list ( and some even more amazing than others), I am going to try to select based again on my last journey to this unique place in the whole world.
Let's keep in mind that even though there might be some creatures that can be found in the breath taking turquoise water of the islands, I will consider solemnly the creatures that are subject to live in the ocean. Therefore, for this brief essay the funny sea lions, along with the penguins and sea iguanas would not be included on this particular ranking due to their ability to live in and out of the water.
Top 4 sea creatures at the Galapagos Island
Coral fish
Even though it would be very hard to classify each one of these colorful creatures, I have to make a whole of them, in one pack and generalize in one category.
Nevertheless I have to emphasize that regardless of their kind, these curious, and attractive fishes will delight you through their elegant and synchronized movements on the rocks, and coral reefs where they hide at random .Among these creatures you will find some which are made of a variety of colors such as purple, light blue, light green, bright yellow, bright orange, just to mention a few.
Stingrays
These majestic sea creatures will impress you by their size and predominant appearance, which propels majesty and elegance along the oceans surroundings. Although finding a giant stingray would be a matter of luck, and not a common encounter, there are still medium or small stingrays that still can give you a meaningful experience as an amateur diver during your stay at the islands. The stingray colors vary as well, but certainly are more sober than the coral fishes.
Sea turtles
A faraway relative to the land turtle and Galapagos, the sea turtle occupies the third place on this particular list. Usually sea turtles are funny to be around, due to their peaceful appearances and chubby figure. Nevertheless don't let appearances misled you, because these creatures move really fast under water. Some of them have a light brown shell, while others show a dark green shell.

Galapagos Shark
Being considered the king of the oceans, sharks are by far, the most fearsome creatures in the ocean, and the most clever and aggressive predators. Nevertheless the white tip shark found in the archipelago, allows tourists to snorkel nearby them without feeling harassed. It has been even recorded , how divers have touched their tails without being attack. Nevertheless, their mystic movements make you feel their strong energy under the water. Therefore you have to show respect at all times.
Sea cucumber
These creatures are consider echinoderm and their name is due to their resemblances to the vegetable cucumber. They have a leathery skin and an elongated body containing a single, branched gonad. For the most part they remain static to the floor and don't react by the touch. However, if you want to take one of them, you will need to increase your force, because they are firmly attached to ocean surface. The skin color can be black ,dark brown, or white. Be aware that this animal has protection under the national park rules, due to its previous predation by man.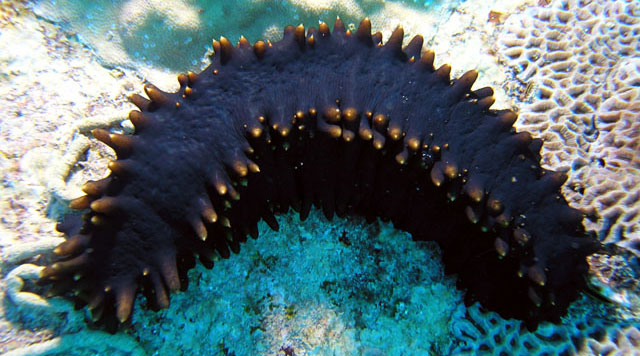 Once again, we invite you to experience the wonders of the Galapagos sea world by engaging in one of our cruisesthat LATIN TRAILS has available year round, along with our Island Hopping tailor- made itineraries in the main islands.