First part
Choosing an itinerary in Galapagos may seem like a complicated task; however, everything will depend on your preferences. Each place in the Galapagos Islands has a story to tell, unique landscapes and wildlife that has been adapted to this paradisiacal archipelago.
Without a doubt, one of the experiences that you can not miss and that you can do in all the itineraries is snorkeling. The marine life of the Galapagos Islands is recognized throughout the world and is one of the most memorable experiences for its visitors. You will be able to swim near sea lions, rays, sea turtles, thousands of tropical fish, sharks and even some birds that dive up to 8 meters underwater to hunt their prey.
Another of the experiences that we suggest is the kayak. You can see animals that swim very close to the surface or curious birds that come to accompany you in your experience. Relax and enjoy this place near the water.
But what are your preferences? Do you prefer to see more wildlife, beaches, birds, learn more about the history or preservation of the Islands? To help you decide What is the best itinerary in Galapagos?, we have made a list of the most exciting points of each itinerary. On this occasion, we will see the Eastern Islands.
Eastern Islands of Galapagos
On this side of the archipelago is San Cristóbal and Española, two islands with incredible landscapes and constant contact with the most curious animals.
San Cristóbal has one of the two airports that connect with mainland Ecuador; as well as, it's one of the few inhabited islands of Galapagos. Take the opportunity to buy everything you need or merely buy souvenirs made by skilled Ecuadorian artisans. And if you decide to walk near the boardwalk, you may be lucky enough and see the sweet sea lions that don't get tired of sharing spaces with people.
Besides, one of the advantages of San Cristobal is that it is the starting point for daily tours to nearby locations. So if you want to make extensions to your Galapagos cruise, this is the starting place you should choose. The daily tours in Galapagos, is a personalized way to travel and be more time in the areas you prefer. Let's see the most outstanding destinations of these islands so will decide What is the best itinerary in Galapagos?:
Punta Pitt is located at the north end of San Cristobal Island; it is a beach with brown sand and waters that turn green with distance. From its high inlets, you can find blue-footed boobies, red-footed boobies, and masked boobies. One of the few places in Galapagos where you can see the three species of boobies together.
Also, Punta Pitt is one of only two places in the Galapagos Islands where you can see the colorful red-footed boobies along with the Genovesa Island.
From the top, you can take the opportunity to make the ideal photo; the contrast of the beach landscape mixes with the colors of Punta Pitt's flora, which can be varied and intense. Take advantage and catch the sea lions rest in the calm waters of the beach, and enjoy a relaxing moment.
If this destination is not included in your Galapagos cruise, you can take a daily tour from San Cristobal. You can check the itineraries of the Galapagos Hopper to see this destination. Do not miss this point of contrasts that summarizes much of what you can find in this archipelago.
This beach has white sand where you can relax and enjoy the Islands. You can see the nearby mangrove that is populated by colorful finches, as well as intrepid sea turtles that are sometimes seen in the distance.
It is interesting to see how the color of the water changes to a warm green when it moves away, you will not be able to resist swimming in these peaceful waters. If you like, you can walk a bit to have a better view; there is a path that takes you to the top of a small hill near the beach, where you can relax and take pictures.
Puerto Chino is located 24 kilometers from San Cristobal, so in a short time, you will be in this beautiful corner. It's essential that you bring your swimsuit and if possible, an umbrella to protect you from the sun. It's time to relax.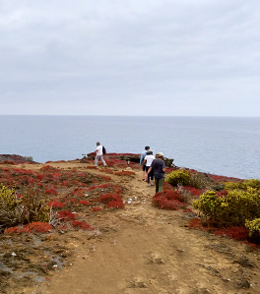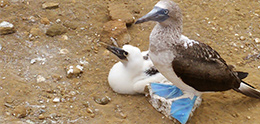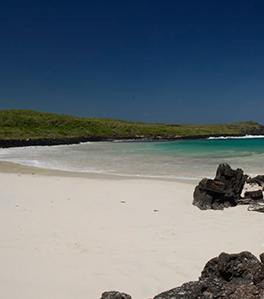 It's your time to travel to
Ecuador and Galapagos
Do you have some questions? We are here to help you
Breeding Center Jacinto Gordillo
The Breeding Center Jacinto Gordillo is the perfect place for you to appreciate the work that is being done to preserve the turtle species in the Galapagos. You can see giant tortoises in their natural habitat and understand more about their evolution and history. This species is unique in the world and represents a treasure of the islands. However, its reproduction has had many risks that make it hard for the population to grow continuously.
Galapagos tortoises grow in a monitored environment but in contact with nature and in the company of some of its most curious visitors such as finches. This breeding center is located 23 kilometers from the center of San Cristobal and is better known as La Galapaguera
This small island is located a few kilometers from San Cristobal so that you can enjoy it after a few minutes of navigation. Its name is due to its extensive population of sea lions, in fact, it is one of the few places that you can see the two species of lions of Galapagos together.
One of the favorite activities of visitors is snorkeling, as its waters are peaceful and crystal clear. You can take the opportunity to swim near these curious sea lions, but you can also see stingrays and, if you are lucky, sea turtles too.
In Lobos Island, there is a path that allows you to explore the place, one of the unexpected inhabitants of the area are the blue-footed boobies that is always a pleasure to admire. The pikemen and the frigates frequently arrive at Lobos Island to nest
León Dormido – Kicker Rock
This place is one of the most famous in the Galapagos Islands. It's formed by two eroded volcanic tuff rocks that reach a maximum of 148 meters in height. This beautiful island, also known as Kicker Rock is the home to numerous species of fish, as well as sea turtles, rays and sharks of Galapagos and Hammer. For this reason, León Dormido is one of the favorite places to snorkel, in fact, it is known as one of the best places to see the Galapagos sharks
Out of the water, there is also much to see, the blue-footed boobies, masked boobies, frigates, pelicans and sea lions are often curious of the visitors and come to be part of their experience.
In the middle of the two rocks, an impressive narrow canal is formed. These incredible rocks rise from the ocean and are the natural habitat of incredible animals in the middle of nowhere, becoming one of the many places that nature has to amaze us.
Fortunately, this point is very close to San Cristobal Island, so if it's not part of your Galapagos cruise, you can take a daily tour which helps you to know it. We suggest you see more about this route with the Galapagos Hopper, which includes the snorkeling equipment and the visit of other points of interest in your itinerary.
Located on Española Island, Punta Suarez is known to be the home of the most significant number of albatross in the world. This beautiful bird species is known for its curious mating dances, as well as for being one of the few monogamous animals. They choose a partner for life and usually spend with her for the next 50 years. The best months to see albatrosses is from May to December since it is the nesting period.
Española is not an appropriate place to be inhabited by humans; however, it is the ideal place for a great variety of animals that live together. Iguanas, sea lions, mokeybirds, Galapagos pigeons, blue-footed boobies, lava lizard, masked boobies, albatrosses, Galapagos hawks, sea turtles and more.
At the end of the plateau, you can admire one of the points that you can't miss, it is known as the Sopladora (Blower). Due to the formation of the rocks and the pressure of the waters, they form a jet of water that rises for about 25 meters above the plateau. It is the ideal place to take a picture along with the restless animals of the area.
You can visit this area with the daily tours that depart from San Cristobal Island. It takes around 2 and a half hours to get there, but it's worth it. If you don't have this destination on your Galapagos cruise, you can take this day tour. We suggest you visit the page of Galapagos Hopper page that has this route within its itineraries.
This beach located east of Española Island is one of the sites that once you know it, you will remember it as one of your favorites of the Galapagos Islands. In fact, it is a destination that has been internationally recognized for its beauty.
Gardner Bay is a white coral beach that gives a home to many sea lions that rest quietly on the shore. It is fantastic to be able to enjoy this incredible place while you share so close with the animals of the site.
You will also be able to see a wide range of birds such as the famous Darwin finches and their varieties, albatrosses and sea turtles.
Its peaceful turquoise waters are the ideal touch in Gardner Bay. You can't stop snorkeling, and if you are lucky, you can swim near the rays.
Near this bay, you can admire Roca Gardner, where you can also see sharks and colorful sea scenes.
This site is not available to be visited with daily tours; it is only included with Galapagos cruise itineraries; It is because it's a place to monitor sea turtles, and the limitation of visitors per day has been requested. The primary concern is to safeguard the successful hatching of sea turtle eggs
Don't miss the coming blogs about the central and western islands.
You can visit the easter islands with the itineraries of your Galapagos Cruise, or taking a daily tour with the Galapagos Hopper:
Are you wondering how is to snorkel in Galapagos?, you should read this free e-book