Carnival marks the passage from winter and darkness to spring, fruits and fertility. It's the Mardi Gras of Latin America.
Carnival in Ecuador is a major national holiday and like none other in Latin America. It celebrates excess and abundance before Catholic Lent introduces sobriety and prudence. Carnival in Ecuador also honors the indigenous Kichwa holiday of Paucar Huatay – the end of the solar year.
Friends and families in Quito – in a show of gluttony – throw eggs, flour, water at each other during days leading up to Carnival's Fat Tuesday, this year Feb. 13. Kids and adults alike spray foam at each other in the streets to "play" Carnival.
Yet, it's the cities and towns outside the capital that have the most memorable Carnival in Ecuador.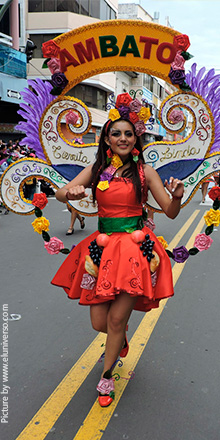 Carnival in Ambato
Celebrations in Ambato have been well underway since Jan. 20 with sports competitions and agricultural expositions.
Ambato's Carnival is special within Ecuador because it's the only one nationally recognized as an intangible cultural event.
The city's most famous Carnival festival is the Festival of Fruits and Flowers
Officials integrated this festival into the religious celebration in 1950 to commemorate the region's abundant apples, pear and plum harvest and varieties of flowers in bloom at this time of year. The city also initiated the festival to bounce back from a devastating earthquake that shook the region the previous year.
Each year the Ambato Carnival grows to more and more spectacular levels. It now includes an an immense parade of flower floats, and over 80 traditional dance groups that traverse the city on Fat Tuesday.
In addition to the fruits and flowers fest, the city holds a traditional music festival, a food festival, and an immense bread blessing that takes place in the main square outside the Ambato cathedral.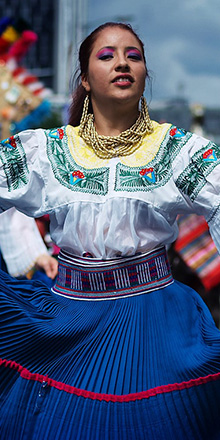 Carnival in Guaranda
Not far away is Guaranda, capital of the Bolivar province and another city that offers a memorable Carnival in Ecuador.
Like Ambato, Guaranda names a Taita (Father) Carnaval and selects a Carnival Queen to lead the city's civic and religious festivities. These two important figures will lead the 40 elaborate floats, numerous bands and traditional dance groups that make up this year's parade.
People fill the streets of Guaranda and its main plaza during Carnival season throwing flour, water and eggs at each other to flaunt abundance. They spray foam at passersby who should also be prepared to spray back.
Setting Guaranda apart from other Carnivals in Ecuador is its "Pájaro Azul". Carnival hosts continually offer festival goers a sip of this locally made 30 proof rum laced with essence of orange and even chicken broth!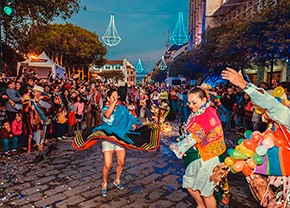 Carnival in Cuenca
Cuenca, located in the south, also has a Carnival of day-long parades and floats.
In a modern twist, the city sprays a firehose of foam saturating the hundreds of party goers who gather in the city's main square, Parque Calderon, the Friday night before Carnival.
After these beautiful parties, it's time to plan your trip to the Galapagos Islands. Check out the pages of our Galapagos cruises: The Luxury Sea Star Journey, the stable and comfortable Seaman Journey or the daily tour yacht Galapagos Hopper. The perfect combination of your trip to Ecuador
It's your time to travel to Ecuador and Galapagos
Do you have some questions? We are here to help you
Are you planning to travel to Galápagos?, you should read this free e-book