Galapagos Islands are an extraordinary destination in Latin America, one of the most incredible jewels of biodiversity in the world. Discover Galapagos Seaman Journey, a boutique yacht to explore the Enchanted Islands!
Cruising guarantees the visitor the access to certain islands that would otherwise be inaccessible. Moreover, it allows you to see more islands at the same time. Another advantage is that the best guides in the region are those employed by live-aboard yachts. All of them are naturalist-certified by law.
The first-class catamaran
Galapagos Seaman Journey is a first-class expedition catamaran that began sailing in the Galapagos Islands in January 2008. It is a boutique and exclusive yacht for those travelers who come to the Islands for enjoying a complete experience of ecotourism, adventure, privacy and comfort!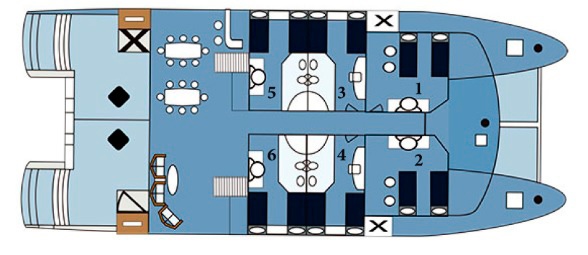 In the Galapagos Seaman Journey it is possible to enjoy several cruises in the Galapagos Islands, with different itineraries that include surprising terrestrial routes in most of the Galapagos Islands. During the tours, guests can find many endemic species such as Galapagos giant tortoises, penguins, iguanas, frigates, blue footed boobies, and much more!
Galapagos Seaman Journey has a maximum capacity of 16 passengers which allows a kind atmosphere of intimacy and friendship at the same time. The catamaran features nine large, comfortable double cabins with outside views, private bathrooms, hot water, a locker and closet. The spacious rooms each have full air-conditioning and individual climate control.
A day in this boutique yacht is relaxing and fascinating at the same time. It is fascinating because travelers have the chance to see many unique species of the Enchanted Islands. At the same time, they can relax in the sun loungers in some moments of the day, or taste the international cuisine that is served, around a very friendly staff, including an extraordinary chef and also a naturalist guide.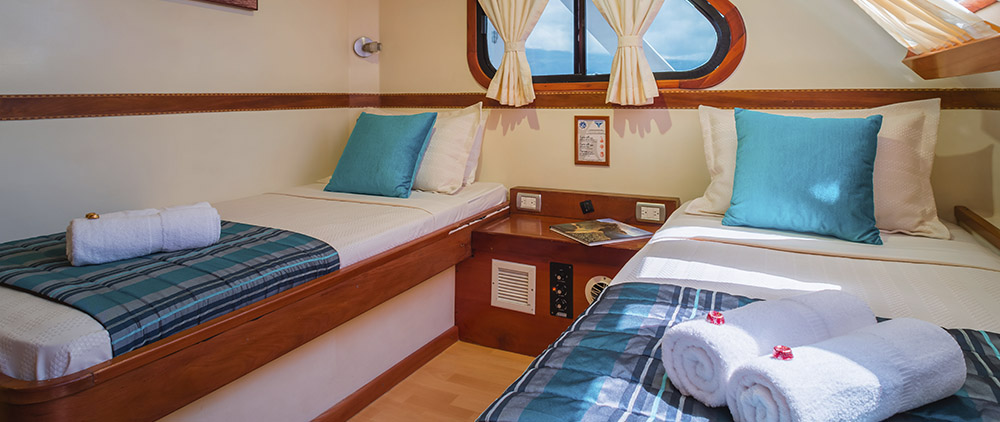 On-board you'll also find two bars, a lounge, library, TV/DVD, stereo, first aid, a water purifier and spacious sundeck with chairs for relaxing in the sea breeze. All meals include the choice of meat, poultry or seafood. In case you have food allergies or food restriction, we can adapt the menu according to your requirements.
We have several rest areas for those looking for a quiet place to relax during their trip to Galapagos with their family and friends. Whether you want to feel a little sun on your vacation, or want the best place to enjoy the magnificent Galapagos sunsets, our terraces are the best place to stay. While large cruises are sometimes too noisy or even stressful, this boat allows greater privacy and tranquility.
Travelers can see most of the Galapagos Islands on board of the Seaman, depending on the itinerary selected. The main visits are Española Island, Floreana, Santa Cruz, Santiago, Isabela… If you come with us, you can discover the amazing fauna and flora, as well as snorkelling, sunbathing, hiking and taking photographs. It is a unique experience worth to remember for the rest of your life!