Ecuadorian Amazon: a paradise of fauna
Ecuadorian Amazon is an amazing destination for those who like outdoor activities such as hiking and enjoying nature diversity. It is an extraordinary place, but not only for the beautiful landscapes, but also for its mosaic of fauna. You will be able to find thousands of species, from the sneaky boa to the red piranha, and back to the spider monkey, the amazon pink river dolphin and so many different species.
A paradise of fauna
Love birds? In the Ecuadorian Amazon travelers can find macaws. These birds are a poem for the sight thanks to their colorful feathers. The majority of their subespecies are now endangered in the wild and a few are extinct.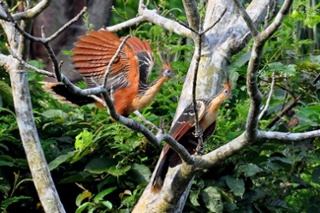 The stinkbird or hoatzin is another beautiful example of the varied fauna that can be found in the forests of the Amazon in Ecuador. This tropical bird, when is born, is known by having claws on two of their wing digits. In 2015, genetic research showed that this bird is the last surviving member of a bird line that branched off in its own direction 64 million years ago, shortly after the extinction of the dinosaurs.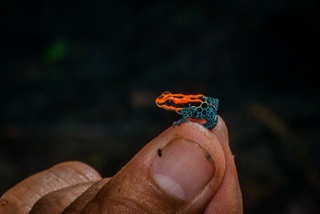 Frogs have created an incredible population in the Amazonian forests. There are more than 1000 species of them in the Basin. Among the most known are the dart poison frog, the yellow and black dart frog, the giant monkey frog, the cat-eyed frog or the blue azureus dart frog.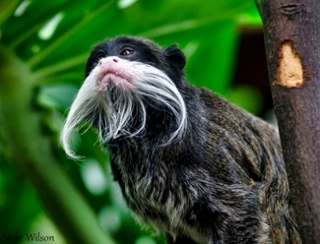 Among the mammals of the Amazon, visitors can see jaguars, tapirs, giant otters, pink dolphins and many others. One of the most curious species is the emperor tamarin, named emperor due to its resemblance to the German emperor Wilhelm II. Their diet is mainly based on fruits and flowers, and they are included as species of Least concern by the IUCN (International Union for Conservation of Nature).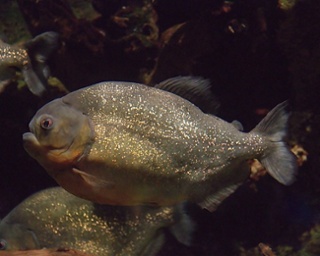 There are more than 2,500 of types of fishes in the Amazon rivers. The piranha is one of the most known. They are usually about 14 to 26 centimeters and their main features are their sharp teeth and their powerful jaws. Piranhas have a reputation as ferocious predators, but recent research show that they are timid fishes that school for protection from their own predators, such as cormorants, caimans, and dolphins.
Cuyabeno Wildlife Reserve is the most biodiverse part of the Ecuadorian Amazon, and one of the most varied in flora and fauna around the world. There, the current number of registered bird species are more than 500, 350 fish species, and countless frogs, toads and many other species.
There are professional guides that assist travelers during the whole journey, for solving any question about the local fauna. –
Discover Cattleya, an Amazon riverboat for experiencing this adventure with all the comfort possible and exclusive attention