Family trips to Galapagos

According to a Forbes article of Brian Roberts, millennial families are one of the top travelers nowadays. In fact, Roberts stated that this millennial family in the United States take 2.6 travels a year per person with a rising tendency of taking international trips and at least an adventure trip once a year. It is seen by this modern families as a way to raise the child with better awareness and understanding of other cultures.
Based on this information, and this travel trending, the Galapagos Islands started to be more attractive to family travelers.
Family trips to Galapagos on Summer
Galapagos it is an adventurous destination ideal for families with kids and teenagers. Why?
There are plenty of activities to impress them such as snorkeling or kayaking either onboard a cruise trip or on daily excursions.
There are some tours in Santa Cruz, and San Cristobal focused on letting kids interact with local kids either by playing football or on the tortoise's ranch, or local farms. With this type of excursions, kids can get a truthful approach to different cultures and ways of life.
Watching rare and unique species in a conscious environment-wide them their mind regarding eco-sustainability, human impact on fragile ecosystems, ecological practices, and so on.
Being excited about swimming among sharks, kayaking among sea turtles, or sailing next to dolphins or even whales.
Beach is always fun for kids, and it is good relaxing time.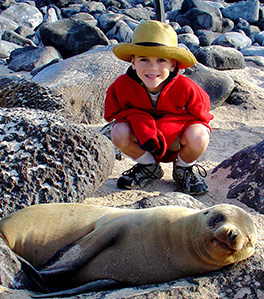 It's time to travel to
Galápagos and Ecuador
Do you have some question? we are here to help you
On the other hands, the best period to travel for families with kids to travel to Galapagos is on school holidays, and the longest period is the summer holiday. Hence, in Latin Trails, we have a special promotion for families with kids this summer 2018.
On specific dates between July and early September, families can get 50% off discount on the first kid younger than 17 years old. For the second one or more, we offer them a 25% off discount.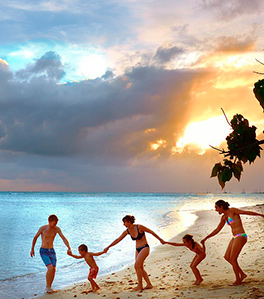 All our vessels are kids friendly, and very comfortable. In fact, onboard the Galapagos Sea Star, there are four cabins interconnected ideals for families as well as the possibility to convert some cabins into a triple.
Finally, coming to Galapagos, it can be just part of the adventure for family travelers with kids. There are other things that Ecuador has to offer to kids. You can check this post about the best activities if you travel to Ecuador with kids, and why not visiting the Amazon in a very convenient lodge for kids such as Hakuna Matata Lodge.
For more information, contact us at travel@latintrails.com and ask for the rates, dates, and conditions of this promotion.