The most fascinating marine species of Galapagos
Galapagos islands are a paradise of biodiversity, and among this incredible fauna, there are a great variety of marine species of tropical fish and other wildlife. Galapagos fishes may not be as famous as the islands' other animal inhabitants but they are also spectacular samples of them! Discover the most fascinating marine species of Galapagos!
The Galapagos Marine Reserve
The Galapagos Marine Reserve was created by Ecuador in March 1998. It is one of the most extensive protected areas in the world. With 590 feet deep it has 2,587 square miles. In this natural reserve of Galapagos, there are about 3,000 species and more than 18% of them are endemic. However, the Charles Darwin Foundation believes that there are many more marine species than those that are visible, especially in the deep waters surrounding the Archipelago.
There are mainly three types of aquatic organisms: benthic organisms, planktonic organisms, and nektonic organisms.
BENTHIC ORGANISMS
Benthic organisms inhabit the aquatic bottoms. Some of these organisms remain fixed on them, such as corals, some crustaceans, etc; while others can travel, such as gastropods and various pelecypods. Many are nourished by the remains of dead organisms that fall to the bottom.
PLANKTONIC ORGANISMS
Planktonic organisms are actually living in suspension, as their movement is errant. These organisms represent the basis of the aquatic food chain: without plankton, the necton would die because of lack of food, which would lead to the disappearance of benthos.
NEKTONIC ORGANISMS
Nektonic organisms, the third type, can travel through water, such as fish. They range from jellyfish to cephalopods and chelonians, not to mention marine mammals, like whales and dolphins.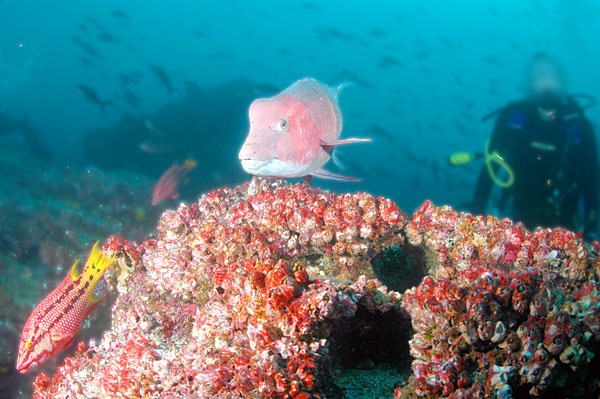 Among the nectonic organisms, some of the most interesting species of fish to discover in the Enchanted islands are these: blue parrotfish, angelfish, flying fish, flag cabrilla, tiger shark, Galapagos damselfish, scalloped hammerhead shark, stone scorpionfish, whitetip reef shark, red-lipped or Galapagos batfish, spotted eagle ray, golden cownose ray, razor surgeonfish, orange-sided triggerfish, king angelfish and Galapagos reef fish.
Don't miss the opportunity to practice snorkeling in Galapagos, surrounded by sea lions, penguins, harmless sharks… and a great variety of colorful fish!