Ecological tourism is a different way to travel, a trend that has increased in the last years around the world. Galapagos is a perfect destination for ecotourists, since it is a paradise of biodiversity. And if you are interested on being active on protecting animals, there are a lot of endemic species that need protection in the Enchanted Islands.
3 benefits of sustainable tourism for Galapagos Islands
BENEFITS FOR THE FLORA AND FAUNA
Eco-tourists are the perfect visitor for Galapagos, are they are aware to minimise the negative impacts on the environment. Among the species that live in Galapagos, many of them are endemic. In fact, 80% of the birds, 97% of the mammals and reptiles and 30% of the plants are endemic. For protecting Galapagos, the best visitors are those who are aware of the best way to treat the species and interact with the environment.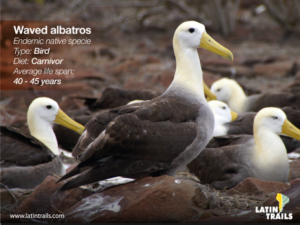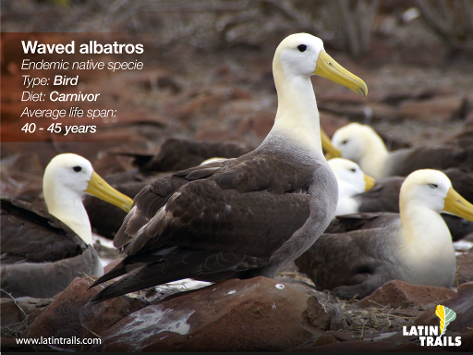 The waved albatros is one of the endemic species of Galapagos Islands
BENEFITS FOR THE COMMUNITIES OF THE ISLANDS
The economy of these Islands depend especially on tourism sector, so choosing this destination for travelling is a way of protecting its flora and fauna.  Promoting tourism in Galapagos Islands is the best way to contribute to their development and progress. It is positive, not only for animals and plants, but also for people who live there. Furthermore, Galapagos Islands are a world heritage, so travelers who choose this destination are preserving this legacy for the future generations.
BENEFITS FOR THE VISITOR
Visitors that come to Galapagos have the chance to know a incredibly rich nature. Travelers can enjoy the marvelous sights of the coasts and the species, a perfect scenario for biologists and photographers. They can even interact with some of the animals that live there: many species of birds, iguanas, giant tortoises, sea lions, flamingos… Inside the sea, people can swim with hammerhead sharks, giant tortoises and many colorful fishes. Moreover, people in Ecuador are very friendly and kind, so travelers can know local communities and their traditions. Responsible travelers can enjoy local food, based on natural products. – The expedition cruise experience on board the Galapagos Sea Star Journey is one of the best wildlife tours on the planet. If you want more information, contact us!