Ecuador is one of these destinations that everyone should visit at least once in a lifetime. Gay men and women, and in general any LGBTQ person or couple that comes to Ecuador, can enjoy many activities and places.
We don't think that gays have special interests because of their condition, and for this reason any great experience for travelers is recommended for LGBTQ too.
Ecuadorian Amazon is an amazing destination for those who like outdoor activities such as hiking and enjoying nature diversity.
Quito is a must if you are an art lover. Located in the heart of the Andes, it has a lot of monuments worth to be visited that were part of the Baroque style imported from Europe.
Galapagos Islands are a paradise of biodiversity, unique among other travel destinations around the world, and a perfect place to relax without massive tourists around you.
IS ECUADOR A GAY-FRIENDLY DESTINATION?
According to international estimations, gay tourism represents a 10% of total tourism. Ecuador is one of the chosen destinations by this sector. This country has made an important progress during the last years for LGBTQ rights.Civil unions for same-sex couples are legal in this country since 2009, and gender identity changes have become approved in 2016.
THE MOST GAY-FRIENDLY ZONES OF THE COUNTRY
Even though legally everyone has the same rights in this country in most of the areas, sometimes in some specific places there is still homophobia. Rural areas are less gay-friendly, and urban areas, like Quito and Guayaquil, are more open-minded.
While there are no gay hotels in Ecuador, there are many gay-friendly hotels. In Quito, the most gay-friendly part of the city is "zona Rosa". Around the Foch square, travelers can find a great number of restaurants, pubs, cafes, discos, hotels and saunas for having a good time.
After Quito, the capital city, the bigger and more tolerant cities are Guayaquil and Cuenca. In both cities, especially in Guayaquil, you can find hotels, restaurants, pubs and discos to have a good time.
GALAPAGOS CRUISING, THE PERFECT ACTIVITY FOR GAY TOURISM
The best way to enjoy yourself, with your couple or your family is to go on special cruises for LGBTQ collectives. This way, you can connect with other people with the same interests and situation. At the same time, you won't have to worry any moment about the risk of finding homophobic people.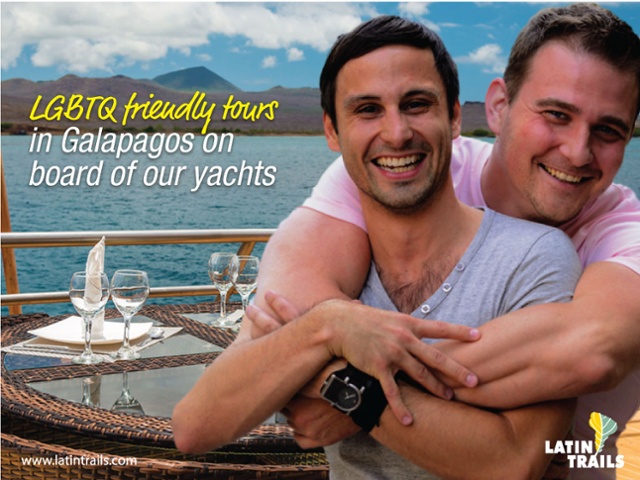 IF YOU WANT TO ENJOY A GAY CRUISE IN GALAPAGOS, WE HAVE SPECIAL PLANS FOR 2017
Come with your family! We have a special Tour for Gay families from 8 to 13 of August.
You can also book our Pride Cruise for men from 7 to 12 of December.
You can contact us for booking now!