Hakuna Matata Lodge, a unique spot of nature and comfort in the Amazon
Hakuna Matata Lodge is a hidden paradise in the middle of the jungle, in the heart of Ecuador, at only 10 km from Tena. This private hacienda of approximately 150 ha is the perfect place to enjoy to the fullest in family, with high-quality accommodation, superior meals and many activities. In contrast with other destinations in the Amazon, Hakuna Matata Lodge respects nature and promotes ecotourism, and it is a very quiet place, perfect for disconnecting from the crowds.
The Amazon Rain Forest
The Ecuadorian Amazon is formed by an approximate area of 120,000 km² of the Amazon. It includes the provinces of Sucumbíos, Orellana, Napo, Pastaza, Morona and Zamora. You can see animals like tapirs and monkeys, caimans and snakes among other biodiversity. This is also an extraordinary place for birdwatchers, with an incredible number of birds.
The crystal clear water of the Inchillaqui River and the white sand beach makes this place wonderful and unique in the world. Many visitors enjoy the views, and the adventurers practice kayaking, canyoning and rafting in the river.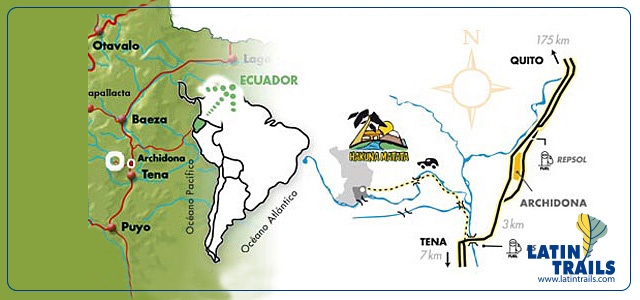 Hakuna Matata is located in Napo and it offers the perfect combination of nature and comfort.
Are you a foodie? You will love this part! One of the main attractions of the lodge is the famous Pangaea restaurant, with top-quality products, soft drinks, fresh juices, cocktails, beers… as well as wine and liqueur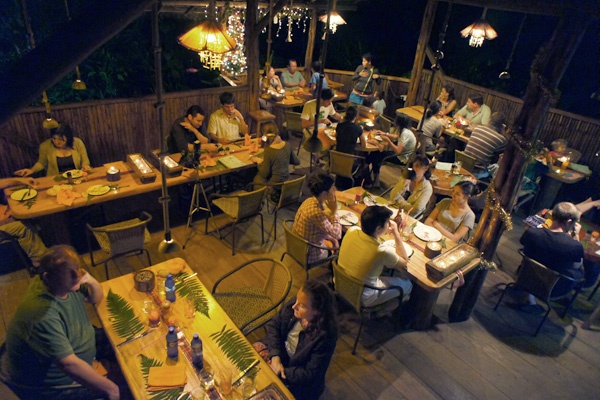 Another fascinating attraction of the Amazonian rainforest is people. This forest is home to thousands of indigenous inhabitants. If you travel there, you will know a lot of fascinating communities, with a great variety of nationalities, including: Achuar, Andoa, Cofán, Kichwa, Secoya, Shiwiar, Shuar, Siona, Waorani and Zapara; just to mention a few.
There is another good spot to visit near Hakuna Matata Lodge, specially for those who like History. There are Pre-Columbian petroglyphs that amaze anthropologists, biologists and ornithologists from all the world.
Enjoy a unique natural environment, perfect for relaxing, enjoying nature and performing exciting activities. In the middle of the beautiful flora and fauna of the lodge, you can go for a walk, visit the zone with a guide and even ride a horse. All activities are adapted to the interests and possibilities of the guests.
Latin Trails offers different itineraries to enjoy the lodge during four days, one of them is a classic tour, and there is another itinerary for explorers, another for adventure and a special itinerary for doing rafting during some days. If you have more time, we also have a special plan of 8 days, perfect for nature lovers who want to know the wildlife of the Amazon rainforest.