Holy Week in Ecuador (Semana Santa) is the yearly commemoration of the Passion, Death, and Resurrection of Jesus of Nazareth. The most spectacular event during Holy Week in Ecuador is the procession of Jesús del Gran Poder (Jesus the Almighty) in Quito. Around a quarter million people gather in the streets to observe this magnificent parade and witness the eerie devotion of its penitents. Celebrations also take place in Guayaquil with the procession of Cristo del Consuelo, and in Cuenca where the celebration begins on Palm Sunday, the visitation to the seven churches on Holy Thursday, followed by the procession of the Passion of Christ on Good Friday.
Holy week in Ecuador
During Holy Week in Ecuador, a visitor may be forgiven for thinking the city streets are filled with purple-robed Klu Klux Klan. Far from such sinister motives, men who represent sinners and martyrs, known as "cucuruchos" (which means "cone"), don dark purple robes with cone hoods covering their faces. They march in the Procession of the Penitents through Quito's ecclesiastical historic district—often barefoot, and tied to thick chains and carrying heavy crosses—as a form of redemption for their sins. Women dressed in purple robes, their faces covered with veils represent the "Veronicas." They pay homage to the woman who wiped Jesus' face with her veil.
In Alangasi, just south of Quito, locals dress as demons who march from the church and parade through town on Easter Saturday. Rags are burned during the procession, symbolizing the fires of eternal punishment.
On the Tuesday following Palm Sunday, Puellaro, a community north of Quito, holds a unique pageant honoring Christ's entrance into Jerusalem by carrying twelve platforms through the streets, each of which features a key figure from the gospels.
Meanwhile, Holy Week in Ecuador means something entirely different in rural areas. In Chimbo valley, farmers spend the week whipping their fruit-bearing trees and vines while urging the plants, "Don't be lazy! Bear fruit!"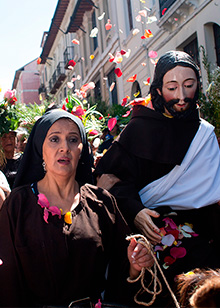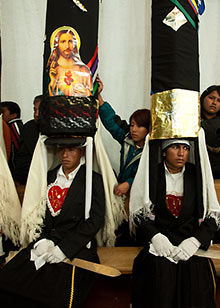 It's time to travel to
Galápagos and Ecuador
Do you have some question? we are here to help you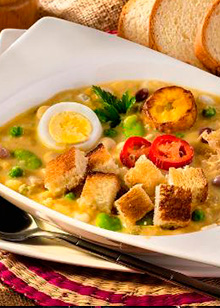 On the Saturday of Glory, streets everywhere teem with people, music fills the air, and celebrations abound as families and friends gather together to enjoy a break from daily life. The following day, Easter Sunday offers the perfect opportunity for Ecuadorians to attend church services.
Actually, Holy Week in Ecuador is unofficially announced a few weeks before it begins, with signs everywhere offering "Fanesca" as a special on the restaurant menu. Instead of chocolate eggs and bunnies, a rich traditional soup is served, made from twelve different grains, each representing one of Jesus' twelve disciples, as well as squash, salt cod, slices of hard boiled egg, chunks of green bananas, fried bread, cheese, and peanuts. Made only at this time of year, Fanesca is the highlight of Holy Week menus, and competition to make the best Fanesca is fierce between restaurants.
To truly experience the richly diverse culture of Holy Week in Ecuador, immerse yourself in its most beloved holiday, and enjoy the wonderful hospitality of its people by observing the Easter celebrations which are unique to this incredible country.
If you are in Quito, don't miss our post The 30 things you can do in Quito during one month. Also, you can check out our Galapagos Cruise page to know more about our cruise in the enchanted islands.
Check out this free guide to explore other places in Ecuador