Kayaking expeditions in the Galapagos Islands
If you are visiting the Galapagos islands as a backpacker or in a exclusive cruise, at some point you are going to have the opportunity to explores around the islands by doing some kayaking.
In some islands you will see stores that specialized in this activity and promote their services in a day itinerary that may include the lunch and soft drinks.
Also, most cruises will include at some point of their trip a Kayaking activity. The activity will last a few hours, and in some cruises you are allowed to choose between snorkeling and kayaking. However, if you are very lucky, you will have the possibility to do both activities at the same time.
Of course, all this will depend on your cruise´s policy, as well as the time predetermined for the activity, and capacity of Kayaks available per passenger.
There are even a few cruises that are particularly specialized in kayaking as part of the expeditions on the Galapagos National Park territories. These very few cruises have a special permit that allows you to explore islets that are located at remote distances and that usually the average tourist on the big yachts can´t get there.
Kayaking expeditions let the tourists discover the water and shoreline at eye-level, getting a special feeling about the imponent volcanic stones on the shores and marine life along the archipelago.
Kayaking is basically an activity that you can do alone, or with another partner on board. It includes a small boat with two compartments where you can fit in the inside of them your legs and part of your thorax. Once inside the compartment you will have your two arms free with a double palette rowing.
If you are going to do kayaking for the first time, I suggest you to enjoy the moment, avoid to force your arms to row as fast as you can. If you do so, in less than 5 minutes you are going to be exhausted, and if you don't have a partner to back you up, it will be a little difficult to reach back to the boat or cruise where you are staying at.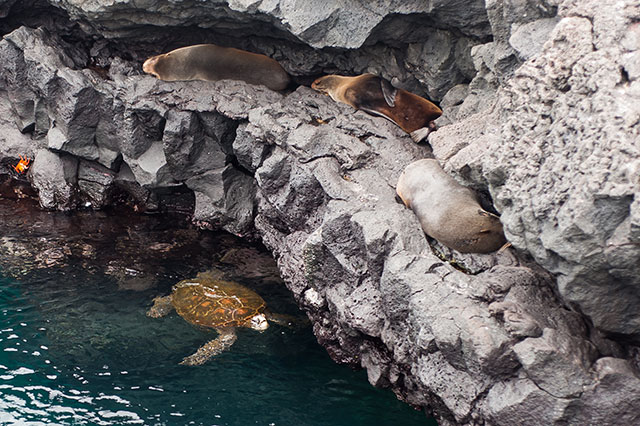 Enjoy the adventure, just try it
The first task is to get the right position that the upper body needs to adapt for this watercraft. Keep at all times a straight back and firm neck. Then, with your arms start making the ups and downs movements from side to side of the kayak with the rowing. The following task is to try to gently touch the water from side to side at a synchronized rhythm that eventually will move the boat to your spot. As mentioned before, the main advantage of kayaking is to observe deeply the hidden details that can be over-seen on the shores from a cruise or speed boat.
At times , and depending of your location in the archipelago, you can feel the presence of sea lions swimming around your watercraft, as well as sea turtles, marine iguanas, penguins and very randomly dolphins. As you see, Galapagos offer an additional service in regards to naturalist expeditions, while visiting it's amazing flora and fauna. LATIN TRAILS can improve your experience by doing this activity onboard our main cruises such as the Seaman Journey, and Sea Star Journey.