Usually, these boutique hotels are furnished in a particular style, which is based on a themed, or inspirational manner.
Boutique hotels are considered to be tailor-made or individual and focus on offering their services in a comfortable, intimate, and welcoming setting. Therefore they are very unlikely to be found amongst the homogeneity or routine in the service. If you prefer to do the "Island hopping" service, due to seasickness or you are just not a fan of cruises, perhaps the boutique hotels available in the main islands such as Santa Cruz, and Isabela are a good option. These two islands are the most popular spots for visitors, and without a doubt, the majestic mysticism of Isabella would take away your morning breath.
Isabella offers the most impressive and fresh sunrises surrounded by the amazing landscapes of the archipelago, as well as the most romantic sunsets to the level of intensity perceived in places like Hawaii or Southern California. So, besides the high-end comfort you may get from your hotel, you also have the exclusiveness to witness this majestic experience of the golden and reddish sun, available year around.
The main advantage of "Island Hopping" is that you can choose through a variety of hotels´ categories, available during all season as well, giving more variety to your Galapagos ours set. Keep in mind that even though the categories of hotels available may vary in many aspects, you have to be aware that they are ranked according to Galapagos Islands standards, and what for some people could mean luxury or 5 stars abroad, in Galapagos could be the equivalent of a boutique hotel.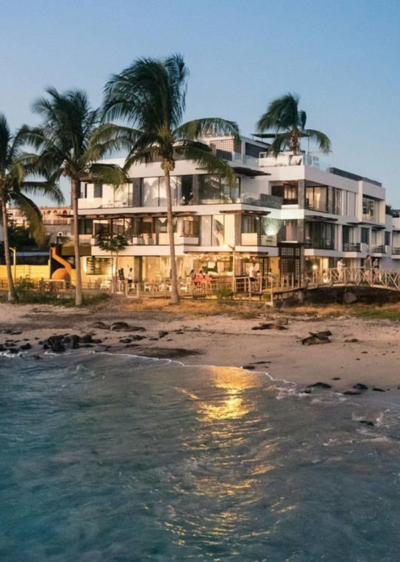 There are a few hotels in the archipelago that could be considered between a range of "3 to 5 stars hotels", according to Galapagos standards due to its exoticness, safety and comfort.
Nonetheless, these boutique hotels will fulfill your requirements in regards to accommodations and amenities based on an excellent customer service and high quality products.
However, if you decide to stay at this category of place , please be aware into follow certain rules within the hotel policy and according to the circumstances in regards to the dressing code in some social areas, if it applies.
These boutique hotels offer services such as swimming pool, spa, gym, Jacuzzi, gourmet restaurants, small souvenir stores, modern tents for camping, breakfast and brunch buffet, and even one of these hotels has its own running track and cruise for daily expeditions to distant islands, just to name a few details in the service.
In most of them you will find a full time dining service along with 3 daily meals such as breakfast or brunch buffet , gourmet lunch, and dinner. Among the dishes you will find healthy international Galapagos- inspired dishes, as well as local dishes, developed by Ecuadorian chefs educated abroad in the most recognized culinary institutions of the world.
Another characteristic that make these boutique hotels exclusives is the direct view to the vast blue ocean, as well as their closeness to the beach or dock, are certainly an add on value.
Are you thinking about traveling to Galapagos & Ecuador
Let us know your budget, and we can build a tailor-made tour for you.
Boutique Hotels
These boutique hotels are also equipped with a bar and professional bartender for visitors who like to enjoy a vibrant nightlife , where you can taste a variety of drinks among cocktails, wines, and imported beer in some cases.
Among the hotels found in Santa Cruz island you can choose the following: the Finch Galapagos, Royal Palm, Angermayer, Silverstein, Red Mangrove, Galapagos Suites, Sol & Mar, Galapagos Safari Camp, and last but not least, the Pikaia Lodge.
On Isabella island there are fewer elegant hotels, but among them we can mention the following: Albemarle Hotel, Iguana Crossing, hotel Casa de Marita, Casa Baronesa, San Vicente, and Hotel La Laguna.
Finally, it is important to mention that the business model management of Boutique hotels has moved from being unique properties operated by individuals or companies with small collections to multinational hotel companies. The boutique hotels have been acquired by multinational hotel companies due to their high demand of sophisticated customers that want high standards in the service.