Quito's Fiesta de la Luz in August
In October 2016, Quito was surprised by the colors and lights that several artists designed and show on many historic buildings. It was the first time that the World Heritage City has this type of street spectacle; but, that was only the beginning of a tradition brought by the French city of Lyon. From this 2017, every August will be the month when the Quito´s Feast of Light (Fiesta de la Luz de Quito) will hit the streets of the historic district. From August 09 to 13, eight historic sites will be borrowing their walls and infrastructure to mesmerized locals and foreigners through a show of colors, music, and videos that a group of local and international artists have designed for this event.
The churches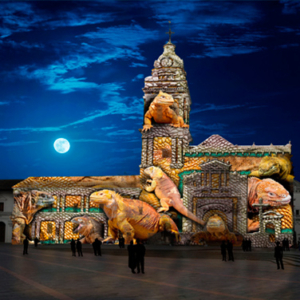 The first show can be the Santo Domingo Church, where the French artist Laurent Langlois will be showing through the biodiversity of Ecuador. From the Galapagos Islands, passing by the Andes mountain range to the Amazon rainforest, a series of landscapes and animals will be performing an unforgettable show.
One of the others sites to stop by is La Plaza del Teatro Sucre. The design of the show is on the hands of Camille Gross and Leslie Epsztein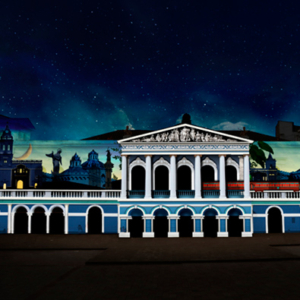 which represent how the time passes forming a cycle of  history, stories, events, and evolution starting in the Quito on the Industrial Revolution to nowadays.
Daniel Knipper, on the other hands, enhances Quito´s Cathedral by painting the white infrastructure for the first time in colors that bring it alive for five days.
Following the artistic route, the Andrade Marin Square at few blocks away from the Independence Square. Here the Platonium will take place. This show is on the hands of Eric Michel and Akari Lisa Ishii. This artistic piece shows how a massive light dips into the flour to the infinity.
The sixth stop is at San Blas Square at the entrance of the historic district. In this area, the local artist Miguel Vélez, re-interpret the Half of the World Monument as a Disco Ball that lights the streets as a way to welcome locals and international visitors.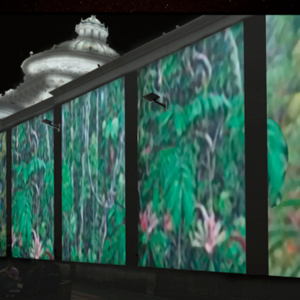 At the Sucre Street, a stained glass wall reflects the lights and figures of the Ecuadorian humid forest. The performance is in the hands of Pablo Mora.
La Merced Church, on the other hand, will reflect the Cotopaxi Volcano with a series of sounds, moving images, and performing graphs designed by Fidel Eljuri and Nicola Cruz.
Eight artistic sceneries and one destination in the middle of the world between the 09-13 of August.