San Marcos, magical neighborhood
The magic of San Marcos Neighborhood in Quito
Quito's historic center is one of Latin America's most well preserved. Most visitors of the center head over to the famed Independence Plaza, San Francisco Plaza or the Compañia de Jesus Church. While all of these places are must-sees, also not to miss in the center is a magical neighborhood – San Marcos – tucked away in its south end.
Founded in the 16th century, the neighborhood is one of Quito's oldest and its most bohemian.
Walking down Junin Street – the main artery of magical San Marcos – you'll watch as lifelong neighbors greet each other cordially, just as their families have for generations. Many buildings in this UNESCO World Heritage Site are recently restored to their neoclassical design with facades painted in elegant blues, greens, yellows and reds.
Magnificent wooden, carved doors invite you into the several restaurants, museums and shops that dot Junin St., including the Muñoz Mariño Museum of Watercolors and Drawings (Muñoz Mariño Museo de Acuarela y Dibujo).
This museum was begun by the famed Ecuadorian watercolorists and architect – Oswaldo Muñoz Mariño – who once lived in this building. One of the neighborhood's first structures, the museum displays Mariño's huge body of work that spans several decades from the 1950s to just before the artist died in 2016 and whose subjects depict the buildings and landscapes of the over 70 countries Mariño visited during his lifetime. Visitors can also see artist's perfectly preserved collection of pre-Columbian artifacts found throughout Ecuador. Museum curators are working with anthropologists to identify their origin and meaning.
By the way, you can take painting classes here, and enjoy a beer and delicious Ecuadorian dishes at the museum's restaurant.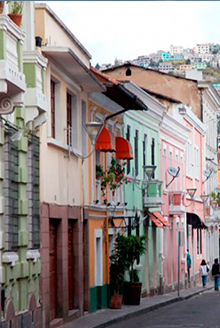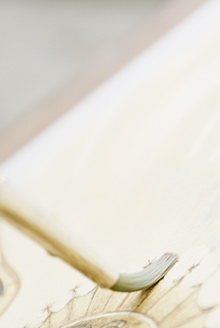 How much does it cost to Travel to the
Galapagos Islands?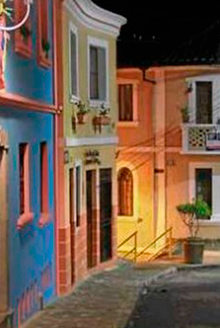 Farther along Junin St. you'll find a small antique shop with a great selection of everything from turn of the century furniture to knick knacks, and a spectacular view of the mountains that surround the city. Next door, visit the workshop of Don Miguel where you can buy his unique wood-carved boxes and gifts that Miguel has been creating all his life. This craftsman puts his alma into each piece, speaking to each before polishing it.
Just outside is the Plaza San Marcos. This is a quaint, tree-shaded little park that's a great place to engage with locals who sit near the fountain and feed the pigeons and chismear (gossip) about the latest news in the barrio.
Also in the magical San Marcos is a museum dedicated to the woman liberator of Ecuador – Manuela Sáenz. She was a feminist and political activist who fought – sometimes literally – with her partner, Simón Bolívar, for the independence of what is now Ecuador, Venezuela and Colombia. At the museum's entrance is The Legendary 5th Devil's Pot. Enjoy here some of the city's best humitas (kinda like tamales) and homemade hot chocolate.
San Marcos has a growing number of elegant, intimate hotels, including the Illa Experience Hotel. Each of the hotel's three stories reflects the different eras of the neighborhood – colonial, independence and contemporary. And with a reservation, non-guests can dine in the hotel's restaurant with views of the Panecillo.