Among the different islands of
Galapagos
, we can find Santa Cruz Island. It is the second largest island after Isabela Island. It has an area of 381 mi2 and a human population of 12,000 individuals. Santa Cruz has many wonders that are worth visiting. Travelers are delighted by the island's variety of wildlife and geology, as well as the wonderful landscapes.
What to see & do in Santa Cruz Island
Charles Darwin Station is one of the most interesting attractions of the island. It is a biological research station operated by the Charles Darwin Foundation. It is located in Puerto Ayora. Visitors can appreciate the natural wonders and also learn how people is working to protect and conserve the islands.
The National Park information center has a breeding center for young tortoises and adult Galapagos tortoises, for reintroducing them into their natural habitat.
Bachas Beach is a white sand beach, perfect for relaxing, sunbathing or taking photos, with beautiful flamingos on the shore. There are other marvelous beaches in the island, like the famous Tortuga Bay. It is called with this name due to the important presence of the black turtle population in this area. Garrapatero is another exotic beach, with a great wildlife, including flamingos.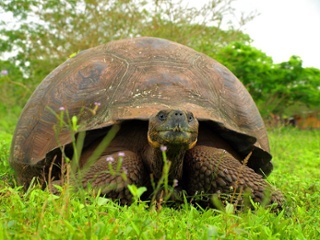 Dragon Hill, located in northwestern, consists of a trail that lead to a hypersaline lagoon behind the beach, with extraordinary sights. It is a perfect spot for photography lovers, naturalists and birdwatchers, because it is plenty of flamingos, pintail ducks and other species of birds. It has been re populated with land iguanas from Seymour, Isabela and Santa Cruz islands.
The trail to the highlands leaves from Bellavista and passes through the agricultural zone, near the National Park boundary, the Miconia Zone, and then goes to the Fern and Sedge zone. Visitors can enjoy a landscape of rolling hills and extinct volcanic cones.
CONSERVATION CHALLENGES
The CDF has been working for several years to protect the fauna and flora of the island. They have also taken actions s to increase the awareness of local communities and visitors. Ecotourism is necessary, to promote a responsible way of visiting their beaches and their biodiversity.
ITINERARIES
If you want to see Santa Cruz Island on board of our exclusive yachts, most of our itineraries include a visit to this marvelous island.
On board of the Galapagos Sea Star Journey, all the itineraries stop there:
Itinerary A includes a visit to Bachas Beach
Itinerary B includes visits to Dragon Hill and the highlands of Santa Cruz.
The Itinerary C of the Sea Star stops at Charles Darwin Station the first day.
The boutique yacht Galapagos Seaman Journey has also some itineraries that include visits to Santa Cruz.
Itinerary B includes a visit to the Charles Darwin Station.
Itinerary C includes a visit to the highlands and to Bachas Beach.
Itinerary D also includes a visit to the highlands and to Bachas Beach.
Visitors in the Itinerary E go to the Charles Darwin Station and also Santa Cruz Highlands.
Itinerary F also includes a visit to Santa Cruz Island, Bachas Beach and Charles Darwin Station.