Santiago is one of the marvelous islands in the Ecuadorian Archipelago, Galapagos Islands. It is the fourth largest island, with 585 square kilometers (226 sq mi), dominated by a volcanic dome surrounded by small cones. Along with some of the large western volcanoes of Isabela Island and Fernandina, Santiago is also volcanically active. Named Santiago in honor of the patron saint of Spain, it is also known as San Salvador. It has a maximum height of 907 meters. The vegetation is rich in this island, due to moisture. Discover Santiago Island!
WHAT TO SEE & DO IN SANTIAGO ISLAND?
Puerto Egas is the main attraction of the island, with a black beach due to the volcanic origins of the land. It was a center of salt mining during the 50's and today it is an interesting place for those who love Biology and Geology.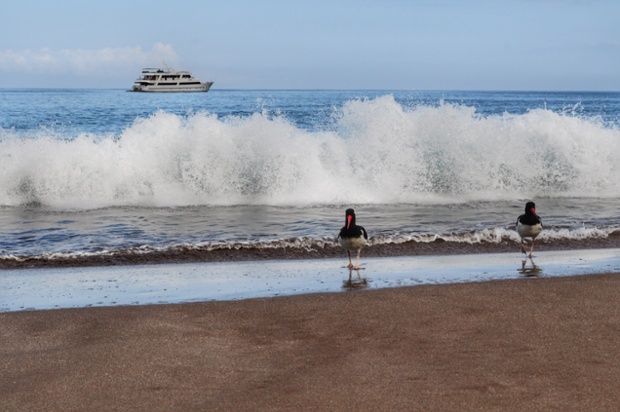 Espumilla beach is one of the most idyllic locations in the Galapagos Islands, located on the north coast of Santiago Island, James Bay. This beautiful beach is an excellent place for swimming and snorkeling, around tortoises, sea lions, marine iguanas, dolphins and sharks. Around this beach, visitors can see extraordinary lava formations.

Bartolome Island is very close to Santiago, as we can see in this picture of Santiago, taken from Bartolome Island.
There is also another close island to visit from there: the small islet Chinese Hat, very interesting for geologists, that can be accessed by boat from the southeastern part of Santiago Island.
CONSERVATION CHALLENGES
There are marine iguanas, sea lions, fur seals, land and sea turtles, flamingos, dolphins and sharks. Darwin's finches and Galapagos hawks, as well as a colony of fur seals, are commonly seen on this island. In Sullivan Bay there is a recent flow of pahoehoe lava. A large population of wild goats and pigs that were introduced have caused great harm to the endemic flora and fauna.
Furthermore, during the last presence of El Niño phenomenon, one of the two lagoons in Espumilla beach had a process of sedimentation. It caused the disappearance of a representative colony of flamingos.
ITINERARIES
If you want to see this island on board of our exclusive yachts, these are our itineraries that include a visit to this marvelous island.
On board of the luxury Petrel Catamaran:
The boutique yacht Galapagos Seaman Journey has also some itineraries that include visits to Santiago.