If Peru were to be known by one thing, the two first names that could easily pop up in our minds are: food and Macchu Picchu. Truth be told, the wonderful sceneries and history that Peru has to offer is perfectly accompanied by an extense gastronomic offer that leaves everyone speechless. Peru has had a strong influence on world cuisine due to its harmonious fusion of Japanese and Peruvian cuisine, such a fusion that resulted in the world-known Nikke cuisine. This fame can clearly be seen by the amount of awards that it has earned, which have allowed the country to expand throughout Latin America. All thanks to the great variety of delicious flavors and traditional dishes of the country, that have been perfectly portrayed and brought to life with great technique and flavor.
Now, if we were to talk about a dish that is truly emblematic in Peru, it would be the Peruvian ceviche. How could it not be, with such history that the Peruvian Ceviche possesses and narrates!
A simple yet complicated dish; perfectly balanced and well executed. Light yet filling; healthy yet rich, that is the Peruvian Ceviche. No wonder, has this dish been shared and interpreted all over the world. Its popularity is such, that this culinary delight was even declared as a national heritage in 2004, for being one of the main emblematic dishes of the entire country. As a result, Peru even named a day after its dish. In fact, June 28th was declared "National Ceviche Day"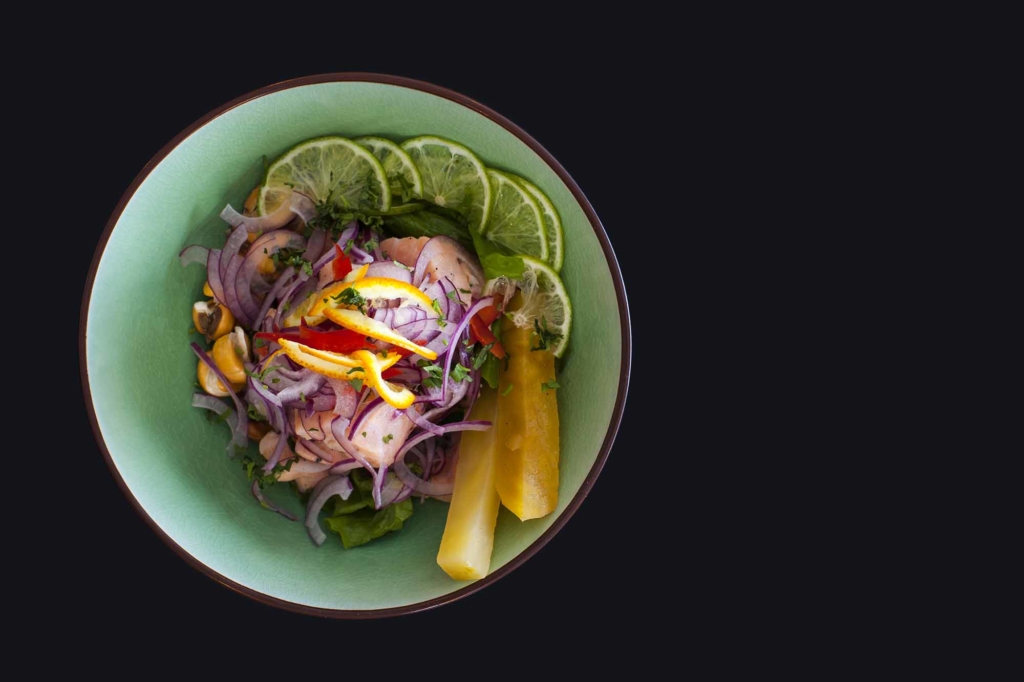 Let´s get a bit more technical now, to be precise, let´s get grammatically correct! For those who consider themselves to be grammar police, you might have seen or noticed that there are some places that call it `" cebiche", while others call it "ceviche". Now, in terms of which one wins in levels of correctness and accuracy, both are correct., as both terms are used to refer to the dish of raw fish or marinated seafood. However, if we go a bit back in time and history, we can learn that the name "seviche" comes from the Quechua word "siwichi" which means "fresh or tender fish". Although the Quechua word does not really define its cooking point, the fish must be raw and fresh for it to be prepared. To ensure it is edible, while also very well marinated, the fish rests in lemon juice or orange juice for a certain number of hours to "cook" its rawness, and trust us, it is delicious!
History
This Peruvian national dish is more than 500 years old (yes, that is five centuries of Ceviche in our lives!), and was created in the Andean nations. According to some research, it is claimed that Peruvian ceviche originated in the Moche culture, between 100 and 700 years ago. It is believed that the Moche population marinated fish with a kind of fermented juice from the fruit known as Curuba in Peru. However, other research has shown that fish was marinated with chicha (fermented yucca drink) in the time of the Inca Empire. Regardless of the type of juice in which Peruvians fermented its fish, both must have tasted delicious hands down!
Types of ceviche
The variety of ceviche depend on the country of location, type of fish, and ingredients used for its preparation. The thing is, as you we explained above, Ceviche was created in the Andean nations. Hence, Ecuador, Colombia, and other countries belong to that list. Therefore, Ceviche is bound to be versatile, and different.
Below, we will tell you about some of them:
Seafood ceviche: It is prepared with various seafood such as squid, octopus, shells, snails, among others.
Ceviche of black shells: It has an intense flavor due to the black shells. Of course, the shells cannot be cooked in just lemon juice and therefore follow a different process.
Mixed ceviche: It is prepared with fish and various types of seafood. Perfect for those who would like to taste a bit of everything!
Shrimp ceviche: As its name says, its main ingredient is shrimp, which gives it an exquisite touch and flavor.
Fish ceviche: It is the simplest and is prepared with fish. Its simplicity makes it the perfect candidate for simple flavors to really excel. As you know, it is sometimes the simple things in life, the ones that bring us joy (for some, it might be the case with fish ceviche)
How is ceviche prepared?
Peruvian ceviche is prepared by immersing fresh raw fish in aromatic citrus juices. It is an innovative way of cooking fresh fish over low heat. The acidic juice and the different peppers give the dish a spicy flavor to create the famous "leche de tigre". These are combined with other elements such as corn and potatoes to create this emblematic dish.
To prepare Peruvian ceviche you need the following ingredients: 1 kg of fish fillets; 1/2 kg of lemon; 1/2 kg of lime; 1 small red onion; 3 medium red peppers; 1/2 cup of fresh cilantro; 1 teaspoon of chopped ginger; Salt to taste.
Preparation
1.- Wash and dry the fish, then cut it into 2 cm cubes, removing scales, skin, and bones.
Wash the limes and lemons and squeeze them in a large bowl, then cook the fish and cover the container and keep it in the refrigerator for 20 to 30 minutes.
3.- When the fish is cooked, wash the sweet potatoes with a brush and place them in a steamer for 30 minutes.
4.- Wash the red bell pepper and the onion.
Remove the ceviche from the refrigerator, add the onion, bell pepper, cilantro, ginger, a little salt, and stir.
6.- Cover the ceviche and put it in the refrigerator for about 10 minutes. Then place it in a small cup. Serve with slices of plantain and sweet potatoes.
7.- Enjoy! You can add more spices to the taste, like lemon juice, salt, and cilantro.