The Seaman Journey's chef, Henry Alvarado, is in charge of enticing guests with his culinary creations and Ecuadorian cuisine. Currently residing in the ¨Enchanted Islands¨ at the age of 39, Guayaquil native Henry describes Ecuadorian gastronomy as being a veritable treasure trove of flavors and a real box of surprises thanks to the diversity of dishes from all four of Ecuador's regions.
Last week, Henry traveled to Quito with the specific intention of developing his culinary vision, honing his methods for sharing this knowledge, and advancing his work on the catamaran. Henry spoke for four days with Chef Juan Carlos Donoso of the INES Restaurant, sharing their experiences and expertise. By exchanging their various culinary perspectives, they hope to both meet diners' expectations and internationalize Ecuadorian food through their personal interactions with it.
Henry Alvarado was delighted to conduct an interview with us in which he discussed the reasons behind his decision to pursue a career as a chef, what it's like to work on a cruise ship, and his visit to the ILLA EXPERIENCE HOTEL and INES Restaurant. Here are a few of the references he provided for us.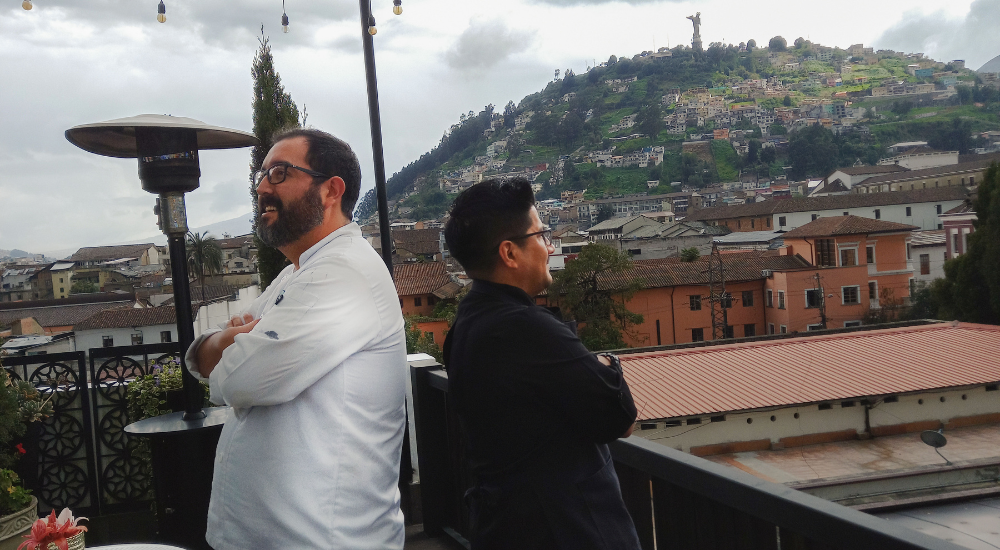 HOW DID HENRY START HIS GASTRONOMIC CAREER ON BOARD A CRUISE SHIP?
At the age of 19 Henry received a call with an offer to go to work in Galapagos, he did not hesitate to venture into this opportunity and moved to the "Enchanted Islands" where he started as a kitchen assistant on a cruise ship, being the beginning of his gastronomic career. His trajectory led him to become head chef of the Seaman Journey I and he remembers that in 2008 he helped to move all the equipment and cooking instruments to the new Seaman Journey when its construction was finished, so he has been part of the crew from the beginning.
WHAT IS THE LIFE OF A CHEF ON BOARD A CRUISE SHIP LIKE?
Henry remarks that his experience working at the Seaman Journey is very different from his previous experiences working in a hotel in Guayaquil. Henry describes his career as privileged because he believes it is a professional experience that many chefs in Ecuador and around the world would like to have.
He rises very early, always an hour and a half before breakfast, which can range from 6 to 7 in the morning, to go to the kitchen and begins preparing the morning meal. Once breakfast is served, he cleans his kitchen and gets ready for lunch, which is similarly prepared an hour and a half before the passengers are ready for lunch. At 2:30 in the afternoon, he finishes the day and takes a break to go to his cabin, where he takes a rest.
He is happy to take an hour's navigation watch when he is selected to do so, safeguarding passengers and fellow crew members while they rest, as they occasionally draw lots to determine which member of the crew will do so.
THE BEST PART OF WORKING ON BOARD THE SEAMAN JOURNEY?
The passengers are always very appreciative when he introduces himself and offers snacks like volovanes stuffed with seafood, patacones with avocado, yucca bread, canapes, and more when he meets them on the first day of the itinerary, but everything is summed up on the last day of the itinerary when the guests say a few words of farewell congratulating Henry and thanking him for his dedication. Henry's primary motivation is for the travelers to notice all of his efforts and to witness their reactions when they try Ecuadorian food for the first time. Henry remembers with delight that he has received invitations from passengers inviting him to visit them if he chooses to travel to nations like Canada and the United States for vacation.
He considers that attending to the same diners for up to 15 days during their visit to the "Enchanted Islands" is an interesting challenge that he takes on with great joy, which is why devising new menus is a task that he faces with great motivation and skill. It is a great professional requirement that has to be faced with inspiration and responsibility, but it is something that he has been able to manage and assume with years of experience, avoiding feeling the pressure.
WHAT IS THE MENU AND HOW DOES HENRY CHOOSE IT?
The chef says that the secret to making each plate of food a true gastronomic experience is passion and dedication when it comes to cooking. He claims that whenever he enters the kitchen, he does so in a good mood and with the best attitude so this is reflected in his menu, perfecting it every time he prepares it with the idea of renewing the flavors and combinations.
Shrimp, octopus, fish, chicken, and beef are some of the principal proteins he uses. Delicious barbecue pork ribs and sausages are served on Thursdays, making it a special occasion. When it comes to making his favorite recipe on board, "Locro de papas," Henry considers himself to be a true expert.
He always offers three types of salad at lunch and dinner, his favorites being:
– Lettuce, tomatoes, and peppers
– Purple and white cabbage salad
– Quinoa salad
He tells us about some of her favorite starters:
– Quinoa with pesto and pepper sauce.
– Fish ceviche.
– Tuna tartar
– Caesar salad
– Sushi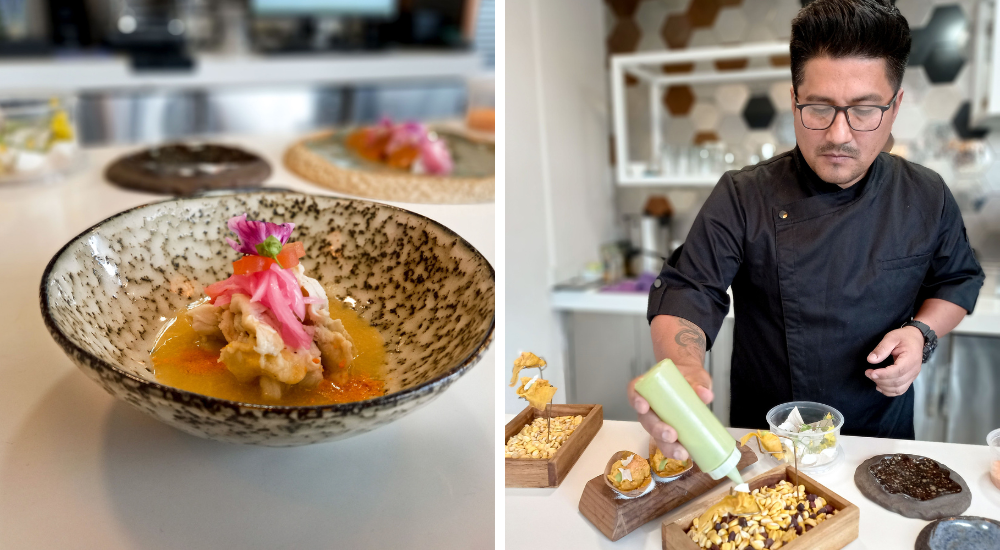 HENRY'S VISIT TO ILLA EXPERIENCE HOTEL
He calls this experience enriching and thinks it can be applied on board the Seaman Journey as a unique way to welcome guests and make the most of their time while on board. He particularly liked the idea of transmitting the culture of Quito and other places in Ecuador through activities and experiences with a lot of history. He took a tour of the hotel's three floors and was struck by the real artwork created by artists and members of local communities that represented three different themes. Inspired by this design, he will suggest applying the idea to the Seaman Journey so that passengers will learn about Galapagos culture and traditions as soon as they board the ship and can fully enjoy their itinerary in the ¨Enchanted Islands¨.
He had the idea to sample and compare various kinds of coffee from different regions of Ecuador, including his favourite Galapagos coffee, which is already well-known in the United States.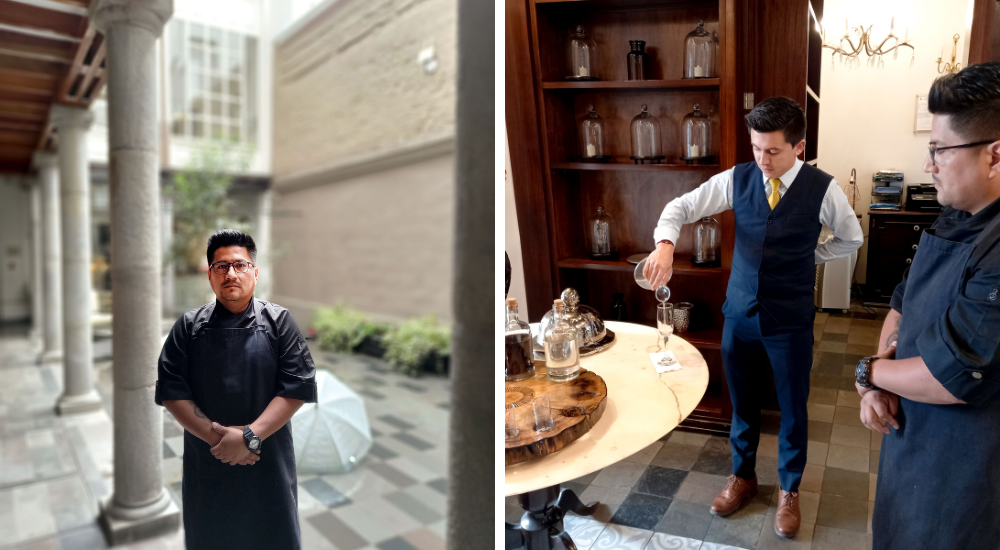 THE EXPERIENCE WITH CHEF JUAN CARLOS DONOSO
Henry considers that the four days shared with Chef Juan Carlos were very fruitful, the exchange of experiences was very enriching and a source of inspiration to continue building gastronomic experiences. Both shared moments in the kitchen of INES Restaurant, where they prepared a delicious fish ceviche and a reinterpretation by Juan Carlos of the famous Ecuadorian dish ¨Bolas de verde¨. Henry was inspired to bring new instruments to his kitchen, which he will use to surprise his guests upon his return to the Seaman Journey kitchen.
There was also time to enjoy the beverage experience, where they tasted samples of national drinks and coffee preparation.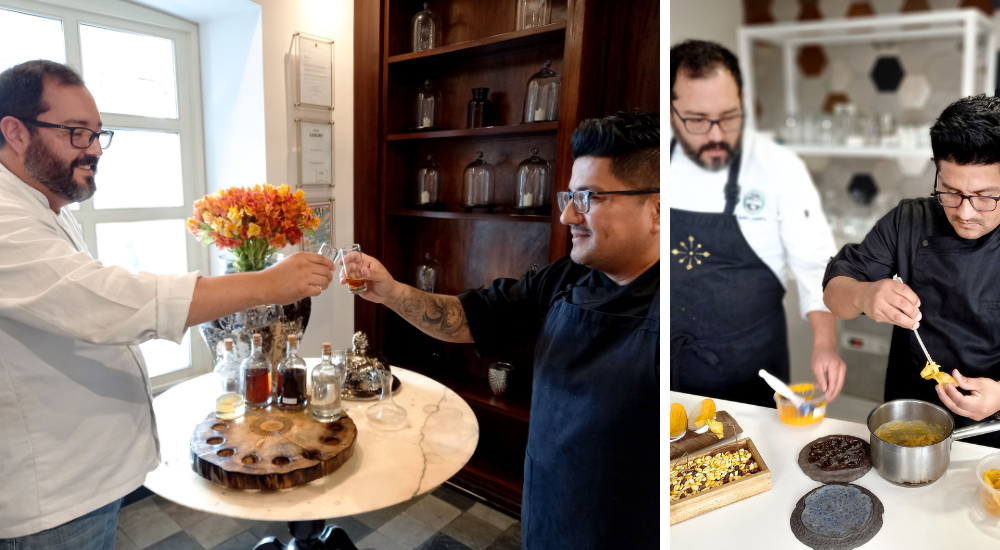 Additionally, we spoke with Chef Juan Carlos Donoso, who expressed his appreciation for the experience and amazement at Henry's skill while also praising the differences between cooking on a cruise ship and in a restaurant. He indicated that while cooking in a restaurant kitchen presents a number of challenges, creativity, and organization are the best methods for producing well-prepared food.
Both praised the visit and the fantastic opportunity for knowledge exchange that it offered. On the Seaman Journey, travelers can anticipate brand-new surprises and delectable cuisine.