The 30 activities to do in one month
1. You can't skip the teleferico. This 10 minute gondola ride that takes you 1,000 meters up to Cruz Loma to witness the city and its valleys from above. From here hike the 4km to Rucu Pichincha.
2. Visit La Compañía church in South America's best preserved colonial center. The church is made of volcanic rock and gold.
3. Enjoy a warm canelazo at Pim´s restaurant in Itchimbía to enjoy the best views of the city.
4. Go to the Sanctuary of Guapulo located just outside of Quito. Finished in 1649 this is one of Ecuador's oldest churches.
5. Head up to the Virgen del Panecillo to see this incredible monument built strategically to overlook the city's historic center.
6. The National Museum of the Central Bank of Ecuador offers a stunning show of gold artifacts found throughout the country. It's located right next to the Casa de Cultura where you can see a free concert or ballet.
7. A UNESCO World Heritage Site, Quito's Museo de la Ciudad – City Museum – is located in Quito's first hospital – San Juan de Dios. It's has a wonderful display of the city's history and its medical history. One of the city's first buildings, it's worth a visit just to see its colonial architecture.
8.  Head to the west end of town and visit the Rumipamba ruins. This is 35 hectare museum where you'll find Yumbo society artefacts that date between 1500 B.C. to 1500 A.C.
9.  La Ronda – or Juan de Dios Morales St. – this is the best spot in all of Quito for empanadas (fried dough) and morocho (delicious corn drink). This once artist, beheim neighborhood is now a great place to restaurant hop.
10. Head to Mitad del Mundo – the middle of the earth – to put one foot in the northern and the other in the southern hemisphere
11. Eat your cake and watch a movie, too, at the 8 y medio cafe and film house in the Floresta neighborhood.
12. Since you're nearby, take a day trip to Otavalo to check out this Indigenous city's famous artisanal market and nearby lagoons.
13. Stroll Quito's Central Park – Parque Carolina. This well kempt park is 64 hectares and provides a place to paddle boat, walk your dog, enjoy a free concert and try some of Quito's best street foods.
14. Sit on the rooftop bar at ILLA and watch the sunset behind the panecillo virgin while you sip a gin tonic
15. Try some of Quito's best artisanal beer – and dancing – in the Plaza Foch. And even if you meet other local or foreing people, you already can suggest what to do in Quito without getting bored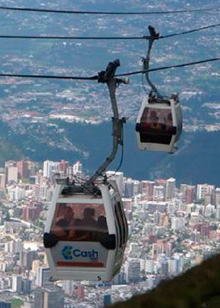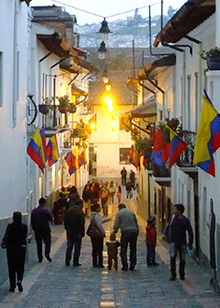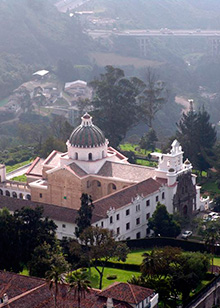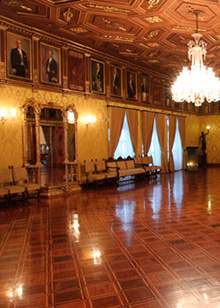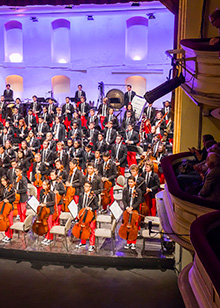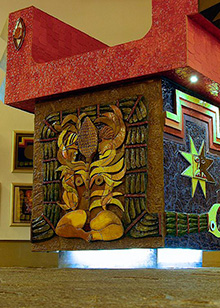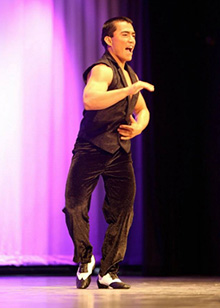 16. While in the park go to the Botanical Gardens. This is a relaxing spot within the city where you can witness the country's flora all in one spot, including Ecuador's high-altitude orchids.
17. Chocolate Day! Head to Aroma for a tour of their chocolate-making lab and try some of the best hot chocolate Ecuador has to offer. Visit Kallari cafe in the Mariscal for the finest, cooperative-grown chocolate in Ecuador and then head over to The Republic of Cacao for the bestest truffles you'll ever experience.
18. Visit the Capilla del Hombre that displays the lifetime of work by famed Ecuadorian artist, Oswaldo Guayasamin. The art and the museum's architecture will leave you inspired.
19. Talk a long walk in Parque Metropolitano. This expansive park is a favorite among local bikers and hikers, and you're sure to see families enjoying a picnic and soccer game on Sunday afternoons.
20. Go to the top spires of the Basilica del Voto Nacional – the world's largest neo gothic cathedral sits right here in Quito.
21. Indulge in a orchestral concert at the neoclassical National Sucre Theatre located in the city's historic center
22. For all your food fixes – from fruits and vegetables to traditional Sierra dishes, visit the Mercado Central in the historic center. This immense market can't be missed.
23. Take a walk in the Ejido Park. This newly renovated park is a cool, quiet reprieve amidst the Quito bustle. You can even buy souvenirs at the park's north end where artesans sell everything from sweaters to necklaces. And even now, are you wondering what to do in Quito? we have many other activities to do
24. Visit the Presidential Palace in Independence Plaza. The palace was Ecuador's traditional seat of power beginning in the 18th century and is now a museum open to the public since 2007.
25. Take a city bus tour. This double decker red bus will take you to all the important spots of the city from Parque Carolina to the Mariscal to the historic center. If you ride on top, don't forget your sunblock!
26. It is time to dance! You can hire some classes of salsa, bachata or merengue per hour. And then, let's party in a Salsoteca
27. Cotopaxi – take a day to head to this incredible – and active – volcano. Every night climbers head to this high altitude national park to reach it's bumbling peak at
28. Join Quitenos on Sunday mornings at the ciclopaseo. The city opens up Av. Rio Amazonas – a main artieral of Quito to biker, roller blader and runners.
29. At the end of Rio Amazonas Avenue is the Old Airport. After the current airport opened just outside of Quito in 2013 city authorities opened up the former runway to sports enthsiasts who use the space to run, bike and rollerblade. There's even rumba lessons and a dog park.
30.  The Yaku Water Museum is dedicated to teaching you about the importance water plays in the Andes. This also has a temporary sound exhibit by Ecuadorian artist Mesías Maiguashca.
Don't worry we'll have the second part of What to do in Quito?; definitely, this is a city where you won't get easily bored