The Galapagos Islands is so diverse that you can find
Active volcanoes
Flaunt beautiful beaches
Stunning wildlife reserves
Awesome underwater wolrd
Delicious Food
…And much more
There are countless amazing places around the world where you can travel and enjoy adventure while living wildlife contact, but no one like Galapagos.
With that said, even when you are planning to spend a few days in the Enchanted Islands, you should check the best spots and places that you need to include in your itinerary.
From kayak rides to biking, diving, and hiking. For those travelers looking for their next adventure, the archipelago is the perfect site to add in their bucket list. Imagine how it is being surrounded by pristine places, rare and unique wildlife, even fearless to humans, and breathtaking places.
You can't skip Santa Cruz Island and the most populated town of the archipelago, Puerto Ayora; hikers cannot miss exploring Sierra Negra, an active volcano in Isabella Island; and aquatic enthusiasts mustn't miss the opportunity to practice snorkeling or diving.
There are no questions that Galapagos offers many fun things to do!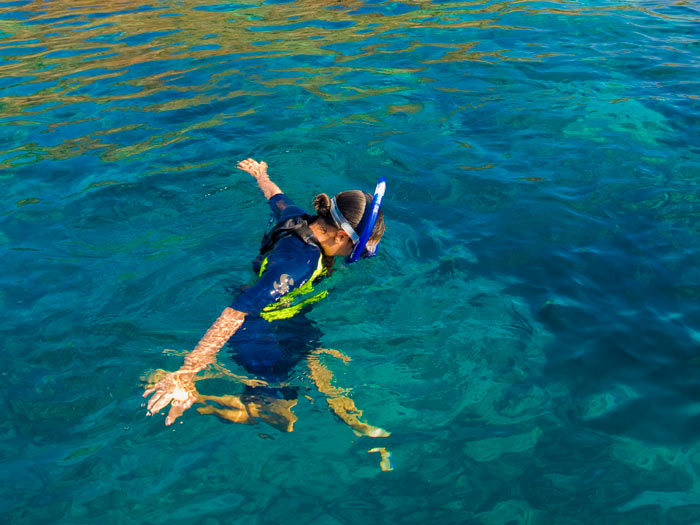 What can every adventure traveler expect from their trip to the Galapagos Islands?
Before answering this question, it's important to explain a little bit about the tour and travel services, and experiences that they offer to everyone who is looking for adventure and new places to explore.
Activities:
In the Galapagos, visitors can experience either simple activities like snorkeling close from a pristine beach, or others a bit more demanding, such as 1-hours hiking to explore Sierra Negra Volcano (Isabela Island). You can choose the adventures based on your preferences like birdwatching, hiking, snorkeling, or relaxing. If you need help or advise to build your program, do not hesitate to contact us.
Nature:
It is important to understand that people who enjoy adventure can be described as those who are passionate about outdoor activities. They love nature, and feel the rush of adrenaline; Yes! That sensation you have when you are living a new experience and having fun. That's why it's necessary to contact the right tour operator that guarantee you an amazing experience by creating tailor-made packages that will satisfy all of your needs.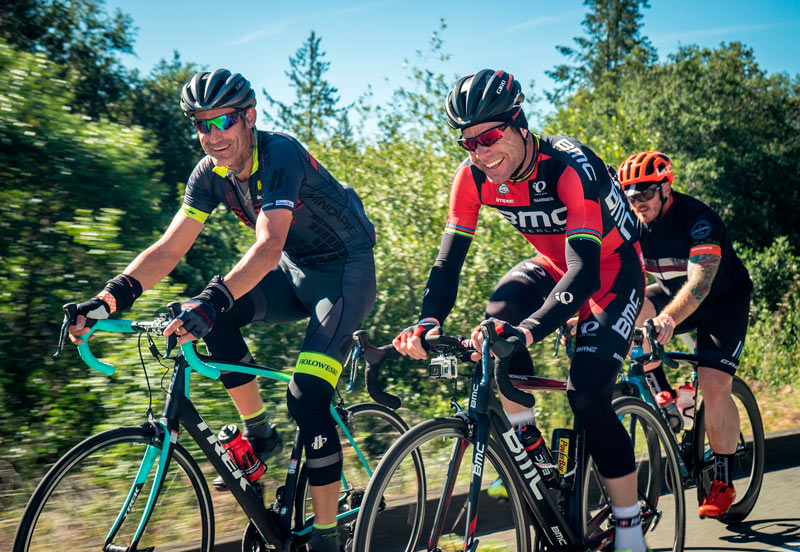 We can now talk about the activities you can enjoy at the Galapagos Islands, so let start with biking, this popular activity that passionate thousands of people around the world. In Isabela, Santa Cruz and San Cristobal, there are several trails where you can bike while you enjoy the beautiful landscapes that Galapagos offers. In fact, there are many rental bikes shops in each island. For example, Puerto Ayora (Santa Cruz) allows bikers to ride through small communities like Santa Rosa and small farms
Also, there places like Media Luna and Cerro Crocker where you can check out the best spots on the island. Then, you can continue the adventure and ride (16,4 km – 10 mi), to El Garrapatero beach, where you can rest, spending some time on the sandy shore
Isabella island is one of the most famous places to practice biking. You can visit "El Muro de las Lagrimas," (Wall of tears) which was built by prisoners in the 1940s but has now turned into a great spot to start a mountain bike route. It is ideal because it offers many trails with diverse elevation levels. At the end of this trail, you visit La Galapaguera, a place where you can see giant tortoises.
If you love adrenaline, you can ride from the top of the Sierra Negra volcano and go downhill which is a crazy but entertaining ride.
What about prices? Well, biking on Galapagos Island is totally affordable if you compare Galapagos with other places. For example, if you want to rent a bike for an hour, it will cost you around US$3 and the whole day will cost you around US$15. On the other hand, if you want a shuttle service, you are going to have to negotiate the price which will probably be as cheap as the other options.
However, it is better to build your package in advance, so your tour will include all these expenses and services. It is very important to check the information from our team to make your experience better and enjoyable.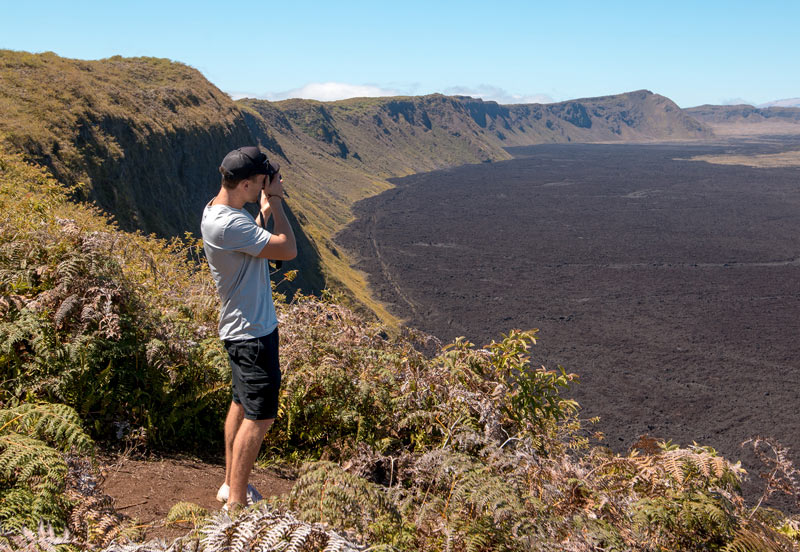 Now is time to talk about another adventure sport that you can practice in the Galapagos Island, this one is exclusive for those types of adventurers who enjoy exploring in natural environments. If you are one of those people, Galapagos is a wonderful place because of its exotic flora and fauna as well as the breathtaking landscapes.
Trekking consists in walking through pre-charted paths that will show you the way to the destination you are going to visit. On the other hand, there is another option called hiking which is a long journey that you make on foot, you normally visit remote areas that do not even have available transportation, and generally, this implies long walks through uncharted-paths while you walk by challenging environments in the middle of the wilderness. You can choose to practice either day hikes and night hikes.
In Galapagos, if you want to go hiking you can go camping close to the established paths around the island, if you want to do this, you are going to need special permission from the Galapagos National Park.
One of the best spots for trekking activities is Volcano Chico, which is a collection of small cones. In this area, you will be able to see volcanic ash, and the surface looks like a frozen black ocean. Every single flow marked on the surface will show you different textures, which are going to make you enjoy your walk so much more. While you walk, you will observe that the vegetation is sparse. The walk will be a little bit difficult, but as you get down the road, the hike will become easier when you are approaching the low lands.
Last but not least, Cerro Dragon, which is located in Santa Cruz Island and is 1600 meters (5249 ft) above the sea level. The best part of Cerro Dragon is that you can enjoy three different environments. The place was named Cerro Dragon because of the iguana species that were found back in the mid-1970s.
In addition, you can visit a private Tortuga ranch. You will be able to see the giant tortoises in their habitat, and you will see how they behave in their natural environment. If you want to see a larger amount of tortoises, try to visit this place during the rainy season.
Another spot is Sierra Negra, this area has 5 miles of hiking, and you will reach the highest point of the Isabella Island. When you get to the top, you´ll see that the landscapes will look more like a piece of art, because you will see yellow sulfide and beautiful volcanic cones with black lava stones.
At the top of the volcano, where the crater is, the temperature is low, and you will see the clouds moving around because you will be at 1490 meters above the sea. You can also see the entire island's geography, which is just spectacular. However, last June 26th the volcano began to the eruption, a and even though the sightseeing activity was suspended for a few days, it was reopened last July 4th, 2018.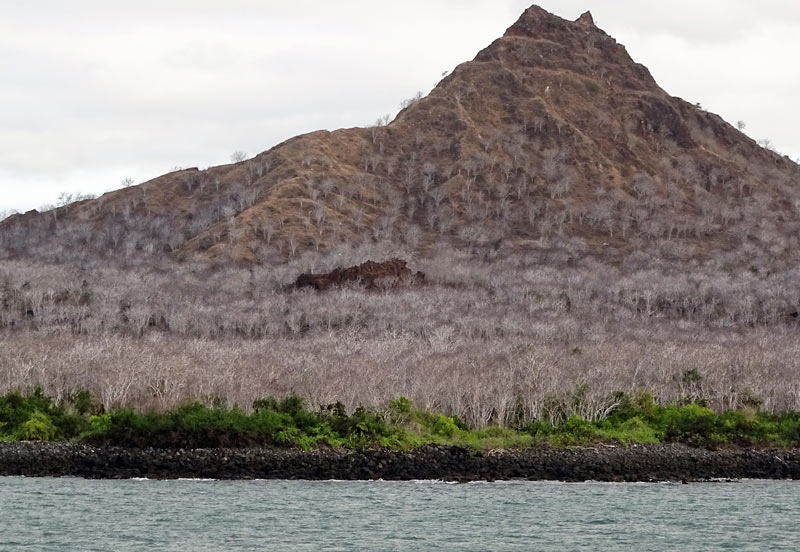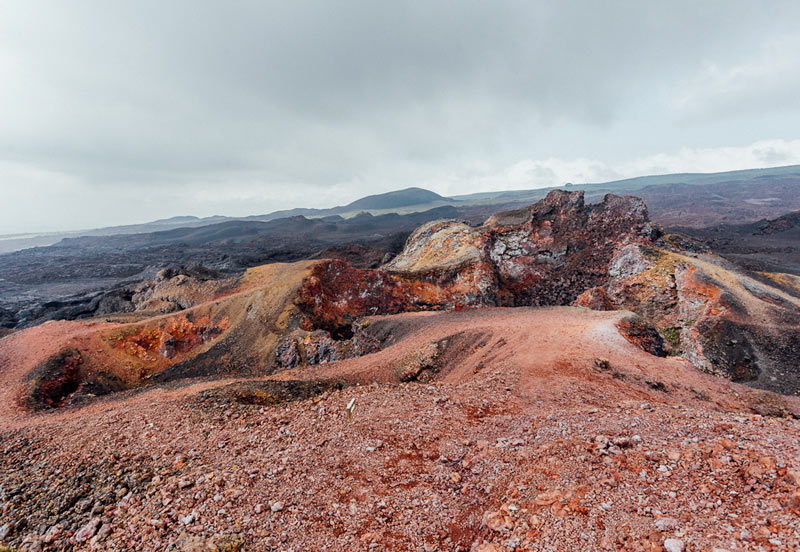 Are you thinking about traveling to Galapagos & Ecuador
Let us know your budget, and we can build a tailor-made tour for you.
Now, you have another option if you are not a big fan of hiking and biking and you prefer the water activities, you can go Kayaking. In some of the islands, you will notice that some stores are specialized in this kind of activity. Usually, they will include not only the kayaking experience but also the drinks and food, which is great.
If you are visiting Galapagos on a cruise, you will realize that they will often include a kayaking activity in their schedule. These activities will last a few hours but you are also going to be able to choose not only kayaking, but also snorkeling, and if you are lucky and have enough time, you are going to do both. Keep in mind that this will depend on your cruise policies and activities that are available.
The Kayaking experience could be very different sometimes depending on the cruise you take, for example, some cruises will allow you to explore the farthest islands, where you enjoy more this activity, other cruises will offer kayaks just in specific areas, most of the times, close from Santa Cruz. Bear in mind that some yachts do not have kayaks for everyone, so you have to wait until they are free. If you have some time, you can check out our Galapagos Cruises, especially Sea Star Journey that offers kayaks activities for everyone on its itinerarie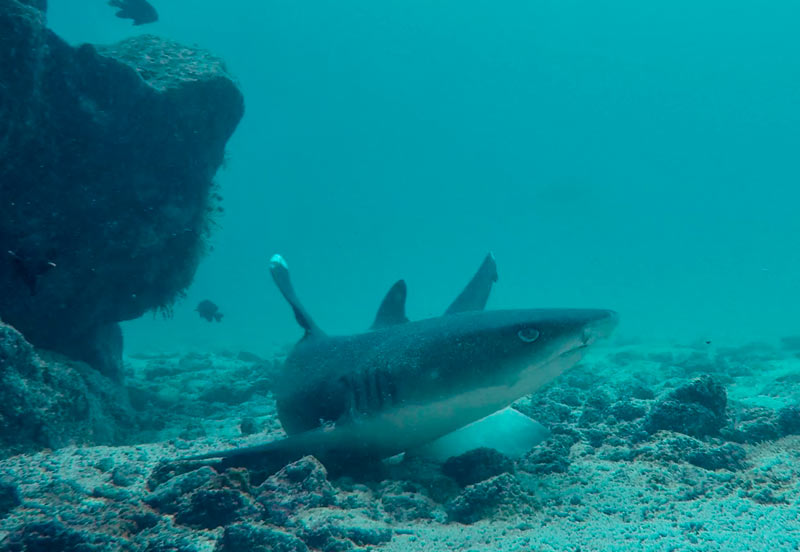 Depending on the seasoning, the water can be cold, and in some places, it is very deep. You are going to enjoy the whole experience a lot once you get in the water and start to enjoy the spectacle, you can see thousands of fishes and great coral colors, but also, enjoy encounters with special animals. You will be able to see the sharks, rays, sea lions, penguins, marine turtles or even swimming birds near you and they are going to let you swim very close to them.
If you feel you were born to be wild, you love to add a little adrenaline to your life, and you actually enjoy that rush, one of the best things you can do in Galapagos Islands is to swim with sharks. Can you imagine how cool would be if you could have the chance to swim close to these amazing animals? Well, you can have that experience at the Galapagos Islands.
There are plenty of people who already enjoyed this amazing experience, and you can be the next one doing it. The whole experience is amazing, and you can live it while you snorkel. Do not worry about security, the guides are very friendly and explain everything to you before you get into the water.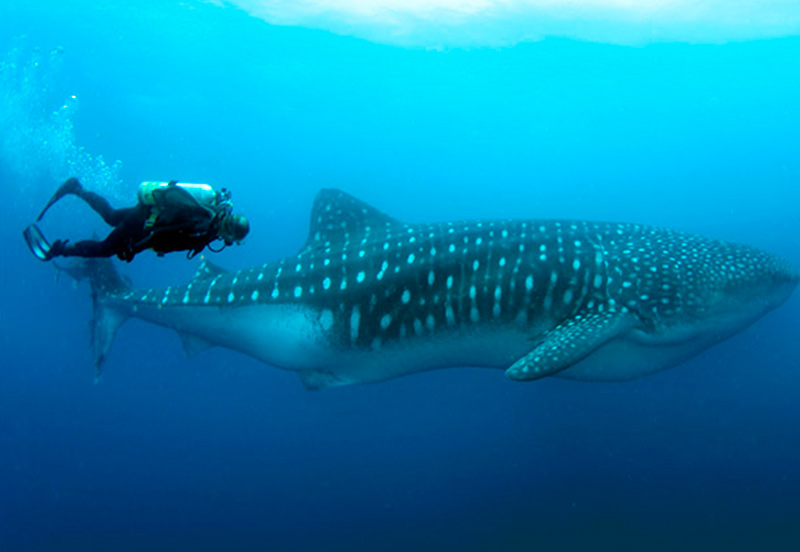 If you want to go deeper and diving is your preference, you are definitely in the right place. Galapagos is known to be one of the best places for diving. If you see magnificent animals when you snorkel, can you imagine if you go deeper? One of the most impressive animals that you will find is the whale shark, a massive creature that let you swim close to it. One of the best experiences you will live
The best thing about the Galapagos is that you can find many different activities. It doesn't matter if you prefer to spend some time close to the beach and watch the amazing fauna that surrounds this magical place; or if you want to explore remote areas by spending all your time in the Island doing some hiking. Perhaps you just want to enjoy and prefer doing exercises you can choose to go to the amazing trekking trails with stunning landscapes. There is definitely something for everyone.
The Galapagos Islands is without a doubt the perfect combination of beauty, uniqueness, exploration, and adventure. If you are looking forward to having an unforgettable experience, and you prefer to be guided and advised by experienced tour operators, do not hesitate to contact us. We will be pleased to help you to tailor the perfect adventure for you.
Check out the itineraries of our Galapagos Cruises; we have kayaks on board