Nowadays, the international tourism industry is developing new services for a particular segment of customers, who are mostly interested in doing some adventure activities in destinations that have been considered for leisure and relaxation purposes such as places with beach resorts.
Adventure activities are classified between hard and soft along with the degree of risk and physical demand required during the activity. In order to get a piece of the pie, traditional tour operators are managing new packages that include itineraries with the most popular soft adventure activities such as hiking, kayaking, surfing, horse riding and biking, all tailor made for every kind of taste.
The profile of this kind of adventure tourist can be described as environmental friendly, passionate for outdoor activities during the daylight, as well as very selective on cozy surroundings during the evenings. Therefore, the tailor-made packages for this segment need to be provided with as much comfort as possible in their accommodation spots, after an exhausting but exciting day of hazard. Adventure tourists are concerned with their physical appearance most of the time, and by engaging in outdoor activities with soft risk, they pursue to keep constantly in shape their athletic bodies without worries.
Although they may be aware of the cultural insights of the journey by visiting the traditional highlights of the destination while exploring its hidden spots, their main interest lies in the adventure itself.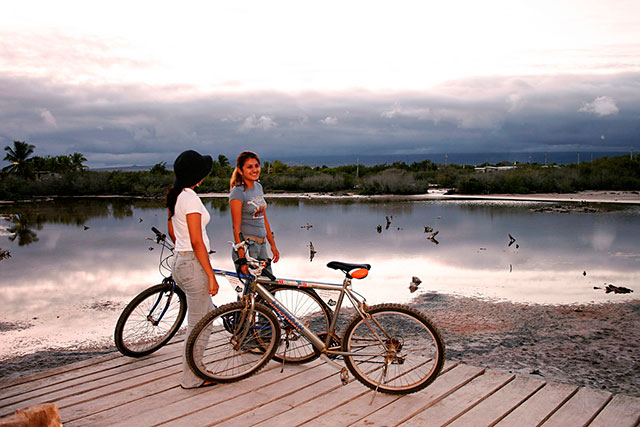 Soft adventure and mountain-bike riders
Without a doubt, bikers can be classified as a sub-type of adventure lovers , considering that their concept of vacations implies a great amount of dynamics and adrenaline by riding on two wheels for hours or even days. Choosing Ecuador as their road is truly recommended! There are even new destinations developed for soft adventure activities such as the Galapagos islands.
Although Galapagos Islands have become famous for small cruises, as well as its bizarre flora and fauna, within the last decade or so, the Galapagos islands and its highlands became a perfect place for adventure sports such as mountain biking. In the archipelago, the islands of Santa Cruz and Isabella offer an accurate surface for biking with a diversity of trails passing by the quiet and breathtaking landscapes of the archipelago.
Santa Cruz island has a large network of paths interconnecting the city of Puerto Ayora with its highlands, allowing bikers to ride through small farms and communities such as Bella vista, Santa Rosa, and El Carmen.
Also, these trips cover common visitor spots such as Cerro Coker and Media Luna where the essence of the whole island can be observed at its fullest. Afterwards, the bikers can end at the shores of the island, cycling through lengthy and sandy beaches like El Garrapatero.
In Isabela island, one of the most popular places to ride on a bike is the "Muro de las lagrimas", formerly known as a prison during the early 40´s.The place is located about 5 km from Puerto Villamil, bikers need to ride through a path with a lot of ups and downs. Along the road, bikers can watch the marvelous coast landscapes, and ride to the Galapaguera, where they can see the giant tortoise and their offspring. Nonetheless, if bikers search for more adrenaline, they can ride downhill from the top of Sierra Negra volcano, which length is about 30 km.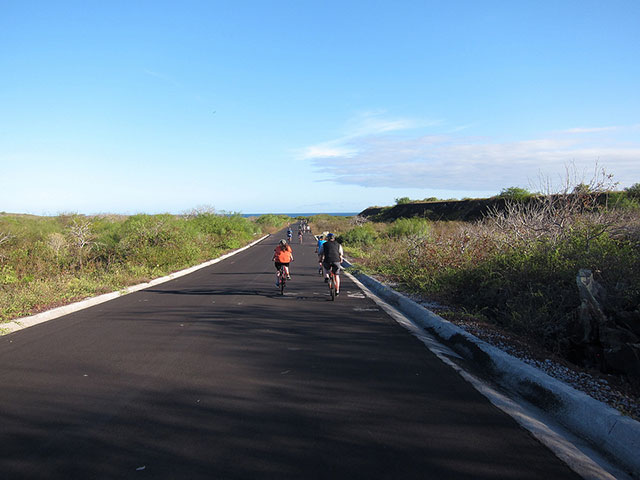 Biking in the Galapagos islands is very affordable when compared to other destinations. Just to have an idea, the cost rental per hour of a bike is $3USD,and for a whole day will cost $15USD. However, if you want a group excursion with shuttle service, then you have to negotiate the rate, which after all will end in a cheap deal as well.
Latin Trails and its approach to adjust to constant changes in the market, strives to analyze on regular basis opportunities in order to develop new products that will supply the customers' needs in the tourist industry. Our team is pleased to advise you on every enquiry in order to make your tour in Ecuador an experience and not just a tour.