Hakuna Matata Tour Adventures
The tour adventures goes through the Amazon rainforest is for all the bold, brave, fearless, energetic and venturous people out there! Be that as it may, your adventure in the rain forest is waiting for you! You will enjoy a hike down the Jondachi- Canyon. You will explore caves in the Amazonian lowland – experiences in caving are a benefit, but definitely not a must! After all, these exciting events are framed by the stay in our comfortable Hakuna Matata Lodge which is located less than 125 miles away from Quito. The Lodge is build amidst the lush Amazonian flora and offers a private beach, 300 acre of private protected forest, a pool shaped as a palm and a tropical garden – all in all a program full of adventure and excitement!
DAY 1: ARRIVAL – JOURNEY TO THE AMAZON RAINFOREST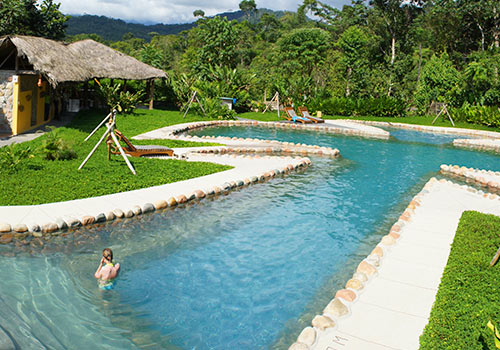 Within 3 hours from Quito, finally, you will arrive in our exclusive Lodge. In the meantime, you will  notice  how  the  vegetation  changes from the landscape of the Andes into the rainforest. After passing the  gate  to the  Amazon  Rainforest  you  will  be in a mountain jungle paradise – Hakuna Matata is your private hideaway in the tropical forest. However, during your trip you came closer to sea level by about 7,200 feet and are located on about 2,000 feet now. There are different options to reach our Lodge, you can take a public bus or order a private transfer. However, the last one you will have the option to stop at the hot springs of Papallacta to relax in these famous thermal waters (optional, entrance fee not included).
Nevertheless, if you decide to skip the rest in the hot waters and arrive early in our jungle paradise you can add a tour by foot or by horse in the afternoon to your free day. Taking the horseback riding you will  choose  one  of  the  hotel  owned  horses  and  take  a  tour through the forest and rivers. Otherwise, if you rather take a walk you can explore the area on different hiking paths. Your guide will explain the flora and fauna and share ancestral information about plants
that are used for medical  reasons. However,  you can also participate in our chocolate tour  (all tours are optional, please let us know if you want to add this tour to your program when booking).
In the evening you will enjoy a delicious 3 course gourmet meal in an exclusive atmosphere surrounded by the sounds of the jungle.
Meals: -/-/D
DAY 2: JONDACHI CANYON HIKE – CAVING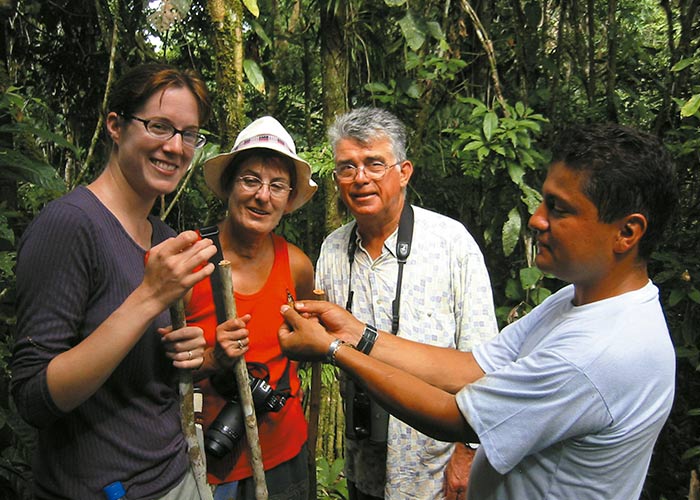 You will start your day with a balanced breakfast with homemade bread, eggs, coffee and fruits or granola. Energized by a good night sleep and a nutritious breakfast, the pick up will be around 9 am and start your drive from the Lodge to the "Gran Cañón del Jondachi" which is found in the Sumaco Reserve. In this enchanted place there are a lot of rivers which descend from the Sumaco volcano, as example the big Jondachi River or its branch, the Hollin River. The intricate trail will lead you to an old-growth forest, then passing by the edge of the canyon to next bypass a confluent stream of the big Jondachi River. On this 1.5 hour hike you will see lots of small birds, waterfalls and vegetation that is influenced by the volcanoes and is only found around here.
When you arrived in the lowest part of the canyon you will see a setting that you have never seen before: huge, natural pools that are  fed  by  many  different  small  waterfalls,  surrounded  by periwinkle vegetation. Consequently, you have time to relax,  enjoy the silence  and  enjoy  a  delicious  snack  surrounded  by  this  idyllic setting. However, if you want to refresh yourself, just jump off some little rocks into the water!
But you also can be more adventurous and climb up the waterfall and explore a small cave!
Additionally, you will pass the impressive Jondachi River with its smoothen giant stones. When you finally arrive in Mondayacu you will continue until you reach the "Cavernas Templo de Ceremonias". Finally, when you are there you will enjoy your delicious lunch before the adventure begins. Equipped with helmets and headlamps you are ready to start! The dark, partly narrow caves are inhabited with small  critters  like  bats,  fireflies  and  spiders…all waiting for you.
Now you can choose between two chalk-caves:  either you discover the cave "Templo de Ceremonia" or the "Cueva de Elefante". If you decide for the first one, you will be underground for about 30 minutes. This cave provides a lot of space and is comparatively easy to walk-on – in the most parts you are able to walk standing up, only in one part you have to crawl. Due to the packing list that you read beforehand, you have the clothes to get wet and dirty in the caves. The rewards are stalagmites and stalactites!
To exit the cave you will mobilize all your strengths and climb up a rock wall some feet. In case that is nothing for you, you are welcome to turn around and walk back out the way you came in. Nonetheless, if you decide for the second cave, you will be underground  for about 45 minutes. This cave is a so-called "water cave" and has narrow aisles, cracks, small steps, belly deep water pools and even some sections where walking is not possible and you have to crawl. In a word, the highlights of this cave are the reliefs on the walls and the fragile formations   of   stalactites.   If   it   was   raining   heavily beforehand, it is only possible to visit the first cave.
After exploring the caves, your guide shows you a rock-labyrinth close by and on a short walk you will discover the giant ceiba tree, the walking palm, a liana which is classified in the family of ayahuasca and the tree from which "sangre de drago" is made. For the most part, this is used to heal wounds or fight germs and fungi.
Meals: B/L/D
DAY 3: LEISURE – OPTIONAL ACTIVITIES AT THE LODGE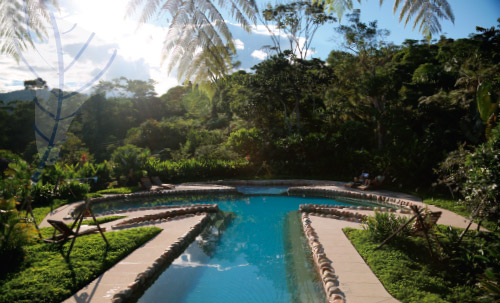 Today is your day! You can choose any activity that you prefer at the lodge. Horseback riding, taking a walk in the Amazon, chocolate tour, a day of rafting, or maybe just taking a free day to rest and enjoy in the swimming pool.
The most famous activity is the chocolate tour. There, you will learn to produce chocolate from the bean to the bar, starting with the pure fruit, the cocoa beans and ending up with the brown gold. You could also use your time differently and relax at the pool, in a hammock or just keep exploring the area.
Meals: B/L/D
DAY 4: DEPARTURE
After taking pleasure in a rich and flavorful breakfast, you can enjoy the last moments in the lodge. After that, comes the chack out.
You have two options,  either you go back on the same road to Quito or you drive back to the Andes on an alternative route to the quaint town of Baños to keep on traveling from there.
Meals: B/-/-
*If you prefer a 3 days tour, the third will be deleted
Rafting is not included in 3 days tour
 THE PRICE INCLUDES
Accommodation as following:

2 nights in the Hakuna Matata Lodge in chosen room category (Cabañas, Lodge, Supreme)
1 night in a Hotel in Lago Agrio
4 nights in the Wildlife Reserve Cuyabeno: 1 night in a tent; 3 nights in a rustic lodge

Equipment (canoes, aluminum paddle, waterproof bags for the canoe trips, rain ponchos, tents, camping mat, thin sleeping bags made of fleece, cotton insights, hammocks, camping shower, first aid set, etc.)
Private transportation from Hakuna Matata Lodge to Lago Agrio; Transportation Lago Agrio to Cuyabeno and back to Lago Agrio
Local, Spanish speaking field guide during the canoe tour in Cuyabeno
Activities mentioned in the program
Entrance fees for activities mentioned in the itinerary
Meals, except dinner on day 3 in Lago Agrio. (It starts with dinner on the day of arrival until lunch on the day of departure)
Use of all lodge facilities in the Hakuna Matata Lodge, including swimming pool, beach area, hiking trails
Rubber boots up to size 12 (UK) / 14 (US – men) (*)
Taxes
(*) Please let us know your shoes size when booking!
RAFTING TOUR
Internationally certified rafting guide, bilingual (Spanish and English)
Quality equipment (paddles, helmets, life jackets, spray jackets)
Transportation between starting /end point of the rafting and the Lodge with a vehicle
Lunch (picnic), including water and soft drinks
SPOT Satellite Messenger for emergencies
Kayak for safety
First aid kit
THE PRICE DOES NOT INCLUDE
Transport from / to Quito (following prices are for one way tickets)
Private transportation with stopover – about 2 hours – in Papallacta
* 1-3 persons: 120 US$ per vehicle
* 4-6 persons: 150 US$ per vehicle
Private transportation without stopover
* 1-3 persons: 90 US$ per vehicle
* 4-6 persons: 120 US$ per vehicle
Public bus (approx. 6-8 US$ per person), additionally the costs for the cab drive from Archidona to the Lodge (approx. 5 US$ per cab)
Transportation from Lago Agrio to Quito / Baños (flight or bus ticket) – price on request!
Lunch on the day of arrival in the Lodge (approx. 15 US$ per person) and dinner on day 3 in Lago Agrio (about
10 US$ per person)
All activities which are not mentioned or are optional
Entrance fee hot spring of Papallacta (8 US$ per person)
Guided walk through the private Rainforest Reserve (20 US$ per group)
Horseback riding through the Jungle (27 US$ per person)
Chocolate Tour (20 US$ per group)
Siona community fee (6 US$)
Drinks and meals that are not mentioned
Personal spending and tip
Personal equipment (flash light, binoculars)
Deposit for a waterproof safety bag for your luggage (20 US$ per bag)
PACKING LIST
Passport and copies
Personal medications
Sunscreen
Sun hat
Sunglasses
Insect repellent
Camera equipment (including memory card, cables and batteries)
Binoculars for bird watching
Flashlight and change batteries
Dry Bag – waterproof bag – to keep the items inside dry and safe
Daypack
Water bottle
Short and long trousers (linen or cotton are preferable as jeans are hard to dry)
T-shirts and long sleeved shirts (protect from mosquitoes at dawn)
Warm sweater or jacket (can get chilly on night boat trips and when it rains)
Lightweight raincoat
Swimwear and towel
Soap and shampoo (biodegradable if possible)
Rubber boots (up to size 12 (UK) / 14 (US – men) are in the lodge available)
Fitting socks for rubber boots
Sturdy footgear
Sandals / flip-flops / crocs
VACCINATIONS
Tetanus
Hepatitis A
Yellow fever
Malaria prophylaxis (*)
(*) The risk of Malaria in this region is low; nevertheless there happened to be cases of Malaria (mainly vivax type malaria). There is no Chloroquine-Resistant Malaria.
Loose change (in small shops it's only possible to pay with up to 5 dollar bills)