Petrel Catamaran Galapagos Cruise
The Petrel is like its namesake: elegant, swift and silent at sea. A motorized catamaran, the Petrel is designed for comfort and stability and is outfitted with spacious cabins, a comfortable lounge, and Jacuzzi. Its speed, comfort, luxurious interiors and excellent itinerary make Petrel perfect for your Galapagos Cruise Adventure. All cabins boast the luxury of a private balcony and the new stability system ensures the smoothest of rides. It is the fastest, sleekest and most stable catamaran cruising the Islands.
Guests have the choice of eating in the elegant indoor dining area or outside in al-fresco style. Petrel boasts a comfortable lounge area and library complete with plasma TVs, laptops, DVD player, and stereo. The huge sundeck features the Jacuzzi and is great for watching whales and dolphins or to simply relax and soak up the sun between island excursions. In the evenings there is no better place for star gazing.
NEXT CONFIRMED DEPARTURES
March 18 – 21, 2022
March 21 – 25, 2022
May 06 – 11, 2022
May 11 – 16, 2022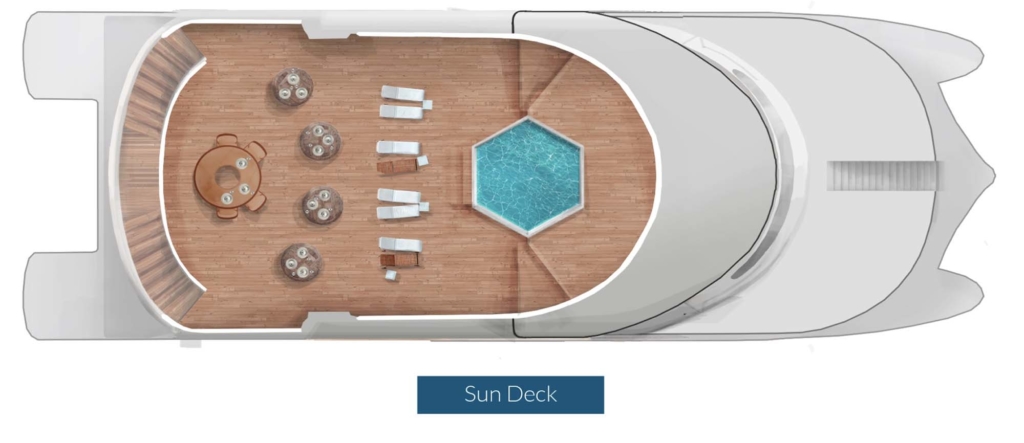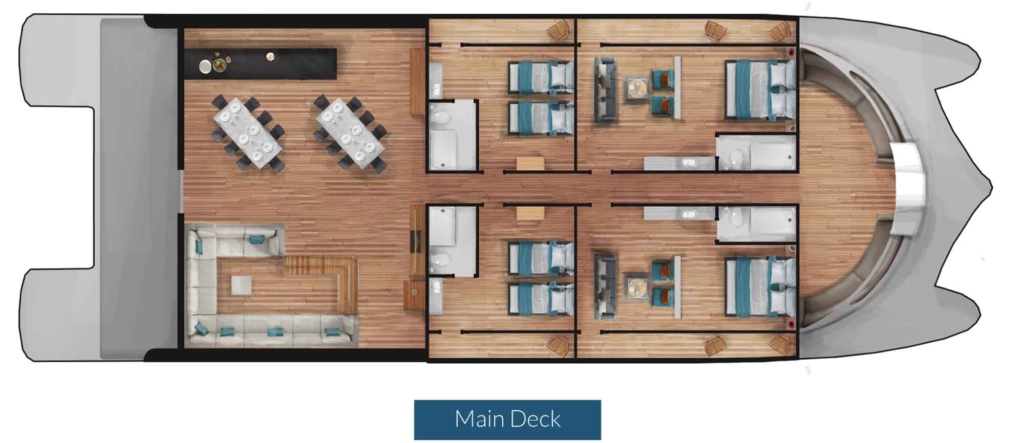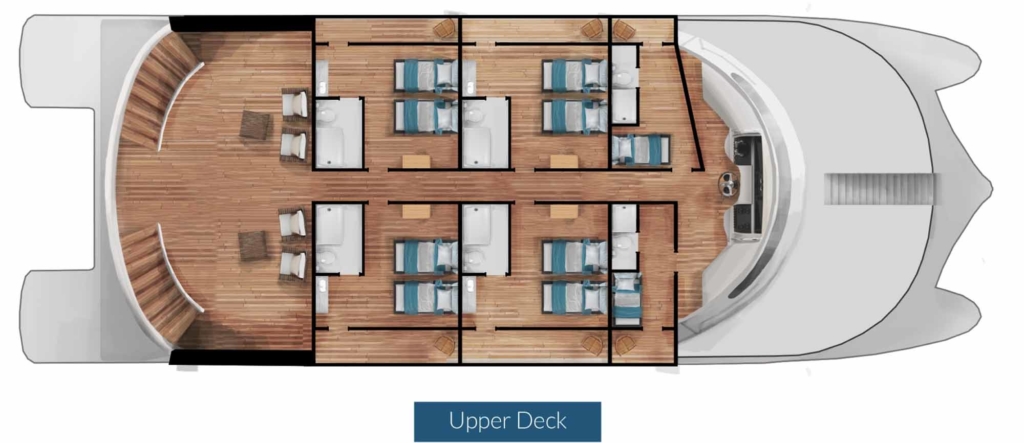 Gastronomy
From a well balanced and nutritious breakfast to an unforgettable dinner you will enjoy the delicious on board cuisine. Ecuadorian flavors and international gastronomy are fuzed in perfect harmony to create a unique and delicious culinary experience. Our ample experience and flexibility allow us to cater for different diets and needs. Vegan vegetarian and special diets are welcome on board.
Bar
After a good adventurous day there is no better way to relax that enjoying a refreshing cocktail or a frozen drink and seat back and gaze at the amazing at sunsets of the Galapagos Islands. Try one of our featured cocktails and be delighted by the flavors of exotic fruits, spices and spirits.
Jacuzzi
After a long day of expedition day we will be waiting for you at our sun deck and our jacuzzi will be ready for you. Sink in our jacuzzi and let the magic of hot water relieve your body and prepare you for a new day of adventure.
Sun Deck
If you feel like getting a wonderful tan so you are welcome to join us at our sun deck. Bask in the sun while you rest in one of our deck chairs, you can read a book or just rest while taking the sun during our navigations.
Al Fresco Dining
There is no more delightful experience than to have your meals al fresco. Be delighted by the astounding beauty of the islands that surround us and breathe the fresh marine air while you taste the delicious dishes prepared by our chefs
Lounge
The M/C Petrel offers you an ample and homely lounge where you can rest, read a book or watch a movie with your family. During briefing times our lounge will be the place where our guide will inform you about the next day's activities, give lectures about the Islands and the perfect place to enjoy a cup of our famous Galapagos Coffee.
Coffee Station
We take pride in our Galapagos coffee, its quality, aroma and robust flavor makes Galapagenean coffee one of the best Ecuador has to offer and perhaps one of the most delicious in the world.
Cruise Concierge
On board we count with the assistance of a cruise concierge. In charge of service on board our concierge will make sure to make your stay an unforgettable experience. You can arrange with our concierge special requests, diets or services.
Year of construction: September 2015
 Type: Power Motor Catamaran
 Length: 115 ft (35 m)
 Beam: 41 ft (12.5 m)
 Draft: 5.4 ft (1,65 m)
 Tonnage: 208 tons
 Capacity: 16 passengers
 Accommodation: Main Deck: 2 Suites 463ft² / 43m² , 2 Double Staterooms 323 ft² / 30 m²
 Upper Deck: 4 Double Staterooms 323 ft² / 30 m²,  1 Single Staterooms 151 ft² / 14 m²*Cabin size includes balcony
 Main engines: 2 x Yanmar Diesel Engines 400HP@1950rpm
 Power generators: 2 x John Deere Genset 70kw@1800rpm
 Cruising speed: 10 knots
 Water maker: 2000 Gallons / day
 Exterior: GFRP (fiber reinforced polymer)
 Crew: Captain Bilingual Galapagos National Park Naturalist Guide Cruise Manager 8 other crew (First Mate, SecondMate, Chef, Sous Chef, Engineer, Assistant Engineer, Barman, Housekeeper)
 Safety & Navigation: All equipment meets or exceeds the international SOLAS standard: 2x 20-man life raft Navtex 2  GPS Depth Sounder 2 naval radars Fire detection and prevention systems etc.
 Available Gear: Kayaks Snorkeling Gear Wet Suits
Rates 2022
| | | | | |
| --- | --- | --- | --- | --- |
| Rack Rate | 4D/3N | 5D/4N | 6D/5N | 8D/7N |
| SUITE | $3,675.00 | $4,950.00 | $5,950.00 | $7,850.00 |
| STANDARD | $3,410.00 | $4,595.00 | $5,510.00 | $7,225.00 |
| CHARTER | $50,890.00 | $68,575.00 | $82,320.00 | $107,825.00 |