The best Galapagos experiences for seniors
The most dangerous risk of all is the risk of spending your entire life not doing the things you love, in the hope that you can purchase yourself the freedom to do it later. In fact, according to a study by, one of the biggest regrets shared is "not traveling enough." Most of people wished they had taken that vacation they always talked about.
Did you know that Verdi think about premiering Othello at 74 years? Or Goethe decide to publish Faust in his late 80s? You can live your life to the fullest.
At age 50 – 80, you can still begin the most astounding years of your life; with more time on your plate and opportunities to make those outstanding trips you never made.
Two prime reasons why seniors should travel
1.  Senior travelers have sufficient time
You are now retired, so time is no longer an impediment when you plan a trip. Even better, our world is a big and fascinating place to explore, and there are lots of reasons why you should explore it.
Even better, the shackles of Work and other Commitments no longer constrain you which means you have the opportunity to travel the world for weeks straight. Coming to think of it, Retiring is a once in a lifetime opportunity if your health can allow you to do all those things you've always yearned to do.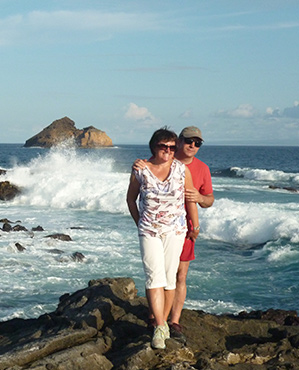 2.  Senior travelers have money to roam the world
Most seniors can travel the world all year round without breaking the bank. In fact, low seasons for other travelers are high seasons for retirees. This is because pre-retirement clients are somewhat budget conscious while Senior Citizens are not.
As a palliative nurse, Bronnie Ware, wrote in her book "The top five regrets of the dying," the most common regret that individuals on their deathbeds have is not about the things they did, but about all those things, they missed. We all have a chance to ensure this won't be one of our regrets when that time comes.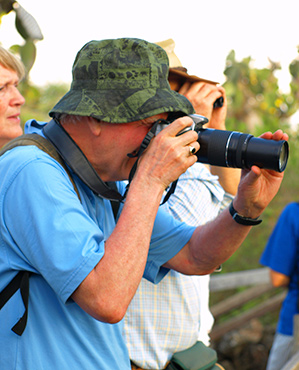 3.  Other good reasons you should travel as a senior
It will broaden your perception of problems
You can reconnect with your Couple, friends, and family.
It can grant you a new purpose in life
You'll feel the wonder existence
It will award you the chance to know yourself in distinct contexts
You may discover universal rituals and emotions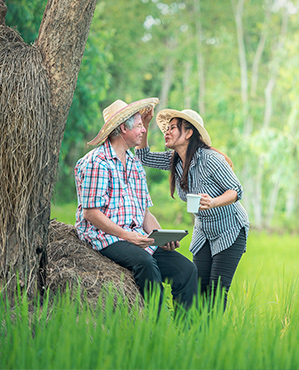 With these reasons in mind, I come bearing the perfect travel destination for Seniors; Galapagos and Ecuador. If you love adventure, comfort, nature, birdwatching, or art, then this is the best destination for you.
Charles Darwin arrived in Galapagos in 1835 on board the Beagle and was amazed by the mesmerizing biodiversity that he found on the islands. Just like Charles Darwin, all travelers who visit Galapagos comprehend how unique the island is. This landmass bears a perfect combination of fun and relaxation as well as incredible landmasses and lots of things to do.
The best activities for seniors in Galapagos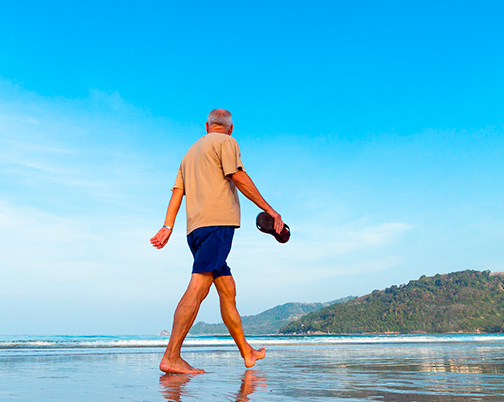 Besides the fact they are among the most powerful cardio workout plans that can lower one's heart disease, Hiking and Walking are the best ways to attain inner peace through getting away from your hectic life and tensions endured on a daily basis.
With this health benefit of hiking in mind, here's a fun fact: Did you know that Ecuador boasts more biodiversity per square meter compared to any other nation on earth? Some of the Islands' tourist attractions include visiting volcanoes and availing long walks on beaches as well as the incredible fauna and flora.
Stroll along the Galapagos Islands and enjoy its unique landscapes with exotic animals, gorgeous coastal sceneries, and very particular vegetation.
Are you thinking about traveling to Galapagos & Ecuador
Let us know your budget, and we can build a tailor-made tour for you.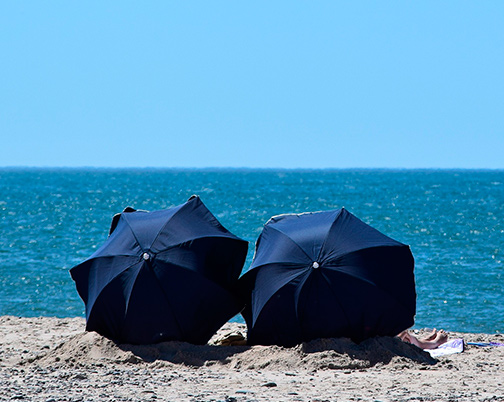 In the summer, Galapagos islands come to life as travelers from all around the world descend on the rocky shores to enjoy the fulfilling sun and sea. Besides being the best destination for long strolls and hikes, these islands have the best beaches that make it a favorite spot among tourists as well as locals.
This year, ensure you relax on the best beaches of Galapagos, like the exotic coasts of Garrapatero or the white sand beach Tortuga bay: both of them situated in Santa Cruz Island. Also, ensure you swim and sunbathe in other incredible beaches of San Cristobal Island and Española Island.
As a matter of fact, Bahia Gardner was chosen as one of the most beautiful beaches in the world according to CNN. Tell me you do not want to have a taste of that!!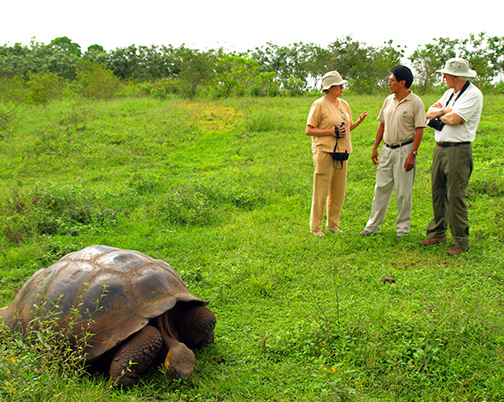 Would you like to explore the Galapagos islands alongside a naturalist guide in order to learn all about geology and biology regarding marine life and wildlife? Then you're welcome to visit Galapagos all around the year.
For bird enthusiasts, you will all learn about Darwin's finches, blue-footed boobies, Swallow-tailed gulls, and many more species.
Snorkeling, Kayaking, and Zodiac Riding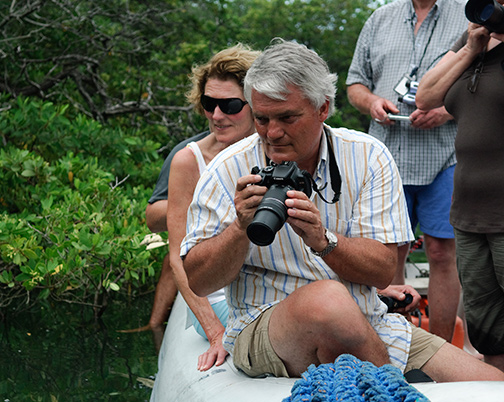 Experience a snorkeling, zodiac riding, and kayaking tour in Galapagos while enjoying the incredible landscapes and marine life. Ecuador just doubled the experience because while you enjoy your activity, you can also connect with the exotic fauna surrounded by colorful flamingos, sea lions, penguins, marine turtles, fishes, and white tip sharks.
Shopping in Fairs and Markets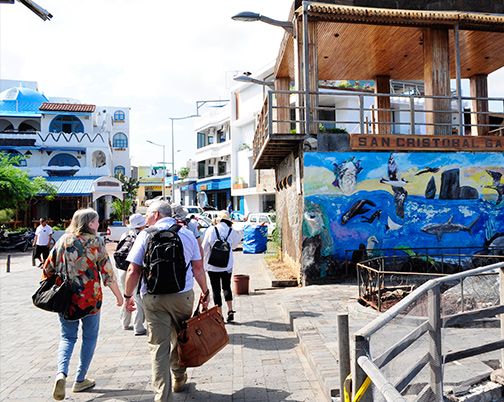 I have not forgotten about those who love going shopping. If you or someone you know loves shopping while exploring the world, there are multiple souvenir stores, grocery stores, and markets especially in Puerto Ayora: located on Santa Cruz Island.
Other impressive places for picking several mementos from the island are Puerto Villamil at Isabela Island and San Cristobal. You can enjoy all these extraordinary experiences alongside an astonishing team of trained professionals on board yachts and Kayaks.
At this point, there is no doubt you're wondering when it is the best time to visit these hard-to-beat islands of Galapagos.
Well, I'll give it to you straight and be as concise as possible. If you do not like crowds, like me, I recommend that you do not visit the islands during September because they are the peak seasons.
So, when is the best time to tour Galapagos Islands for Seniors?
September and the first two weeks of December
This is usually the low season in Galapagos. Fewer Crowds on the island imply more intimacy with nature and the best time to get hard to beat discounted deals on cruises and hotels. Here are more reasons why we recommend September and Early December for seniors.
September
The temperature is fresh and moderate.
Galapagos penguins are at their peak activity in Bartolome Island and many more sites.
You have the best chance to see whale sharks in the western side of the archipelago.
Sea Lions are active and also at their noisiest. Male Sea Lions also fight for control over harems.
Seabirds are most active inside their nesting sites.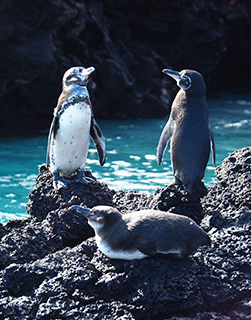 Early December
Giant tortoise eggs begin hatching
Green Sea turtles start their mating season
Plants in the dry zones produce leaves while the Galapagos vegetation starts becoming green again
The first group of young Albatross leave their nests and fledge out into the sea