It´s difficult to find a better place to spot wildlife at its purest than in Napo Wildlife Center at Yasuni National Park. When you visit, always try to wake up early to see a marvelous sunrise and flocks of macaws flying from tree to tree in the rainforest. Now, imagine the same scene right from the window of one of the four cozy brand new suites, built in the shores of "Anangu" Lagoon each with its own private Jacuzzi with an amazing view to the forest.
The eco-lodge is run and managed by the aboriginal Anangu kichwa community, they live and protect an area of over 200 square kilometres In this region of highly diverse flora and fauna the community decided to give up its legitimate right to hunt and fish, and thanks to this, nature has thrived here, in contrast to its depletion in other parts of the Amazon basin.
Napo Wildlife Center
This community from the Amazon rainforest in Ecuador realised that ecotourism is an excellent alternative for local development, for improving the quality of life, for preserving traditional activities and most importantly for conserving nature.
The eco-lodge has 20 cabins, 12 of them standard. Guests at Napo also have access to two observation towers 40m. (120 ft.) tall, to admire the canopy level of the forest and the unbelievable fauna that lives in the top of the trees, a totally personalized experience in the middle of the jungle.
If you look for more comfort, Napo Wildlife Center has 4 panoramic suites with a feature that make them really incredible, a panoramic floor right in the middle of the living room, from where you can spot caimans, hoatzins fluttering around, and sometimes even hungry giant otters looking for piranhas or "paiche" in the lagoon. Becoming the first and only of this type, throughout the region.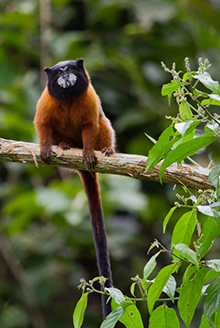 How much does it cost to Travel to the
Galapagos Islands?
We tailor-made your package according to your needs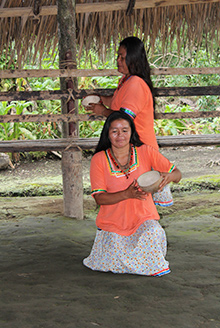 But while you would like to stay all day long, enjoying the amenities of your suite, there is a whole world awaiting for you outside. Start the day having a hearty breakfast with your aboriginal guide of the "Anangu" Kichwa Community, who will share the beauties of their ancestral territory with you, as they voluntarily decided to ban hunting, fishing and logging more than 15 years ago, nature has thrived to its fullest splendor.
A proof of that is when you reach the parrot clay lick, after an enjoyable trip in paddle canoe by the tranquil waters of "Anangu" stream and a short walk through the rainforest, an incredible spectacle of color and sound where you can see up to 11 different species of parrots and parakeets.
Yasuni National Park, spans more than 1 million hectares and offers endless possibilities to spot fauna, while learning more about the aboriginal groups like Waorani and Kichwa, which makes this trip a once in a lifetime experience, not only enjoying an amazing adventure in the rainforest, but also helping a whole community develop and improve their way of life, as all the incomes are reinvested in education, health and renewable energy projects.
Check out this free guide about the bids of the Galapagos Islands